A Place Saving My Life——A Thanks Letter from A Vietnamese Patient Of Liver Cirrhosis
  Mr. Wen is 57 years old from Hanoi, Vietnam. He has been suffering from liver disease over 10 years. But in past 1 year, his disease developed to liver cirrhosis of late stage and ascites, one more step, it would be cancer. Local hospital cannot offer him effective treatment but only symptomatic supportive therapy was given. However, that can not control his condition that the family was nervous. Occasionally, Mr. and Mrs. Wen attended a seminar held by Modern Cancer Hospital Guangzhou in Hanoi. They were attracted by the new conception and methods mentioned in seminar that they have consultation with specialist. Taking the details from specialist, they decided to try the treatment in Modern Cancer Hospital Guangzhou, China.
  Comprehensive treatment plan
  In such a strange country, he got the most passionate help. After admitted to the clean and well-equipped ward, the old couple was satisfied mentally, especially when they were cared by the doctors, nurses and interpreters passionately.
  Dr. Zheng Xianglin, the primary doctor of Mr. Wen, has more than 30 years clinical experience on traditional Chinese medicine and can combine traditional Chinese medicine and western medicine in treating all kinds of liver diseases. Mr. Wen was found of liver cirrhosis, ascites, splenomegaly, hypersplenia and multiple calculus of gall bladder etc. through series examinations after admission. Dr. Zheng made out a combined treatment plan based on this case condition: first is liver protection and regulation of immunity. Those are to combine traditional Chinese medicine to protect liver, fight against viruses and hepatic fibrosis to promote the growth of liver cells. Second is partial splenic embolism. Third is stem cell implantation which is through percutaneous to insert the tube selectively to the arteries closed to lesions under imaging devices, and then inject the differentiative potential cells through the tube to lesions where the tissue cells can grow again. Thus the disease can be treated.
  Warm care
  Mr. Wen presented some normal reaction after treatment and Mrs. Wen recorded her husband's condition and marked down all her questions for Dr. Zhen. Because Mrs. Wen knew medicine little and some questions would be asked repeatedly. Dr. Zhen kept explaining each question in details. In order to avoid any misunderstanding, sometimes Dr. Zhen would talk to Mrs. Wen over 2 hours through interpreters to explain patient's condition and answer questions. Besides, Dr. Zhen checked the ward twice a day, and once any problem occurred, she was there for patient. That amiable and responsible attitude is admirable to patients. The couple praised her as a motherly doctor.
  During his treatment, Mr. Wen was deeply moved by medical and daily life care like injection, change clothes for him etc from nurses. Especially his primary nurse impressed Mr. Wen greatly. As well as the passionate interpreters who helped him to communicate with doctors.
  The condition of Mr. Wen improves now that he says: "Modern Cancer Hospital Guangzhou is a place saving my life." The old couple came with suspicion but go with a heart of thanks, it all contributes to the medical staff, who prove their love by their respect to life.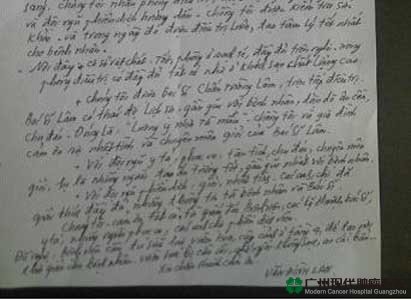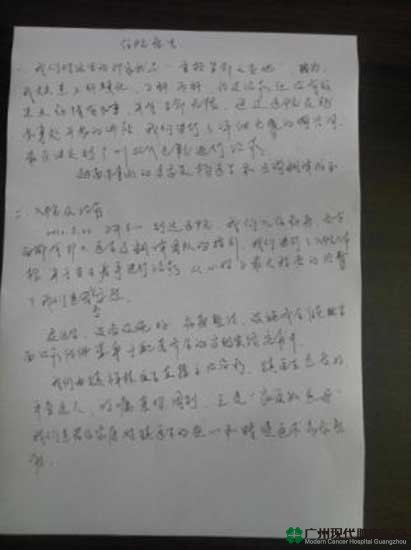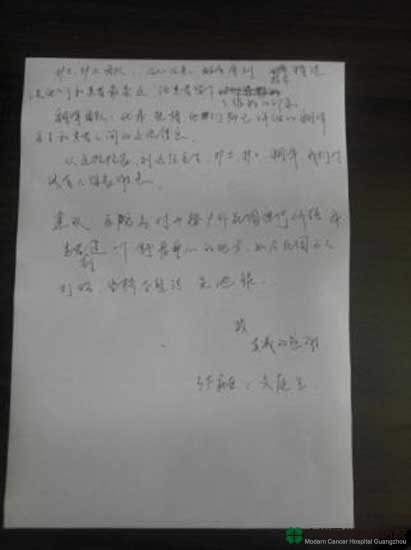 If you have any questions, please contact us via online consultation, email or phone call. If you find our website useful, please follow our FaceBook and YouTube, health information will be updated regularly.
Online Inquiry
CLICK HERE!
Let's Have A Healthy Life!
Video
To show you
what is cancer by
videos
Chatting on Facebook

Become a fan of us!
+Follow
We are waiting for you.