A Thank You Letter from A Civil Servant of Indonesia Financial Department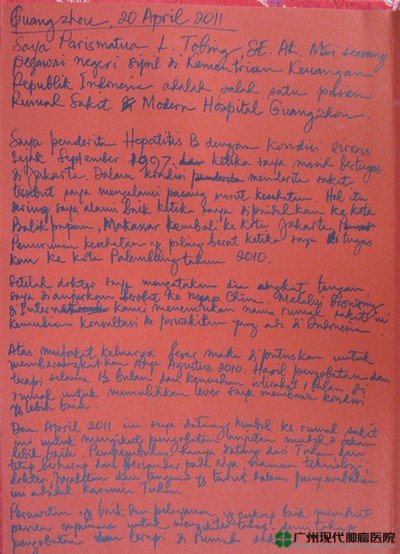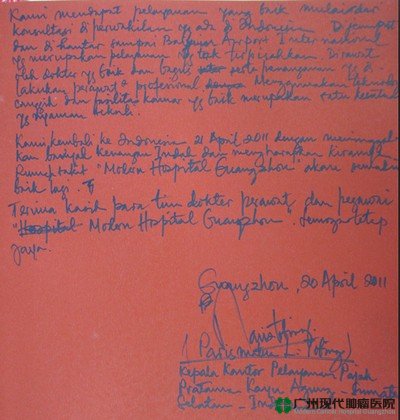 I'm a civil servant of Indonesian Financial Department. Since I have taken hepatic cirrhosis on 1997, I traveled to many cities for treatments, and finally the Indonesian doctors told me that they could do nothing to help but suggested me to give it a try in China.
  I went to Modern Hospital Guangzhou in severe condition on Aug.2010 and I got carefully attended and treated there. Later I knew Dr. Zhen Linxiang, who patiently explained me the treatments and my conditions exactly through interpreter. Even before every therapy, he would tell me all the details.
  I underwent two-cycle interventional therapy and stem cell transplantation when being treated in Modern Tumor Hospital Guangzhou. I had found that I was in much better shape than formerly following one-month rehabilitation in Indonesia. I returned to Modern Tumor Hospital Guangzhou in April 2011, when I had another cycle of interventional therapy and stem cell transplantation performed. Now I find that I eventually gain health again.
  Here I express my great gratitude to Chief Physican Zheng Xianglin for her encourage and to all medical staff and interpreters for their thoughtful care.
  Ma Bali, Indonesia
  Patient writes comments with glee upon discharge and poses with medical staff with Modern Tumor Hospital Guangzhou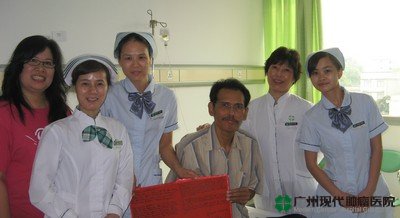 If you have any questions, please contact us via online consultation, email or phone call. If you find our website useful, please follow our FaceBook and YouTube, health information will be updated regularly.
Online Inquiry
CLICK HERE!
Let's Have A Healthy Life!
Video
To show you
what is cancer by
videos
Chatting on Facebook

Become a fan of us!
+Follow
We are waiting for you.