His Anticancer Story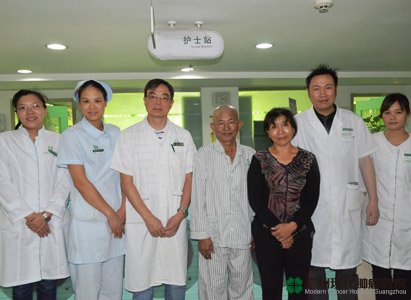 A lie from wife
  He is from Cambodia, and has been married for 30 years. His wife looks thin and weak, but actually she is strong, because he was caught up in her independence and capability. However, the wife lied that he only had small problems in lungs after she knew it is lung cancer. Since then she has taken all the fears and sadness to search for treatment and hoped that miracle would happen.
  When cancer develops
  His cough began on Sep. 2011, of which was taken as weather affection by wife. One month later than he started taking much anti-inflammatory and antitussive under local doctor's suggestions, his condition did not improve but became worse. On May, 2012, his cough ruined the whole family's life terribly in the midnights that he visited doctor alone, but doctor told him it was bacterial infection and did not have any further suggestions.
  His cough even made Seng Ngoun felt pain in waist and difficulty in breath, and his body was strongly wasted because lack of sleep. The couple went to the large hospital in Cambodia on June, 2012 for examination and was told of damage of tunica mucosa tracheae through bronchofibroscopy. CT scans revealed cancer in right superior lung and miliary nodules in lungs. The doctor told the wife it is great possibility for Seng Ngoun to develop cancer, and even he is diagnosed cancer, the hospital cannot perform related treatment because they don't have technologies.
  "I think it should be wrong, I hope it is the simple lung disease." With this mind, the wife decided to lie. Aug. 15, 2012, she covered everything from from Seng Ngoun and took him to the most famous special hospital in Cambodia for biopsy, wishing that she would get a final diagnosis. But it was disappointed: well differentiated adenocarcinoma of lung, stage IV. Following that was disappointed news: Cambodian medical technologies cannot help Seng Ngoun anymore.
  To be frank because of hope
  "I was angry that the doctor told me to support my husband's life by herbal medicine, I was completely irritated and hopeless, Cambodia does not have advanced medical technologies for cancer, I worry about my husband, but I have no choice here." Thinking about the words of doctor's, she said. But she fortunately got the news from a friend, the advertisement broadcasted on TV about Modern Cancer Hospital Guangzhou. Without any hesitation, she took her husband along with all the medical materials to the branch office mentioned on TV.
  After the couple was home, the family had a leaden conversation and the wife got off the sad truth: "Modern Cancer Hospital Guangzhou may save your father, the doctors from there said your father can have treatment there, so there is hope. Let's try." The whole family agreed and Seng Ngoun also knew that how tough for his wife to hold this secret. They went to China finally.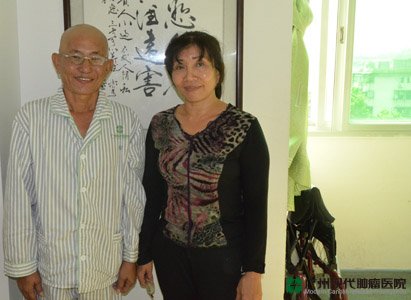 Change the fate through advanced technologies
  The cancer had spread to liver, bones and lymph nodes of neck through examinations after Seng Ngoun arrived in China. Specialists of Modern Cancer Hospital Guangzhou had performed 3 cycles of interventional therapy with targeted chemo medicine and natural therapy. "We don't know about minimally invasive therapy at all, but it really works. I don't cough after treatment and we can have a nice sleep now." With the smile on his face, Seng Ngoun said. "His appetite gets better and he has gained 3 kg. He is improving." The wife added happily.
  The key is to ensure the chemo medicine and suppository can be precisely injected in tumor. Minimally invasive technology requests the doctors to perform the puncture precisely at one time, besides, the doctors should know vascular anatomy and imageology very well that they can find the vessels of tumor accurately." The attending doctor of Seng Ngoun, Dr. Mei Miao said.
  "I hoped I can have a happy life with my children in my time left. They love me so much and encourage me all the way. As well as my wife who worried for me. Modern Cancer Hospital Guangzhou makes me more time to stay with them happily." Seng Ngoun said with the hope of life on discharge.
If you have any questions, please contact us via online consultation, email or phone call. If you find our website useful, please follow our FaceBook and YouTube, health information will be updated regularly.
Online Inquiry
CLICK HERE!
Let's Have A Healthy Life!
Video
To show you
what is cancer by
videos
Chatting on Facebook

Become a fan of us!
+Follow
We are waiting for you.