Treating Lung Cancer with Interventional Therapy and Cryotherapy
PHUA THIN KUI, 72 years old now, coming from Medan, Indonesia. Although his marriage was arranged by his parents, PHUA THIN KUI and his wife have deep feelings for each other. They've got 8 children, and some of their grandchildren has graduated from college. It supposed to be a good time to enjoy their life, but a sudden bad news destroyed it.
PHUA THIN KUI has been suffered from cough, expectoration and dyspnea since 2015, for about 10 months. He went to hospital and took medicine, but the medicine did not improved his condition. He then took a systemic examination whose results showed that there was a lump (10*6cm) in his lung. In other words, PHUA THIN KUI got lung cancer. PHUA THIN KUI was so scared that thought he can no longer live. "In Indonesia, people usually take cancer as a terminal disease, having cancer means death." His wife explained. Doctors there suggested PHUA THIN KUI to take operation, considering the suffering of traditional cancer treatment, PHUA THIN KUI refused. One week later, one of PHUA THIN KUI's daughter-in-law, who works in hospital, found St. Stamford Modern Cancer Hospital Guangzhou (MCHG) on the internet. She told PHUA THIN KUI:" Dad, go to St. Stamford Modern Cancer Hospital Guangzhou for treatment, I did a research and found out it is a really good cancer hospital." Therefore, PHUA THIN KUI and his families decided to go to the Jakarta Office of St. Stamford MCHG for more treatment information. On week after consultation, accompanied by his families, PHUA THIN KUI came to St. Stamford MCHG for lung cancer treatment.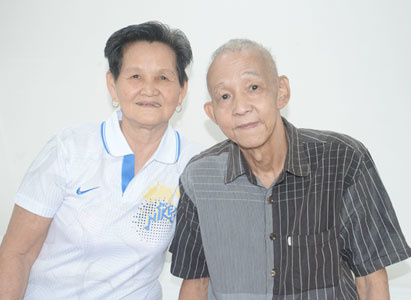 PHUA THIN KUI and his wife
On June 28th, 2016, after the joint consultation of the multidisciplinary team (MDT) of MCHG, PHUA THIN KUI was first given interventional therapy. Compared with the toxic side effects brought by traditional cancer treatments, PHUA THIN KUI did not feel any severe discomforts and was able to walk quickly. Then, PHUA THIN KUI was given cryotherapy to strengthen the curative effect. PHUA THIN KUI told us that he actually was a little bit nervous before the treatment, but he clam down soon, because his attending doctor Lin Jing explained the treatment to them detailedly and patiently. Doctor Lin Jing told PHUA THIN KUI that at least 6 minimally invasive operations are done in MCHG every day and doctors are of rich experiences. So far, after three months' comprehensive treatment, the tumor in PHUA THIN KUI's lung has shrunk to 5*8cm, his appetite and sleeping are improved, he now lives like a normal people.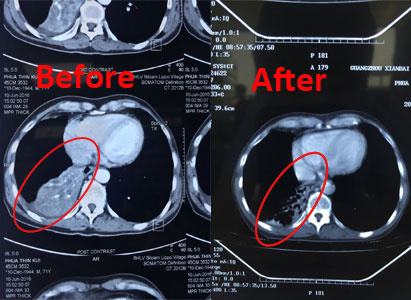 During the interview, PHUA THIN KUI and his wife showed their gratitude to MCHG:"Thanks for every staff in St. Stamford Modern Cancer Hospital Guangzhou, especially Doctor Lin Jing; thank her for always helping us and giving us confidence!". During PHUA THIN KUI's hospitalization, Doctor Lin Jing takes good care of them. She not only gives them best treatment, but also shows sincere concern of their daily life. September 15th is the traditional Mid-autumn Festival in China, Doctor Lin Jing specially prepared moon cake for them, hoping to help them have a happy Mid-autumn Festival. PHUA THIN KUI told us that he will continually follow doctor's advice and fight against cancer bravely. PHUA THIN KUI also expressed his encouragement to other cancer patients:"Fighting, fight against cancer bravely." October 9th is their golden wedding anniversary, PHUA THIN KUI and his wife are going to have their golden wedding party in Indonesia. Here, we would like to extend our sincere wishes to them; wish them a happy golden wedding anniversary and a healthy life.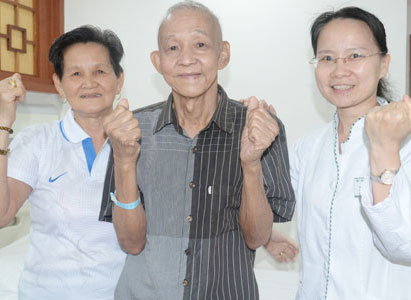 PHUA THIN KUI, his wife and Dr. Lin Jing
If you have any questions, please contact us via online consultation, email or phone call. If you find our website useful, please follow our FaceBook and YouTube, health information will be updated regularly.
Online Inquiry
CLICK HERE!
Let's Have A Healthy Life!
Video
To show you
what is cancer by
videos
Chatting on Facebook

Become a fan of us!
+Follow
We are waiting for you.