Interventional Therapy, a Hope for Nasopharyngeal Cancer Patients
CONIN HOBER: Insisting on Taking Treatment and You'll Defeat Cancer
My name is Conin Hober, 35 years old, from Indonesia. I have nasopharyngeal cancer. Via interventional therapy, natural therapy, etc in Modern Cancer Hospital Guangzhou, my tumor in nasopharynx has disappeared. At present, I'm in stable condition and get better.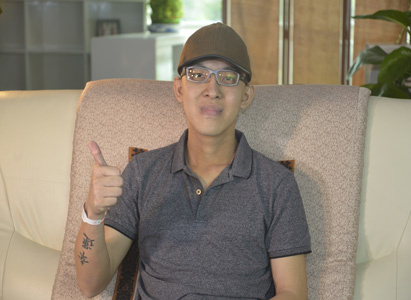 CONIN HOBER
About 10 months ago, I suffered from neck pain, and I visited doctor in Indonesian hospital. The result of MRI (Magnetic Resonance Imaging) showed that there was dislocation between the fifth and the sixth cervical vertebras. This pain was so unbearable that I had to take painkillers three times per day for six months. Even I took painkilling injections, the pain occurred again after 1-2 days. At that time, I didn't know the cause of dislocation of cervical vertebras. Later, there's something wrong with my nose. I used collunarium for 2 months. And then, my ear could not hear clearly. How suffering it was!
Thus, I did inspections in ENT (ear, nose, and throat) department in the local hospital. Through nasopharyngoscopy, the doctor found a tumor in my nasopharynx. And then I got biopsy which showed it was nasopharyngeal squamous-cell cancer. I was afraid of cancer, and so upset. The doctor said that the tumor nearly covered the whole nasopharynx. Life was unpredictable, and I had no choice but taking treatment. For my family, I couldn't give up.
I began to search for cancer hospitals on the internet. I found Modern Cancer Hospital Guangzhou and a hospital in Penang, Malaysia. At first, I was going to Penang. But through my family discussion, I chose to go to Modern Cancer Hospital Guangzhou. My families got together to discuss my disease. My wife's aunt, my sister and three doctors who were my family's friends suggested me going Modern Cancer Hospital Guangzhou. So, I was determined to go to Modern Cancer Hospital, and believed that it was the God that guided me to this hospital.
On May 22, 2015, I arrived at Modern Cancer Hospital Guangzhou. Professional medical team immediately made a comprehensive treatment plan for me after I took inspections. I received two sessions of interventional therapy, and my symptom of neck pain was alleviated rapidly. And in July, I took another two sessions of interventional therapy, and intravenous chemotherapy and radiotherapy. After receiving radiotherapy, my nasopharynx was painful, and I could not swallow normally, so I lost 21 kg in weight. I thought it was the difference between traditional therapy and minimally invasive therapy. Minimally invasive therapy had advantages of few side effects, while traditional therapy brought great harms. Although radiotherapy made me feel painful, I must take this therapy. Because I believed in doctors in Modern Cancer Hospital Guangzhou and I also trusted in the comprehensive treatment plan for me. It was the third time that I had come to the hospital for the treatment. My attending doctor told me that the tumor in my nasopharynx disappeared. And I took natural therapy to improve my immunity to kill cancer cells.
At present, I am in stable and good condition, and the uncomfortable symptoms have been alleviated. I am very grateful to Modern Cancer Hospital Guangzhou and the medical staffs for making me regain health. Here, the medical team works effectively and treat the patients as their families. At last, I hope other cancer patients can insist on taking treatment because you can defeat cancer as long as you persevering in.
If you have any questions, please contact us via online consultation, email or phone call. If you find our website useful, please follow our FaceBook and YouTube, health information will be updated regularly.
Online Inquiry
CLICK HERE!
Let's Have A Healthy Life!
Video
To show you
what is cancer by
videos
Chatting on Facebook

Become a fan of us!
+Follow
We are waiting for you.