Three Thank You Poems from Patients with Lumbar Disc Herniation
  Ms. Luo has suffered from lumbar disc herniation for many years and has been tortured by back and leg pain. In order to get rid of this disease, She has treated in several hospitals without any improvements. Eventually introduced by a friend, she came to Modern Cancer Hospital Guangzhou for treatment.
  After admission, Ms. Luo was undergone a series of examinations and doctors from Modern Cancer Hospital Guangzhou applied minimally invasive orthopedic treatment in accordance with the results of the examinations. After operation, Ms. Luo's physical condition has improved and her lower back and leg pain relieved.
  During admission in the third floor of Modern Cancer Hospital Guangzhou, Ms. Luo received careful and considerate care from nurses. In order to express her gratitude to them, Ms. Luo wrote three thank you poems.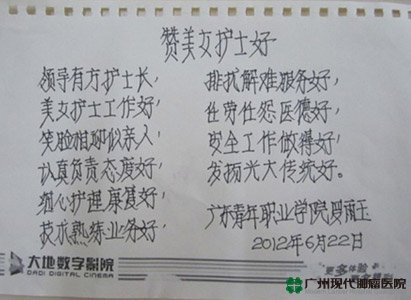 Praise the Kindness of Beautiful Nurses
  Chief Nurse with effective leadership, beautiful nurses with brilliant work.
  Greetings with smile like my families, good attitude with seriousness and responsibility
  Careful nursing brings my good recovery, good work with proficient skills
  Good service to exclude difficulties and anxieties, good medical ethics to bear hardship without complaint.
  Security work is done well, the tradition to carry it forward is good.
   Ms. Luo from Guangzhou Youth Vocational College
   June, 22, 2012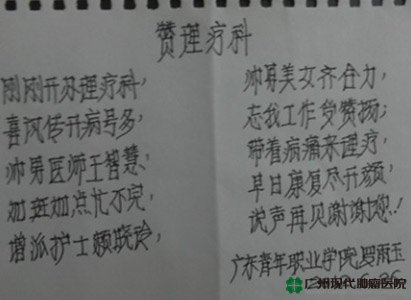 Praise the Physiotherapy Department
  New open of physiotherapy department, many patients after news spread.
  Handsome doctor Wang Zhihui works overtime like bees.
  Additional nurse Lai Xiaoling jointly works together with Doctor Wang.
  The selfless work deserves praise, keep on working with sickness and pain.
  All happy with early rehabilitation, say goodbye and thank you!
   Ms. Luo from Guangzhou Youth Vocational College
   June, 26, 2012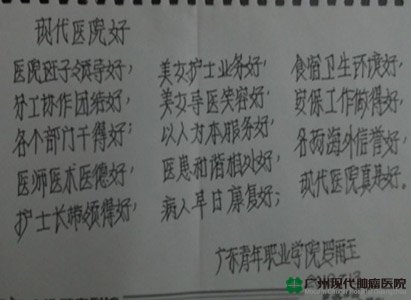 Praise Modern Hospital
  Good leadership from leader team, good unity from division and cooperation
  Each department doing well, doctors having good medical skills and ethics.
  Good leadership of Chief Nurse, good work of beautiful nurses.
  Great smiles from pretty hospital guides, good service of people oriented.
  Harmonious relations of doctors and patients, early recovery of patients.
  Hygienic accommodation with good environment, good job in security
  Well known overseas with good reputation, modern hospital is really good.
   Ms. Luo from Guangzhou Youth Vocational College
   July, 13, 2012
If you have any questions, please contact us via online consultation, email or phone call. If you find our website useful, please follow our FaceBook and YouTube, health information will be updated regularly.
Online Inquiry
CLICK HERE!
Let's Have A Healthy Life!
Video
To show you
what is cancer by
videos
Chatting on Facebook

Become a fan of us!
+Follow
We are waiting for you.