Permanent Friendship, Joint Pursuit for Health
Commemorating the 5th Anniversary of friendly cooperation between Filipino-Chinese Shin Lian Association and St. Stamford MCHG
ON May 23, leading by President Cai Yong Ning, a delegation from Filipino-Chinese Shin Lian Association visited St. Stamford Modern Cancer Hospital Guangzhou. 5 years ago, St.Stamford Modern Cancer Hospital Guangzhou and Filipino-Chinese Shin Lian Association signed a friendship treaty. This visit is not just to commemorate the 5th anniversary, but also to strengthen the medical cooperation, so as to better spread cutting-edge medical technology and help more Filipino cancer patients.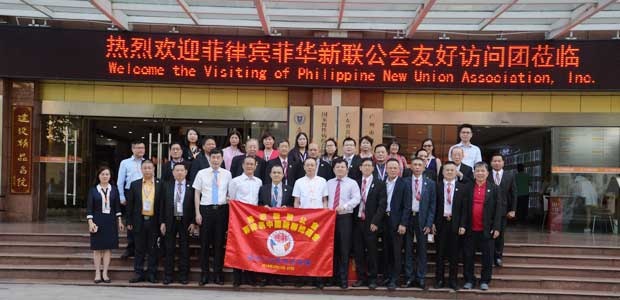 Group photo of the hospital leadership and the delegation
The commemoration started right after the delegation finished their physical examination. On behalf of the hospital, General Manager Mr. Tu Xiaoming, extended a warm welcome to the delegation. Manager Tu pointed out:"5 years ago, we singed a friendship treaty with Filipino-Chinese Shin Lian Association. With frequent interactions, we have already developed deep friendship. St.Stamford Modern Cancer Hospital Guangzhou always devotes itself to spread new medical technology to the Philippines, and we have successfully helped numerous Filipino cancer patients with our advanced minimally invasive therapy. Meanwhile, we keep optimizing the management system and introducing better equipment. In 2014, our hospital has been successfully accredited by JCI. Three years later in October 2017, we satisfactorily achieved the JCI Accreditation Standards for Hospitals(6th Edition), indicating that the hospital's medical service again steps towards a high international level, which also means that overseas cancer patients will enjoy a safer, higher quality, more reassuring diagnosis and treatment services! "
President Cai highly praised the achievement that St.Stamford Modern Cancer Hospital Guangzhou made in the field of hospital management, medical technology and research, and extended his vision of deepening communication and cooperation. President Cai indicated that the association will make every effort to promote the cooperation. Besides, souvenirs and an anniversary cake were specially prepared to celebrate the precious friendship.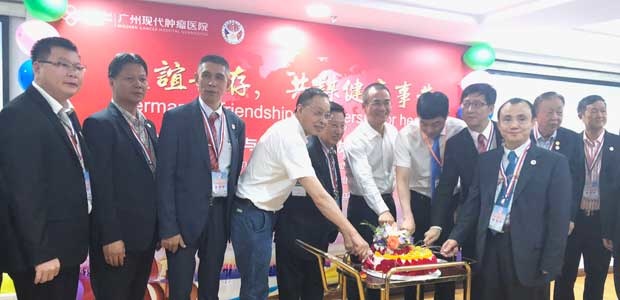 Both sides are celebrating the fifth anniversary
At the end of the commemoration, Dr. Lin Taijie, Director of the Medical Department, shared knowledge about cancer prevention and treatment. Soon afterwards, the delegation visited the hospital, including the remote consultation center, minimally invasive surgery room, VIP wards, etc.. 5 years passed, the medical equipment, anticancer technology and medical service in St.Stamford Modern Cancer Hospital Guangzhou have been greatly improved, which preferably satisfy the needs of patient from different country.
President Cai spoke highly St.Stamford Modern Cancer Hospital Guangzhou:"The cutting-edge minimally invasive therapy and medical equipment here have attracted numerous Filipino cancer patients for treatment. Sincerely hope that more Filipino can get to know St.Stamford Modern Cancer Hospital and benefit from this advanced minimally invasive therapy which has not been introduced into the Philippines yet."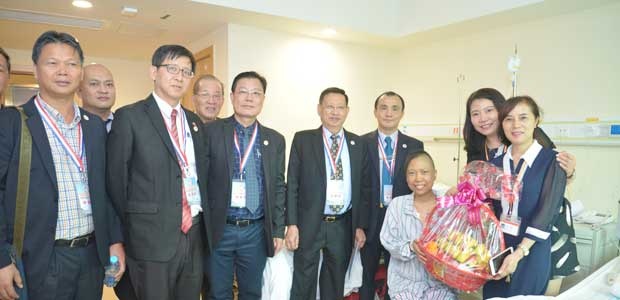 The delegation visited Filipino inpatient.
Since its foundation in 1981, Filipino-Chinese Shin Lian Association has kept focusing on free clinic, social education, disaster relief and other public welfare undertakings, and has become one of the most influential associations in the Philippine. For the past few years, the association has made great contribution to the friendship and cooperation between China and the Philippines, and brought significant benefits to human health.
*Surgery, in addition to the appropriate chemotherapy and radiotherapy, are effective in treating early cancer, but certain patients in late stage of cancer may not be tolerate surgery well as they can be relatively weak. A combination of carefully planned minimally invasive therapy, chemotherapy or radiotherapy can effectively reduce the side effects and discomfort of treatment and may help patient get better efficacy.