Focus on New Anticancer Technologies for the Health and Well-being of the People
- Laos medical and media delegation visited St. Stamford Modern Cancer Hospital Guangzhou
On July 7, a Laos medical and media delegation visited St. Stamford Modern Cancer Hospital Guangzhou. The delegation consists of Mr. CHANPHETH PHOTHILATH, leader of Laotian Ministry of Health, Mr.DAOVONE THEPSOUVANH, the director of the Cancer Surgery Department of 150 Friendship Hospital of Laos, Mr. DAOVONE THEPSOUVANH, and Miss ADENA MAHAVONG, chief director of Laos MV TV station. It is reported that this trip aims to promote the development of medical care in China and Laos, strengthen the understanding of cancer patients in new cancer equipment and new technologies, and help them get rid of cancer as soon as possible.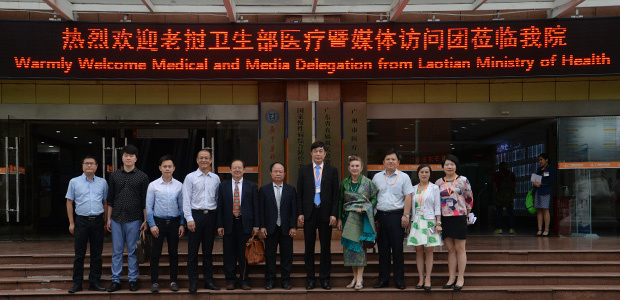 The leaders of MCHG took a group photo with the Laos medical media delegation
In the morning, Tu Xiaoming, general manager of MCHG and Lin Shaohua, president of operation of MCHG, expressed warm welcome to the delegation. Lin Shaohua said, cancer treatment is still one of the toughest problems worldwide. However, with decades of unremitting research, experts in MCHG applied many new medical technologies to cancer treatment and helped many cancer patients yield good efficacy. Combination of various cancer treatment technologies developed a diversified treatment model, which is expected to benefit more cancer patients in the future. At the same time, we hope that through the exchange and communication, information sharing, and resource integration, the ever-changing medical technology will benefit more cancer patients around the world.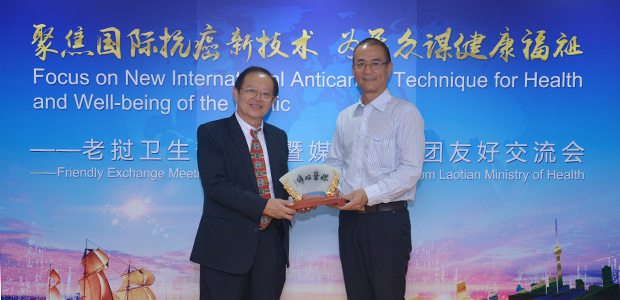 Mr. Tu Xiaoming presents a souvenir to Mr.DAOVONE THEPSOUVANH
Mr. CHANPHETH PHOTHILATH, leader of Laotian Ministry of Health said: "I have always hoped to have the opportunity to visit China and get to know international anticancer technology in MCHG. I am very glad to be here. I have seen you have advanced medical technology, which is currently lacking in many hospitals in Laos. We hope that MCHG can promote these treatment technologies in Laos and reach out for more Laotian cancer patients and save people's lives.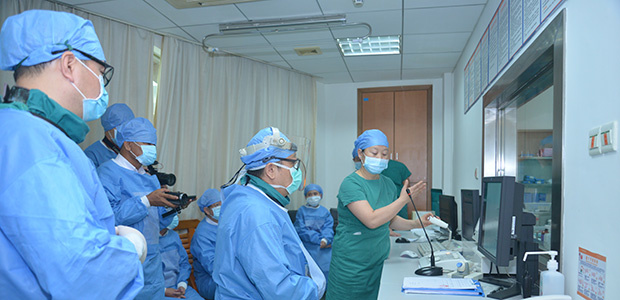 The delegation watches an instantaneous operation of interventional therapy and cryotherapy
Mr. DAOVONE THEPSOUVANH, the director of the Cancer Surgery Department of 150 Friendship Hospital of Laos, expressed for the hospitality with saying, "With visiting and understanding MCHG today, I' ve witnessed that your treatment technology and management model far outweight those of Laos and even many Asian countries. The medical conditions in Laos are still in a backward state. I hope that today, I can learn more about the new treatment technologies, concepts and services of your hospital and bring them back to Laos. Through this trip, we also hope to establish friendship with your hospital, jointly promoting advanced anticancer technology and offering Laotian cancer patients with more treatment options and hopes."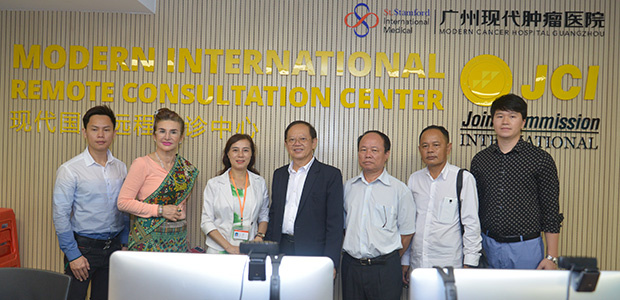 Laos medical and media delegation visits Remote Consultation Center of MCHG
In order to improve the delegation's understanding of the hospital's JCI-accredited management model and 18 minimally invasive therapies for tumor, instantaneous operations of minimally invasive interventional therapy and cryotherapy were conducted. The delegation also visited the hospital's international Remote Consultation Center and well-equipped wards. Subsequently, the Laos medical and media delegation conducted an exclusive interview with general manager Tu Xiaoming and president of operation Lin Shaohua and representatives of experts from MDT. Through the interview, members of delegation gained an in-depth understanding of the development and achievement MCHG has made, covering several aspects of medical services and advanced cancer anticancer technologies. Finally, the delegation also visited the inpatients to understand their treatment had taken in MCHG.
After the interview, the chief director of Laos MV TV station, Miss ADENA MAHAVONG said: "as the media between China and Laos, our duty is to spread good things to the masses. We've learned that MCHG has advanced technology, equipment and services. these are lacking in many parts of Laos. I think it is very necessary for us to pass those information to patients who are still struggling with cancer, giving them new directions, new choices and new hope."
*Surgery, in addition to the appropriate chemotherapy and radiotherapy, are effective in treating early cancer, but certain patients in late stage of cancer may not be tolerate surgery well as they can be relatively weak. A combination of carefully planned minimally invasive therapy, chemotherapy or radiotherapy can effectively reduce the side effects and discomfort of treatment and may help patient get better efficacy.