Win-win Cooperation Promotes Medical Sharing
-Malaysian medical delegation visits St. Stamford Modern Cancer Hospital Guangzhou
On August 2nd to 3rd, a medical delegation consists of Dr. Liu, Dean of Mahkota Medical Centre, Malaysia, with Dr. Cai, Dean of Penang Medical Centre and other medical experts visited St. Stamford Modern Cancer Hospital Guangzhou. The trip aims to strengthen mutual cooperation and exchanges on medical care, to build a platform of medical cooperation between China and Malaysia, to increase the frequency of mutual visits, and to achieve the purpose of medical sharing, benefiting more cancer patients in China and Malaysia.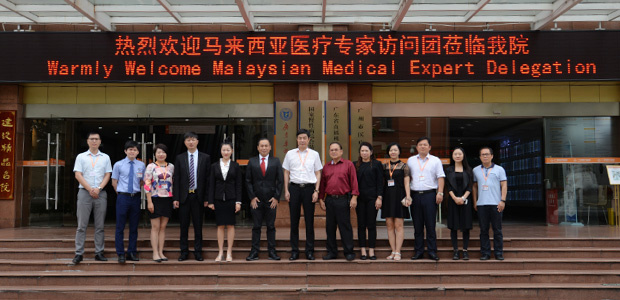 The leaders of MCHG and the Malaysian medical delegation
On the morning of August 2nd, a welcoming ceremony was held in St. Stamford Modern Cancer Hospital Guangzhou for the Malaysia delegation. Mr. Lin Shaohua, president of operation of MCHG noted, "Since the establishment of MCHG for decade, we have been committing to the treatment of overseas cancer patients. Overseas offices were set up in Kuala Lumpur and Penang, Malaysia, as well as other countries in Southeast Asia to help more cancer patients. We've been constantly creating or introducing new cancer treatment technologies and are unwaveringly learning and researching. We're always eager to implement the latest cancer treatment technology and benefit more cancer patients."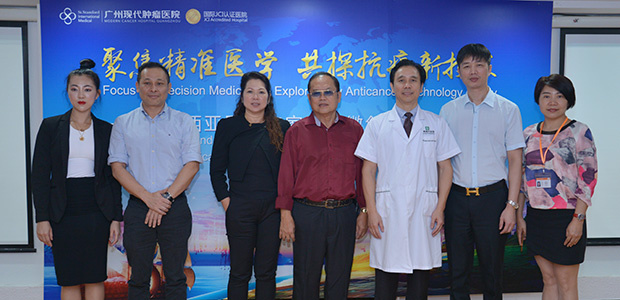 Experts of Malaysian medical delegation with Professor Peng Xiaochi
At the meeting, Dr. Liu, Dean of the Mahkota Medical Centre, expressed sincere gratitude towards MCHG, " I am very honored to be here today. In recent years, China have witnessed remarkable progress in medical field, which is worth learning for us. We'd like to learn more about international cancer treatment technology and send hope to more cancer patients in Malaysia."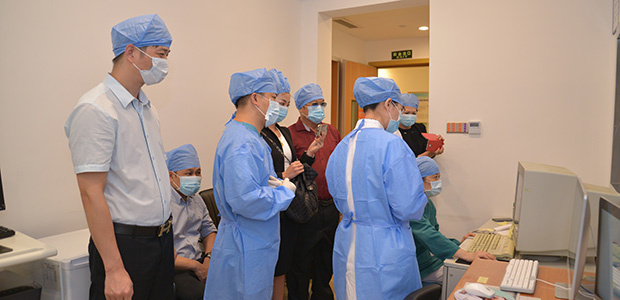 Experts of Malaysian medical delegation observing operation of minimally invasive surgery
In order to present more insights into the minimally invasive technology and medical services in MCHG, our staff also arranged a comprehensive interpretation of minimally invasive therapies including interventional therapy, cryotherapy and particle implantation, as well as JCI-accredited Service Quality Management System implemented in MCHG. In addition, Professor Peng Xiaochi, the chief oncologist of MCHG, also illustrated the internationally advanced 18 minimally invasive therapies for the visiting experts and conducted in-depth exchanges on relevant technical issues.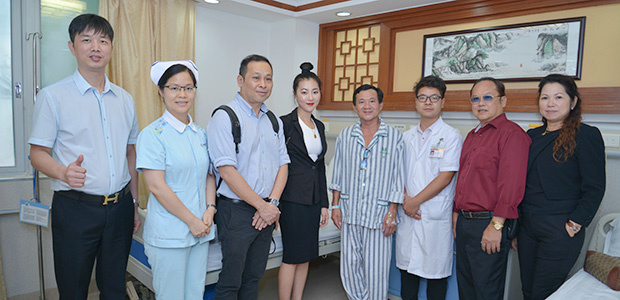 Malaysian medical delegation visiting Malaysian patients in MCHG
Director Cai of the Penang Medical Centre said, "The visit is so beneficial and impressive. MCHG is equipped with such advanced cancer therapies, cozy environment and considerate services. To my point of view, its JCI-accredited management model is a good example for all hospitals. Our medical center also strives to fulfil the goal of practicing comprehensive management model like yours. Through the visit,I' ll bring what I learned from MCHG back to Malaysia. I also sincerely offer my invitation for Dean, MDT and management team of MCHG visiting our medical center for academic exchanges."
*Surgery, in addition to the appropriate chemotherapy and radiotherapy, are effective in treating early cancer, but certain patients in late stage of cancer may not be tolerate surgery well as they can be relatively weak. A combination of carefully planned minimally invasive therapy, chemotherapy or radiotherapy can effectively reduce the side effects and discomfort of treatment and may help patient get better efficacy.