Festive Greetings to All Fathers
Celebrating Thailand Father's Day at St. Stamford Modern Cancer Hospital Guangzhou
December 5 has long been celebrated as Father's Day in Thailand. In the occasion of Thailand Father's Day, medical staff in St. Stamford Modern Cancer Hospital Guangzhou prepared gifts for Thai patients and sent festive greetings.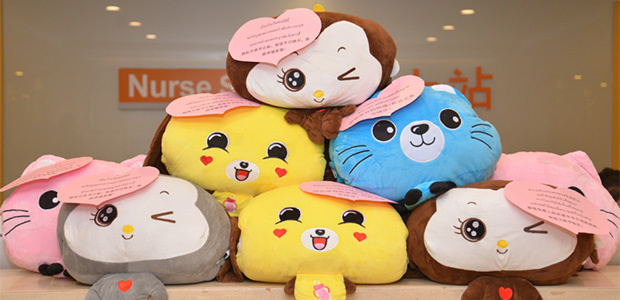 Gifts and cards prepared for the patients
The staff had prepared gifts in advance and each gift was attached to a heart-shaped greeting card with blessings: "May you overcome the disease as soon as possible in the love of your family, and wish you Happy Father's Day! "," Best wishes and Happy Father's Day! "
In the ward, the doctors and head nurses came to patients' bed with condolences and blessings! Every gift and greeting card embodies the minds and blessings of hospital medical staff. When patients received the gifts, they all smiled with great excitement!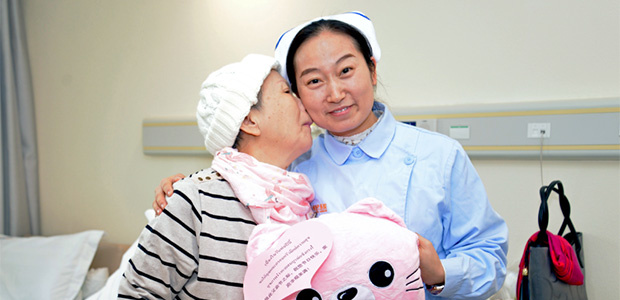 The head nurse presents gifts and blessings to hospitalized patients in Thailand
BUNCHUAN CHAEMDI, colon cancer patient from Thailand, was so happy when he received the gift. "Thank you, I benefited from not only advanced technology, but also considerate medical services here!" he said.
Mother is the source of warmth and father gives us a sense of security by supporting the family. BUNCHUAN is also a great father who was unfortunately diagnosed with stage IV colon cancer. In order to support the family, he made living by all means. However, in 2012, he was diagnosed with colon cancer, which was a nightmare for the whole family.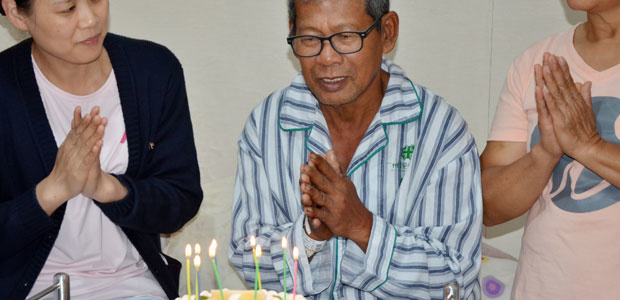 During the treatment in 2017, medical staff celebrated BUNCHUAN's birthday
BUNCHUAN CHAEMDI, who supports the whole family, was suddenly worn out by colon cancer. A tumor measuring 10cm was located in the middle of his large intestine, like a time bomb that can explode at any time which made him desperate in that period. After surgery and seven courses of chemotherapy, cancer came back. What's the worse, cancer cells went out of control ten months later and chemotherapy failed to work in his case.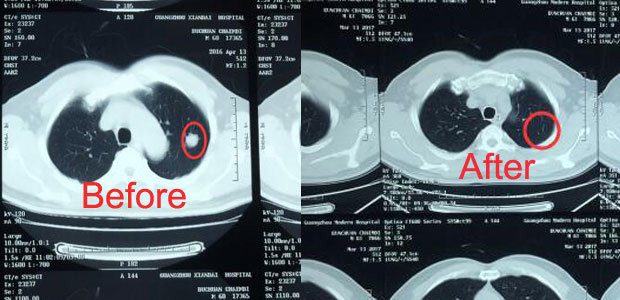 BUNCHUAN's CT scan before and after treatment
However, for the sake of the family and the unmarried children, he struggled hard. BUNCHUAN obeyed his neighbor's suggestion and flew from Thailand to Guangzhou. Upon his admission, he was too weak to stand steadily.
After the comprehensive treatment of interventional therapy, cryotherapy and combination of traditional Chinese medicine and western medicine, his liver tumor has completely disappeared and his condition was in remission.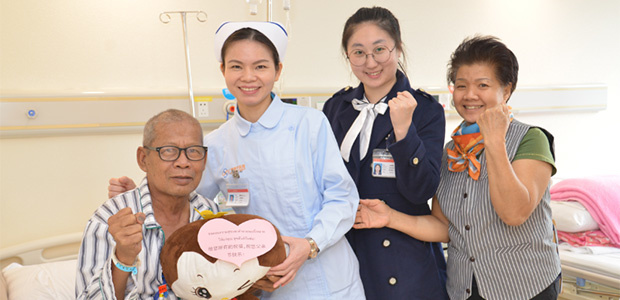 During return visit in 2019, medical staff gave him Father's Day gifts and blessings
As a father, BUNCHUAN wouldn't succumbed to cancer. He didn't stop working while taking cancer treatment. He once told the doctor: "Professor Peng, I thought cancer would be the end of my life. But now the result was really out of my expectation. Now I just want to go home to take care of my business."
Father gives us life and courage, which support us to move forward in life. On this occasion of Thailand Father's Day, staff of St. Stamford Modern Cancer Hospital Guangzhou wishes all the fathers a happy holiday and good health!
*Surgery, in addition to the appropriate chemotherapy and radiotherapy, are effective in treating early cancer, but certain patients in late stage of cancer may not be tolerate surgery well as they can be relatively weak. A combination of carefully planned minimally invasive therapy, chemotherapy or radiotherapy can effectively reduce the side effects and discomfort of treatment and may help patient get better efficacy.