Minimally Invasive Therapy Helps Stage IV Colon Cancer Patient Survive*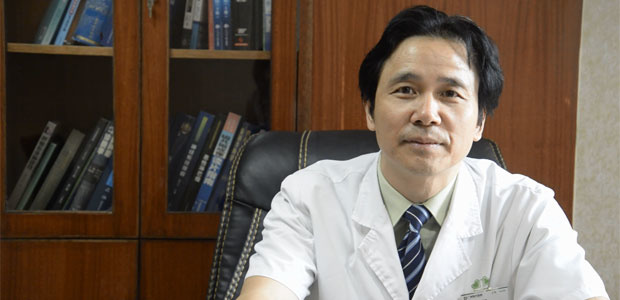 Prof. Peng Xiaochi, Leading Expert of St. Stamford Modern Cancer Hospital Guangzhou
Member of Chinese Medical Association, advocate of minimally invasive treatment for cancer and multidisciplinary comprehensive treatments in China
Prof. Peng has participated in the researches and clinical practices of cancer treatment for more than 20 years and specialized in minimally invasive therapy, especially in chemotherapy, endocrine therapy, molecular targeted treatment and multidisciplinary comprehensive therapy etc. for all types of malignant tumor.
Testimonials of Prof. Peng: Medical work needs eudruing ethics and devotion.
"BUNCHUAN CHAEMDI was once a patient who suffered from colon cancer of stage IV. I can't help being very excited at the thought of his current condition. I still remember when I first met him, he was too feeble to walk, tormented by his disease. After treatment, he could move and walk easily and he is much stronger. It is said that recently he hoed a 4-mu field to plant vegetables and sell them to the local supermarkets." Prof. Peng Xiaochi said.
Encountering serious illness, even a great man can be defeated.
In Thailand, BUNCHUAN CHAEMDI, just like many other Thai People, in order to support his families, he has to do anything for living—— rubbers cutting, rice, fruits and vegetables selling (anything can earn money). Unfortunately, in 2012, BUNCHUAN CHAEMDI was diagnosed with colon cancer. Colon cancer refers to the development of cancer from dentate line to the junction of rectum and sigmoid colon, which is one of the most common malignant tumors in digestive tract. Developing to a certain degree, there will be warning signs including change in bowel habits, bloody stools, pus and blood stool, tenesmus , constipation and diarrhea etc..
Medical staff of MCHG is celebrating birthday for BUNCHUAN CHAEMDI
BUNCHUAN CHAEMDI, who supports the whole family, was suddenly worn out by colon cancer. A tumor measuring 10cm was located in the middle of his large intestine, like a time bomb that can explode at anytime. He told me that he felt awful during that period, cancer caused him either diarrhea or constipation and he had to pass stool all day. While in the evening, he had difficulty in falling asleep. Rapidly, he became skinny. However, what surprised him was that there was another time bomb in his body, a 3 cm tumor in his liver that required an operation to remove.
Desperately waiting for the sentence of fate due to cancer recurrence
Before operation on colon cancer, BUNCHUAN CHAEMDI was suggested to undergo chemotherapy on his liver cancer first and to undergo surgical resection when tumor shrank. Thus, BUNCHUAN CHAEMDI underwent 7 sessions of chemotherapy but since chemotherapy cannot kill all the cancer cells without combining with TCM treatment to enhance immunity, the patient would still fail to restrain the growth of cancer cells due to low immunity.
Looking at the birthday cake with a gratified smile
One year later, cancer recurred, another 2 cm tumor grew near the former lesion in BUNCHUAN CHAEMDI' s liver. According to the former treatment suggestion, he underwent surgical excision. But what disappointed him was 8 months later, another 3 transferred lesions were found in his liver, coming along with bone and lung metastases. With swollen feet, he was unable to walk. Another two months later, lesions of all sizes were detected in his lungs and drugs were no longer helpful to control the worsen disease and his hands started to peel. Encountering relapses, a sense of death came over him, he felt like himself a fish in the desert and would die soon.
Combined minimally invasive therapies saved him from despair
Thinking of his families, his children, he tried best to fight back against cancer and expect a miracle would happen. He listened to his neighbor's suggestion and decided to have a try in MCHG. When he first arrived at the hospital, he was found intermittent claudication and difficulty in standing steadily and at that time he was too feeble to walk by his own. After a all-round body check, we found out that his cancer has turned into stage IV, with lung, liver and bone metastases, which put him in a risky situation. On April 15, 2016, I required an urgent consultation on the discussion of his condition with MDT and we tailored an integrated treatment with interventional therapy, cryotherapy and invasive targeted therapy and combination of traditional Chinese medicine and western medicine.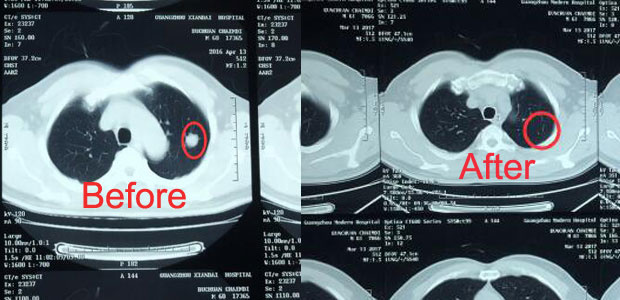 Before and after treatment
With interventional therapy, drugs were precisely given to tumor in BUNCHUAN CHAEMDI' s lungs, it reduced the harm to other organs and increased the concentration of drugs targeted in the tumor, which effectively enhanced the process, which is also a distinct difference between interventional therapy and systemic chemotherapy. Besides, interventional therapy, cryotherapy was carried out on BUNCHUAN CHAEMDI' s tumor, which firstly fixed a position of the tumor with medical imaging device to further know the location and size of the targeted tumor and then inserted one or several probes to the lesion region, injecting Argon and Helium successively. When Argon was injected through the probes, it froze the tumor lesions to 120℃ below zero and leaded them to an ice ball; after that, the Helium injected rapidly heat up to 40℃ to unfreeze the ice and lead blasting and killed the cancer cells. While invasive targeted therapy and combination of traditional Chinese medicine and western medicine could kill cancer cells and strengthened patient's immunity at the same time.
But during the treatment process, we also encountered many difficulties. When BUNCHUAN CHAEMDI felt very upset and depressed, he lost his confidence in life and thus made him vulnerable, which was of no benefit for his treatment. So we immediately started to provide psychological assistance for him, we invited our advanced psychologist to give guidance to him to get him ready for the next treatment.
And it turned out to be very helpful and effective. The CT scans shows that his tumor lesions in liver had disappeared when we did reexamination for him. Only very few lesions remained in his lungs and his condition was stably controlled. At present, he becomes much more positive and active, it was said that he planted vegetables himself at home and sold them to local supermarkets. He said to me, "Prof. Peng, I never dared to dream of one day like this before, I always thought that my life was going to end at that moment thoroughly, but now all I think is to go back home as soon as possible to see how's my vegetables" He often exhorts other patients to follow doctor's instruction and to think positively.
*Surgery, in addition to the appropriate chemotherapy and radiotherapy, are effective in treating early cancer, but certain patients in late stage of cancer may not be tolerate surgery well as they can be relatively weak. A combination of carefully planned minimally invasive therapy, chemotherapy or radiotherapy can effectively reduce the side effects and discomfort of treatment and may help patient get better efficacy.