Facing Stage IV Colorectal Cancer, I Refuse Surgery*
"Doctors in Indonesia and Malaysia all suggested same option-taking surgery, which cause difficulty in defecating and I have to carry the bag for it all the time. I resolutely refused the suggestion. Fortunately, I got different answer in St. Stamford Modern Cancer Hospital Guangzhou and minimally invasive treatment helped me avoid suffering from surgery." HENDRY ANGGLE said joyfully.
In Indonesia and Malaysia, doctors all suggested me take surgery
HENDRY ANGGLES comes from Surabaya, Indonesia. In July, 2016, he suffered symptoms of hematochezia, diarrhea and difficulties in defecating with no reason. At first, he just thought it was hemorrhoid, but his condition was getting worse instead. After taking enteroscopy, he was diagnosed as stage IV colorectal cancer with a 2cm tumor near the anus. He was grieved and afraid knowing the result. As cancer is not in his family history and he always keeps good habit. What's worse, doctors in Indonesia and Malaysia all suggested him take surgery. On account of bad influence including difficulty in defecating, he refused the option.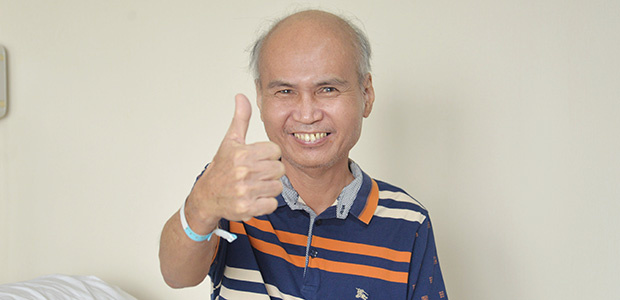 HENDRY ANGGLES
Back home, HENDRY followed friend's suggestion of treating colorectal cancer with herbal medicine. However, his condition did not gradually improve as he expected. On the contrary, from July 2017, symptoms of anal pain, difficulty in urinating occurred, blood in the stool became more serious, which made him and his family anxious.
Surgery is not the only method to treat colorectal cancer
By chance, HENDRY's son learned from the internet that, besides surgical resection, minimally invasive therapy can be adopted in treating colorectal cancer.
To avoid suffering from surgery and chemotherapy, minimally invasive therapy minimizes pain and side effects and helps colorectal cancer patients yield better results.
HENDRY and his family were happy about having the opportunity. "Through the address we obtained on website, we came to the hospital's branch office in Indonesia. When I learnd that patient, whose condition was worse than mine, were treated with minimally invasive treatment and achieved good efficacy. My family supported me to grasp the chance."HENDRY said.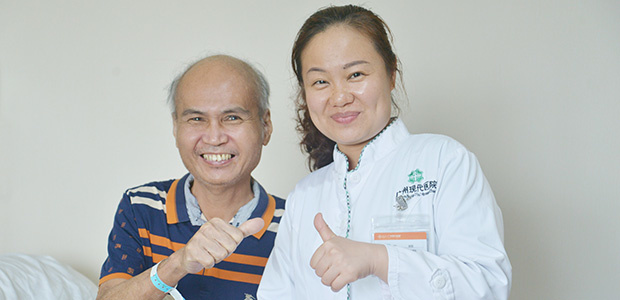 HENDRY and his attending doctor, Hu Ying
In Nov. 2017, HENDRY, accompanied by his family, arrived at St. Stamford Modern Cancer Hospital Guangzhou. Upon the admission, his tumor measures about 8*10cm. because HENDRY was tortured by bloody stool and anal pain. He can't even lie down and the quality of sleep was also greatly affected.
Based on his condition, Multidisciplinary Team came up with a treatment plan including interventional therapy, particle implantation and natural therapy. According to his attending doctor, "he was in advanced stage and refused to take surgery. During interventional therapy, with a 1-2 millimeter incision on femoral artery, anticancer drugs are directly injected into the tumor without damage to normal cells. The concentration of drugs is 8-10 times higher than common drugs. In brief, interventional therapy is safer, more effective and causes fewer side effects. Particle implantation aims at radically kill local masses. Combined minimally invasive therapy enhances patient's immunity, prolongs survival and improves long-term effects.
"I didn't suffer any pain in the first session of interventional therapy. After the treatment, my condition was obviously getting better. I was able to lie down and had good sleep quality. After the first discharge, my tumor has shrunk by 50%. Previous symptoms of blood in stool and anal pain disappeared. In the second discharge, I felt like normal as usual."
Warming tips:
1. Once blood in stool found, take timely checkup in hospital, colorectal cancer was easily misdiagnosed as hemorrhoid and found in late stage.
2. Colorectal cancer tends to have much higher morbidity among young people. Despite from heredity and diet, pressure is also a main risk factor. If colorectal cancer has occurred in your family history, one should take checkup since 35.
*Surgery, in addition to the appropriate chemotherapy and radiotherapy, are effective in treating early cancer, but certain patients in late stage of cancer may not be tolerate surgery well as they can be relatively weak. A combination of carefully planned minimally invasive therapy, chemotherapy or radiotherapy can effectively reduce the side effects and discomfort of treatment and may help patient get better efficacy.