Indonesian 60-year-old Rectal Cancer Patient Regains Health in China*
Nurdin, from Indonesia, 60 years old, is a rectal cancer patient.
In October 2017, Nurdin found that he had symptoms of bloody stool and unbearable pain, thus he went to Malaysia to check and found that there was a lump in his rectum and the bloody stool proved that the rectum might have broken. The local doctor advised him to undergo a surgery immediately. He thought that the treatment technology in Malaysia would be more advanced than that in Indonesia, and seeking other advanced treatments other than surgery and chemotherapy was his originally intention to go to Malaysia for medical treatment. As a result, the only treatment the local doctor gave was resection. He considered that he was old and couldn't bear the risk of the surgery so he refused it.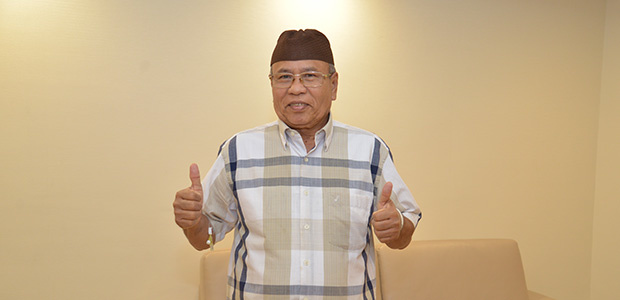 Nurdin
The bad news enveloped the whole family like a cloud and everyone showed that they couldn't accept the fact, but they also expressed their support for Nurdin and actively helped him to seek treatment. At this time Nurdin got to know that as early as 2015, his nephew suffered lymphoma and achieved good results after the treatment at St. Stamford Modern Cancer Hospital Guangzhou. Nurdin seemed to see a glimmer of hope from this.
So Nurdin and his families searched the Internet for St. Stamford Modern Cancer Hospital Guangzhou, knowing that there's minimally invasive therapy for treating cancer in St. Stamford Modern Cancer Hospital Guangzhou and there's a branch office in Medan, Indonesia, so he came to the office with his families to know more details. "At the Medan office, the doctor carefully explained the treatment plan and technical principle for me through remote consultation, which eliminated my concerns, so I was very confident for going abroad to seek medical treatment. " Nurdin recalled that time.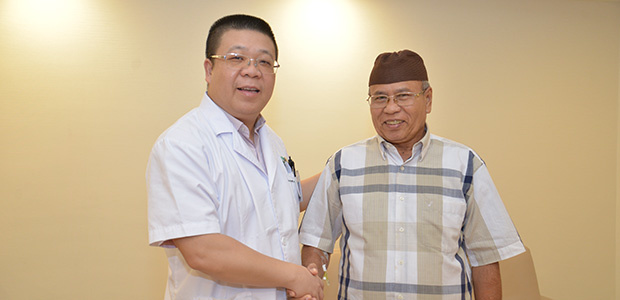 Nurdin with his attending doctor
In December 2017, Nurdin, who was confused by the bloody stool and pain, accompanied by his families, came to St. Stamford Modern Cancer Hospital Guangzhou. Doctors of multidisciplinary team conducted a consultation according to Nurdin's condition. Usually the most common treatment is chemotherapy, but the side effects of it are also obvious. Besides, the tumor grew in the complex organ of rectum, and Nurdin was an aged patient, the treatment plan of interventional therapy combined with combination of TCM & Western Medicine was made for him finally.
Compared with traditional systemic chemotherapy, interventional therapy can increase the drug concentration by ten times with injecting anticancer drugs through the artery, also it does no harm to normal cells, and it is more effective and has fewer side effects. Combined with the traditional Chinese medicine treatment by injection, interventional therapy can completely eliminate the residual rectal cells and at the same time improves the patient's self-immunity and helps patients fight cancer effectively.
When asked about the treatment effect, Nurdin was excited and said: "To my surprise, the pain was significantly alleviated after two interventions and the bloody stool disappeared ." His attending doctor Wang Zenghai said: "Until now, Nurdin has received 4 interventions and twice natural therapy, and from this follow-up, according to the results of CT, MRI and colonoscopy, the tumor has disappeared completely, and there's no signs of recurrence of lesions, so he only needs regular follow-up later."
"I am in good health right now and I am very satisfied with the treatment effects. I feel very happy. Thank God for his care and thank the medical staff here for providing advanced technology and considerate services. We went abroad far away from home for medical treatments, but the minimally invasive therapy didn't disappoint me. Doctors, technologies and nurse care are very great and the ward is comfortable here. I am very satisfied with this hospital. " Nurdin smiled with a relief.
At the same time, Nurdin expressed his own heartfelt wishes to other cancer patients. He hoped that all cancer patients could receive timely treatment, achieve good results and regain health.
*Surgery, in addition to the appropriate chemotherapy and radiotherapy, are effective in treating early cancer, but certain patients in late stage of cancer may not be tolerate surgery well as they can be relatively weak. A combination of carefully planned minimally invasive therapy, chemotherapy or radiotherapy can effectively reduce the side effects and discomfort of treatment and may help patient get better efficacy.