DOLYANAWATI: Thank God Let Me Choose Here*
"Guangzhou is the best", DOLYANAWATI, the 67-year-old colorectal cancer patient from Indonesia gave such a description to Guangzhou. From June 11, 2014 until now, though DOLYANAWATI received treatment from Modern Cancer Hospital Guangzhou in less than a year, in her mind, Guangzhou, the city brought the miracle of life to her.
To DOLYANAWATI, cancer isn't without warning. From October, 2013, DOLYANAWATI felt constant pain on anus with difficult defecation and occasional hemafecia, until May 31, 2014, colonoscopy indicated her colorectal cancer diagnosis, the fight against cancer began.
Although DOLYANAWATI and her family felt a little sad and surprised after knowing the diagnosis. As a Christian, DOLYANAWATI believed all are arranged by the God. She accepted the fact, at the same time, she and her family actively sought for better treatment plan. " We know cancer hospital in Malaysia and Singapore through Internet, but we don't meet appropriate hospital. At last, my daughter decide to go to Modern Cancer Hospital Guangzhou for treatment, I think everything is the destiny." DOLYANAWATI explained why she chose Modern Cancer Hospital Guangzhou, while, the hospital according to the choice of God didn't let DOLYANAWATI and her family down.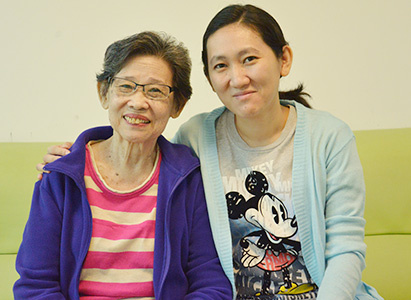 DOLYANAWATI and Her Daughter
On June 11, 2014, accompanied by her family, DOLYANAWATI arrived at Modern Cancer Hospital Guangzhou. " my first impression of Modern Cancer Hospital Guangzhou is high efficacy. From the admission procedure to the confirmation of treatment plan and the time required for treatment, which were finished in a short time. Nurse's warm hug made me feel comfortable." Looked back feelings of admission, DOLYANAWATI was a little excited.
"I feel a little nervous and afraid during the first interventional treatment, but the pain during treatments isn't as heavy as I think. Basically, there isn't any side-effects after treatment, my defecation and sleep condition has been improved a lot, which makes me feel relax. I don't feel afraid again during the second interventional treatment, and decide to receive all treatments later." DOLYANAWATI said. Now it's the fourth time for DOLYANAWATI to receive treatment in Modern Cancer Hospital Guangzhou. After receiving interventional treatment, natural therapy and other minimally invasive treatments here, her tumor has been shrunk obviously and condition has been improved greatly.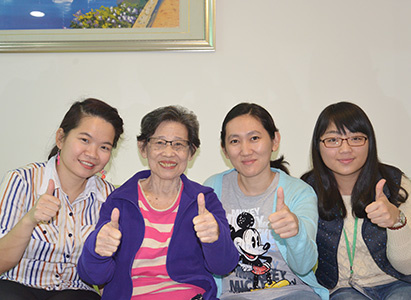 DOLYANAWATI and Staffs of MCHG
"As my doctor said, there is no taboo about my diet after treatment." which is really a good news for DOLYANAWATI. As a good cook, excellent cooking skill gives DOLYANAWATI satisfaction in taste and happiness in life, which makes her life return peaceful and comfortable. Of course, in addition to her daughter, DOLYANAWATI want to show her thanks to God who guide her to Modern Cancer Hospital Guangzhou for treatment. " When I arrived at Modern Cancer Hospital Guangzhou, I moved bowels 5 to 6 times a day, my daughter accompanied me, helped me cleaning and comforted me, which made me very moved." Under her daughter's company, DOLYANAWATI felt great satisfaction.
Though it is the fourth time for DOLYANAWATI receiving treatment in Modern Cancer Hospital Guangzhou, DOLYANAWATI is never tired of her hospital life, " Here, we take trips regularly and receive warm hugs from doctors and nurses usually. I never live like a cancer patient but a normal person." After the interview, DOLYANAWATI still kept encouraging other cancer patients: " You can trust doctors and treatments here, don't be discouraged and disappointed, fighting!"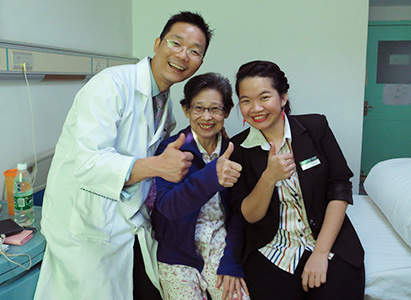 DOLYANAWATI and Dr. Lai after Her Condition Improved
*Surgery, in addition to the appropriate chemotherapy and radiotherapy, are effective in treating early cancer, but certain patients in late stage of cancer may not be tolerate surgery well as they can be relatively weak. A combination of carefully planned minimally invasive therapy, chemotherapy or radiotherapy can effectively reduce the side effects and discomfort of treatment and may help patient get better efficacy.