Interventional Therapy helps me defeat Rectal Cancer*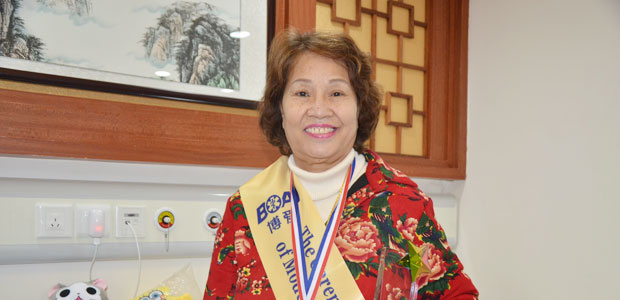 Lu Lan: Wish everyone can defeat cancer and live a happy life.
Lu Lan, a Thai Stage II rectal cancer patient. Just like most of other rectal cancer patients, she was diagnosed with rectal cancer after having examinations due to symptoms of bloody stool. The tumor was about 4cm when she was admitted to our hospital. Fortunately, after interventional therapy and other comprehensive therapy, her tumor has greatly shrunk and her condition is under well controlled now.
Bloody stool, typical symptoms of rectal cancer
Lu Lan, a 67-year-old Thai woman, has been suffered from bloody stool since the first half year of 2015. Then, she had examinations in a Thai local hospital and was diagnosed as stage II rectal cancer. At that time, doctor suggested her to take surgery, but she refused. It turns out that her rejection is wise, because surgery is of high recurrence rate and low thoroughness. According to a medical research, the recurrence rate of surgery is more than 50%. What's more, rectum is close to anal sphincter, so it is hard to remain patient's anus. Patients have to live a poor life if they lose their anus. Therefore, for patients with middle-stage or advanced stage rectal cancer, surgery is of poor therapeutic effect, the side effects even outweighs the therapeutic effect.
Later, on the advice of her families, Lu Lan came to St. Stamford Modern Cancer Hospital Guangzhou for treatment.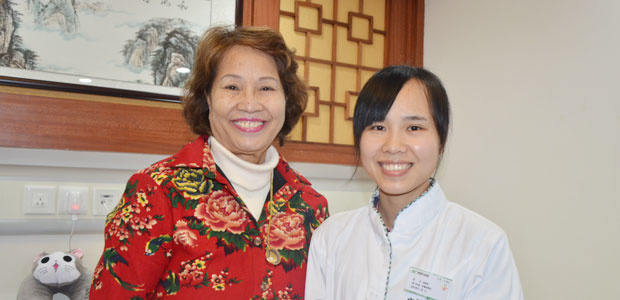 The tumor has shrunk quickly after interventional therapy.
Following examination and consultation by the Multidisciplinary Team (MDT), Lu Lan was given comprehensive minimally invasive treatment based on interventional therapy.
Interventional therapy is a mini-invasive therapy performed under the guidance of medical imaging equipment. With a 1-2 millimeter incision, paracentesis can be performed with the lead of medical imaging equipment. Then a special tube, catheter or other sophisticated apparatus are introduced to inhibit the growth and spread of cancer cells, so as to promote the drug concentration, cut off the tumor's blood supply and reach the effect of local chemotherapy without any toxic side effects of chemotherapy. Compared with traditional surgery, radiotherapy and chemotherapy, interventional therapy has the advantages of small trauma, accuracy, efficiency, few toxic side effects, etc.
After interventional therapy, Lu Lan's condition quickly turned better. To her surprise, there are no side effects and her symptom of bloody stool disappeared. She's weak and tired before she was admitted to our hospital, but now she's vigorous. She often takes part in activities held by MCHG, including anticancer lectures, different kinds of evening party, etc.
After three sessions of interventional therapy, Lu Lan's tumor has greatly shrunk and her discomfort of abdominal pain and bloody stool both disappeared. Now, Lu Lan has trust in both her life and health:"It's really good that I can return to normal life after taking treatment here. More importantly, I can sing blithely."
*Surgery, in addition to the appropriate chemotherapy and radiotherapy, are effective in treating early cancer, but certain patients in late stage of cancer may not be tolerate surgery well as they can be relatively weak. A combination of carefully planned minimally invasive therapy, chemotherapy or radiotherapy can effectively reduce the side effects and discomfort of treatment and may help patient get better efficacy.