I Choose MCHG Out of Trust*
-77-year-old patient's anticancer journey
METI BASUKI,77 years old, comes from Jakarta, Indonesia. She has been fighting against cancer since the detection in 2014. Being asked about the secret during the anticancer journey, she answered: "As I choose the correct treatment".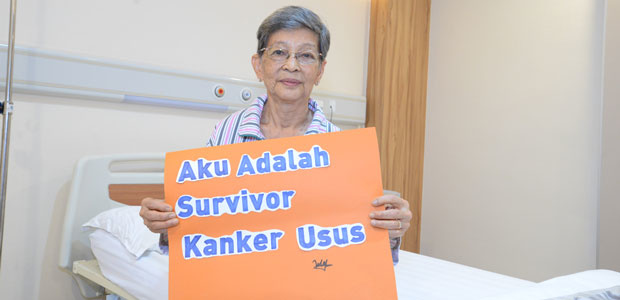 METI BASUKI
On Dec. 1, 2014, METI BASUKI was detected unusual rise of CEA in a regular physical examination in Singapore and she was misdiagnosed as right lung cancer(CEA reaching beyond 20μg/L means possible digestive tract tumor. On accounting of her age, her families refused the proposal of local doctor to apply surgery and chemotherapy.
Confronting cancer, METI BASUKI was extremely calm and positive as usual.Because husband of her friend got lung cancer and he took treatment in MCHG. Now he lives like a healthy person. She said, " cancer doesn't mean death as it's curable. I witnessed his tumor shrunk and totally disappeared in the end. So I chose MCHG without a second thought when I was detected colorectal cancer.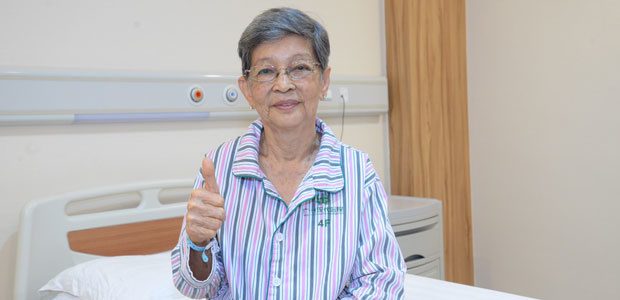 METI BASUKI
On Jan. 9, 2015, METI BASUKI arrived at MCHG in the company of her families. After PET/CT, she was diagnosed as low differentiated sigmoid colon cancer stage IV with metastases to liver and lungs. Multiple Disciplinary Team tailored a systematic treatment plan based on her condition, combining interventional therapy, cryotherapy, photodynamic therapy and natural therapy. Her attending doctor Lin Jing explained, METI BASUKI was 75 years old and she suffered metastases to both liver and lungs. Traditional therapies such as surgery, chemotherapy and radiotherapy may have little effect and do great harm to the patient. After discussion, MDT decided to apply a combined minimally invasive treatment, on the one hand, to avoid the toxic and side effects of traditional therapy, on the other hand, to enhance patient's resistance and meanwhile to improve the life quality and achieve long-term efficacy.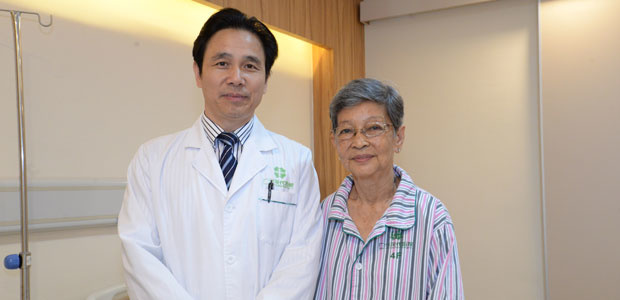 METI and Prof. Peng
Until March, 2015, METI BASUKI has taken 1 session of cryotherapy and 2 sessions of interventional therapy. The CT scans showed that the metastases have disappeared and the colon tumor has obviously shrunk. She yielded good condition comparing to before. When asked about the efficacy, METI BASUKI said, "Every time when I came back after the treatment, friends and families all said I looked like so refreshed. So I believe cancer is not death and have more confidence confronting cancer. In March 2017, METI BASUKI came back to MCHG for recheck. It's been two years, yet her condition is still stable without any sign of recurrence. Now she enjoys life like others.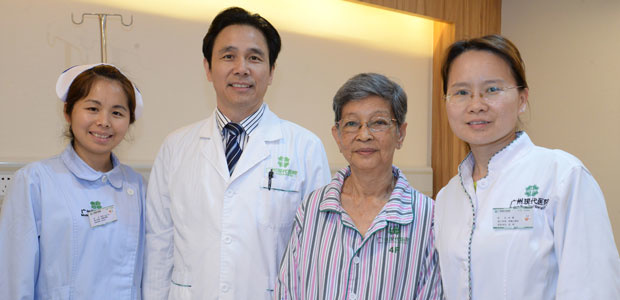 METI and medical staff
As an aged and advanced patient, METI BASUKI knows well of the dread and agony come along with cancer. She cherishes sincere belief in MCHG, so she shared her anticancer experience with other patients during her stay. " One would rather choose a worthtrusting hospital as MCHG than just waste time choosing hospital. As long as you keep positive attitude and follow doctor's instruction, cancer can be defeated." METI BASUKI suggested. Although she was away from home and took treatment in a foreign country, she didn't feel aloof. She also encouraged her friends who also suffer cancer to come to MCHG where they could fight against cancer hand in hand.
Suggestions on diet for other patients:
Cancer patient should develop self-discipline habits and follow a strict diet during treatment. Avoid spicy, fried and greasy food, which is unhelpful for recuperating.
*Surgery, in addition to the appropriate chemotherapy and radiotherapy, are effective in treating early cancer, but certain patients in late stage of cancer may not be tolerate surgery well as they can be relatively weak. A combination of carefully planned minimally invasive therapy, chemotherapy or radiotherapy can effectively reduce the side effects and discomfort of treatment and may help patient get better efficacy.