Individualized Treatment Plan Gives Me Confidence*
That day when we saw Hang Thi Cuc, she was in a white sleeveless lace top with delicate makeup, so elegant and charming. We couldn't believe that she was almost 60 years old, and she was also a breast cancer patient. She was a quite famous actress in Vietnam. Actually, she was the manager of a youth opera house in Hanoi.
In October 2010, Hang Thi Cuc occasionally felt tingling in her right breast. She did a physical examination in local hospital, but nothing was found. In the next seven months she kept going the hospital regular for checking, but all doctors said it was normal.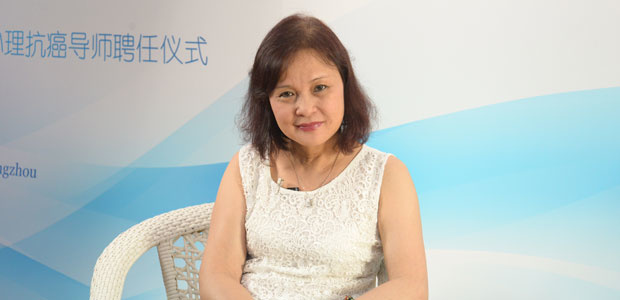 Hang Thi Cuc during the interview
"When it came to the seventh month, actually in April 2011, I touched a mass in my right breast. I went to the local hospital, this time I was told having breast cancer." said Hang Thi Cuc with smile "At that moment, I didn't feel surprised, because one of my relatives also had this disease before, so I knew something about breast cancer, and I have paid much attention to it in the past. What's more, since I have been very uncomfortable for seven months, I have already had a hunch about it. At first, of course, I also felt very upset, but then there was more rationality in me. No matter what happened, I can face it calmly."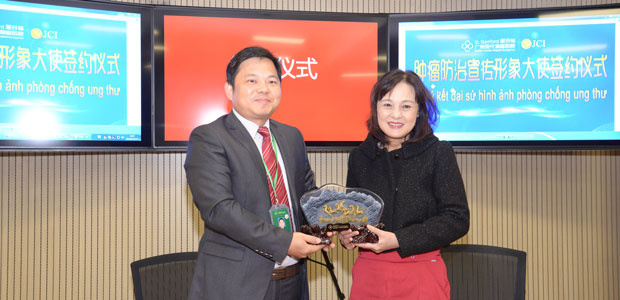 In the signing ceremony as ambassador of cancer prevention and treatment in Vietnam
Since then, Hang Thi Cuc started to search on various media such as internet or TV for the best treatment method. Her relatives and good friends also tried their best to help her by giving trustworthy advices or asking around for any possible treatment. When she went to the St. Stamford Modern Cancer Hospital Guangzhou overseas office in Hanoi for a free consultation, the analysis and individualized treatment plan given by the experts gave her a lot of confidence. But for security, as well as the advices from all relatives and friends, she decided to perform the surgery in Vietnam first, and then go the Modern Cancer Hospital Guangzhou in China to take more advanced treatment.
The People's Artist of Vietnam-Hang Thi Cuc (anticncer warrior appointed by St. Stamford MCHG)
In October 2011, Hang Thi Cuc received breast lump removal in a local hospital. After surgery and six sessions of chemotherapy in local hospital, she was in rather weak condition due to the side effects of treatment. She, accompanied by her son and daughter-in-law, was admitted in St. Stamford Modern Cancer Hospital Guangzhou for more advanced minimally invasive therapy. After the consultation of MDT group, Hang Thi Cuc received natural therapy as well as TCM & western medicine therapy. Hang Thi Cuc said: "natural therapy is advanced; it has greatly improved my immunity. The most touching part to me is that, everyday, the doctors and nurses will come in early to talk to me, asking not only me, but other patients as well, our diet, urine, excrement, sleep, everything related to our condition, and encourage us to be relaxed. Every time when I heard those sweet words which used to be spoken by my family, I was very glad." After a period time of treatment, the tumors in Hang Thi Cuc breast mostly disappeared. Now she just keeps regular checking in the hospital.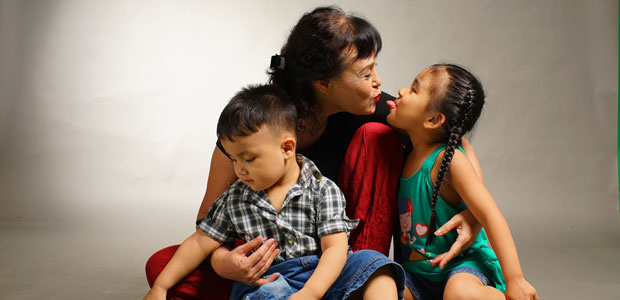 Hang Thi Cuc and her grandchildren
During our interview, Hang Thi Cuc's phone rang. When she picked up the phone, we saw happiness on her face. She told us that it was her daughter-in-law who was conceived the second time when she came back the hospital for a follow-up check up. Now, she was expected to have another grandchild. "I am thankful." she said "I have very deep feeling for St. Stamford Modern Cancer Hospital Guangzhou."
On Dec. 15, 2016, Hang Thi Cuc, honored as people's artist of Vietnam, officially signed a cooperative agreement with St. Stamford Modern Cancer Hospital Guangzhou and has become the ambassador of cancer prevention and treatment in Vietnam. During that period, she also took reexamination which indicated that she was free of breast cancer. It's been 6 years but there' s no recurrence.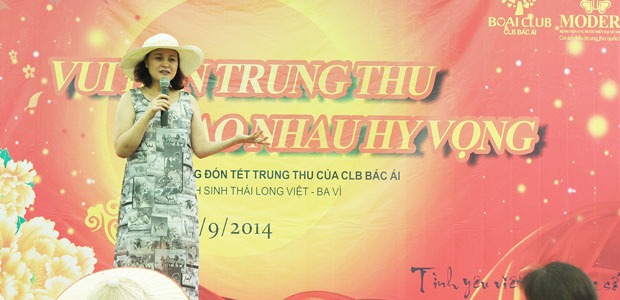 Making speech as a psychological tutor to help more patients of anticancer club in Vietnam
Hang Thi Cuc also said these words to encourage other cancer patients: "Every cancer patient should have faith that cancer doesn't mean death. Take treatment and believe in yourself, doctor and technique. In addition, cherish deep love for life and yourself, do remember to keep struggling against the disease. There's always hope."
*Surgery, in addition to the appropriate chemotherapy and radiotherapy, are effective in treating early cancer, but certain patients in late stage of cancer may not be tolerate surgery well as they can be relatively weak. A combination of carefully planned minimally invasive therapy, chemotherapy or radiotherapy can effectively reduce the side effects and discomfort of treatment and may help patient get better efficacy.