12-Year Breast Cancer Survivor: Minimally Invasive Therapy Saved My Life*
SUSANA MEILANY KOTJO, 62 years old, comes from Indonesia. In 2007, she was diagnosed with stage III breast cancer in local hospital. Later she received six sessions of interventional therapy and radical mastectomy in St. Stamford Modern Cancer Hospital Guangzhou. After the treatment, the tumor marker backed to normal and cancer cells disappeared since then. So far, 12 years has passed and MEILANY is in stable condition with no sign of recurrence.
Recalling her condition while receiving the diagnosis, MEILANY said, "I didn't know it was breast cancer, just a soybean-size tumor was detected and I could feel it once in a while. So I wasn't paying attention in the first year. Until 2007, after examination in Jakarta hospital and it turned out to be stage III breast cancer. In the first place, I adopted the suggestion of taking chemotherapy in Jakarta. After two sessions of chemotherapy, I refused it due to the suffering side effects including pain all over the body and bad appetite."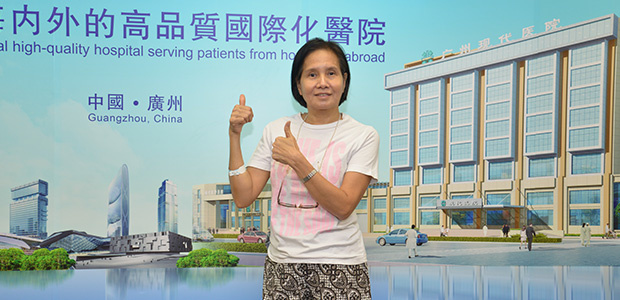 MEILANY
"I think it's God who guided me to St. Stamford Modern Cancer Hospital Guangzhou. My husband read about it on newspaper and they signed up for the cancer symposium held by the hospital. In the satellite office, we've learned about minimally invasive therapy, according to the doctors, minimally invasive therapy features advantages such as small trauma, local anesthesia and few side effects over chemotherapy. I was attracted by minimally invasive therapy and resorted to St. Stamford Modern Cancer Hospital Guangzhou. " MEILANY explained.
Arrived at St. Stamford Modern Cancer Hospital Guangzhou, the MDT(multidisciplinary team) conducted a joint discussion based on her case, combined treatment of interventional therapy, radical mastectomy and traditional Chinese medicine.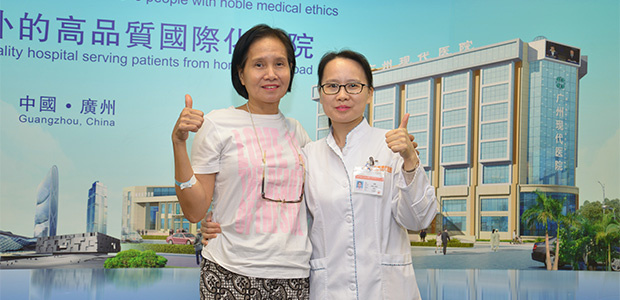 MEILANY with her attending doctor
According to her attending doctor Lin Jing, interventional therapy, an advanced version of systemic chemotherapy, performs perfusion and embolism by injecting high concentration anticancer drugs through feeding artery directly into the lesion. The whole procedure effectively and thoroughly kills the tumor. Interventional therapy offers an ideal option for cancer patients in middle or advanced stage, who is unable to or unwilling to receive open surgery or traditional cancer therapies such as chemotherapy and radiotherapy. It protects the normal tissues and at the same time kills cancer cells.
"During the treatment in Jakarta, I couldn't eat well with discomfort all over the body and difficulty in defecation. Doctors were too busy to spare their attention to each patient. After treatment in St. Stamford Modern Cancer Hospital Guangzhou, I didn't suffer side effects and previous symptoms were relieved. Medical staff is so considerate. After discharge, I've been to Hong Kong and Macao for sightseeing and it was really a relief during my anticancer journey." said MEILANY.
In December 2019, MEILANY came back to St. Stamford Modern Cancer Hospital Guangzhou for further checkup. She's in good condition 12 years after treatment. Along with her family members, they sent great gratitude to medical staff. Meanwhile, she shares her anticancer experience with other patients, "If you get cancer, it's better to take timely treatment before the cancer cells spread. With the medical development, cancer can be treated. "
*Surgery, in addition to the appropriate chemotherapy and radiotherapy, are effective in treating early cancer, but certain patients in late stage of cancer may not be tolerate surgery well as they can be relatively weak. A combination of carefully planned minimally invasive therapy, chemotherapy or radiotherapy can effectively reduce the side effects and discomfort of treatment and may help patient get better efficacy.