Minimally Invasive Therapy Helps New Mother Win the Battle against Breast Cancer*
SAIDAH comes from Indonesia. She is a breast cancer patient and also mother of a newborn baby.
In Aug. 2018, SAIDAH was diagnosed as stage IIIB breast cancer with tumor measuring 12cm.
On hearing the bad news during breastfeeding, she was on the verge of despair. The critical condition threatened her life and gradually pushed her away from her young kid and beloved family. The thought of possible outcome puts tears in her eyes.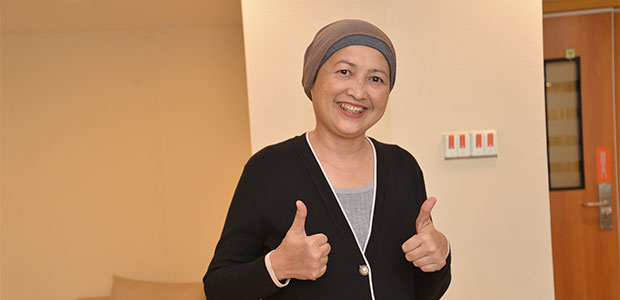 SAIDAH
With support from her family, SAIDAH regained confidence to fight with cancer, In Indonesia, she took resection but the pain wasn't relieved at all. What's worse, she suffered more serious condition with nipple bleeding. Later in Malaysian hospital, she was suggested take chemotherapy but she refused. As she knew well of what the side effects of systemic chemotherapy would do to the body.
By chance, SAIDAH's husband learned about St. Stamford Modern Cancer Hospital Guangzhou on Google. In its Jakarta office, SAIDAH and her husband got to know that interventional therapy, which performs perfusion and embolism by injecting high concentration anticancer drugs through feeding artery directly into the lesion. The whole procedure effectively and thoroughly kills the tumor. Interventional therapy offers an ideal option for cancer patients in middle or advanced stage. Besides, there're also other advanced cancer therapies such as cryotherapy, nanoknife, etc..
On Sept. 20, 2018, SAIDAH was admitted to St. Stamford Modern Cancer Hospital Guangzhou. Back then the tumor measuring 12cm in her breast bothered her and the sustaining pain tortured her.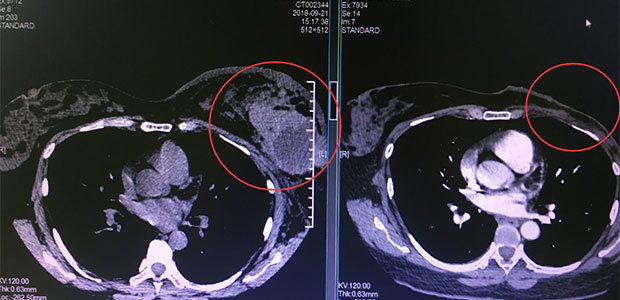 Before (Sept. 2018) and after the treatment(Jun. 2019)
Based on her condition, the Multidisciplinary Team measured a treatment plan combining interventional therapy with cryotherapy. Up till now, she has taken 8 sessions of interventional therapy and 2 cryotherapy. After the second course, the tumor shrank by 5cm.
In retrospect, SAIDAH said, "right after the first admission, I was given cryotherapy and 10 days later I went back to Indonesia. In the following two weeks, the tumor was necrotic with pain greatly relieved and my condition backed to normal."
SAIDAH with medical staff
"Concerning the vulnerable physical condition, patients may inevitably suffer some complications. Interventional therapy is highly-targeted to the lesion without harm to adjacent tissues. I could move freely and live as usual after the treatment. The doctors are professional experts in their fields and they never allowed any complaint of discomfort. Upon my first admission, I suffered sharp pain in my breast and the doctor dealt with it promptly. I cherish great gratitude towards my attending doctor." SAIDAH said with smile.
Upon the discharge, SAIDAH expressed that support from family gave strong impetus to her anticancer journey. She also encouraged other patients, don't give up, keep an optimistic mind and stick to the appropriate treatment, cancer can be defeated.
*Surgery, in addition to the appropriate chemotherapy and radiotherapy, are effective in treating early cancer, but certain patients in late stage of cancer may not be tolerate surgery well as they can be relatively weak. A combination of carefully planned minimally invasive therapy, chemotherapy or radiotherapy can effectively reduce the side effects and discomfort of treatment and may help patient get better efficacy.