Minimally Invasive Technology, Making Malaysian Breast Cancer Patient A Cancer Fighter*
Fifteen years ago, Goh Guat Imm found a small lump of about 1.4cm in her left breast during a physical examination. She went to the local hospital for examination and the biopsy showed breast cancer. At that time, she was both sad and shocked since she did not have any discomfort at all. She did not expect herself to develop cancer.
Apart from being sad, she and her family began to inquire about cancer treatment. In Malaysia, she has seen three doctors and their opinions all were surgical resections, which was denied by her. Because she had several friends diagnosed with breast cancer, they both died after surgical resection in two or three years, she was full of fear in her heart towards surgery. From a friend's introduction, she began to receive conservative treatment by taking traditional Chinese medicine, which lasted for 15 years.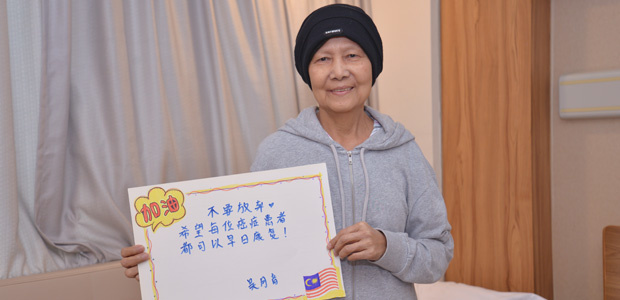 Goh Guat Imm
During last 15 years, although Goh Guat Imm did not feel other discomforts, the breast mass were getting bigger and bigger. In May 2018, her breast mass increased to about 5x6.5cm with bleeding. At this time, she was a little scared, but since she had no other discomforts, she continued to take traditional Chinese medicine and prescribed Chinese medicine for external application, but it didn't work. In order not to worry her family, she did not even tell them and she was secretly taking medications. Until one day, her granddaughter suddenly found that she had lost some blood-stained paper, and asked her if her lumps had bleeding. She lied to her granddaughter and said: "The lump is not bleeding, only my foot bruised." But her granddaughter did not believe her and immediately informed Goh Guat Imm's eldest son. At this time, her family knew her condition had deteriorated; they were very worried and began to seek better cancer treatment for her.
Her granddaughter googled St. Stamford Modern Cancer Hospital Guangzhou and found its Penang Office, Goh Guat Imm's son took her to the Penang office to consult Dr. Tai Lee Siang. According to her condition, the doctor advised her to go to St. Stamford Modern Cancer Hospital Guangzhou for minimally invasive treatment. Through the doctor's introductions, they learned that compared with surgical resection, minimally invasive techniques have the advantages of small incisions, fewer side effects, and quick responses. In addition, her son also learned from friends that many Malaysian cancer patients have received good results after undergoing treatment at St. Stamford Modern Cancer Hospital Guangzhou, so they decided to take Goh Guat Imm to China to treat cancer.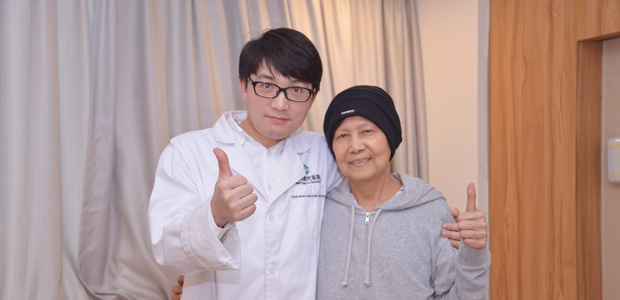 Goh Guat Imm and her attending doctor Pan Xin
In September 2018, accompanied by her son, Goh Guat Imm came to St. Stamford Modern Cancer Hospital Guangzhou. After examination, the tumor has increased to about 8x6cm, accompanied by ulceration. Considering her condition, the Multidisciplinary Team (MDT) tailored a treatment plan of cryotherapy and interventional therapy for her.
"I started to receive cryotherapy first, and then interventional therapy. After the first interventional therapy, the tumor began to shrink. Until now I have undergone 6 sessions of interventional therapy. During the first 4 sessions of treatment, I felt a little uncomfortable, but since the 5th time, I didn't feel any discomfort at all. I just finished the 6th session of interventional yesterday, and you see I am very good today." Goh Guat Imm described the minimally invasive treatment experience here. After comprehensive minimally invasive treatments, Goh Guat Imm's tumor has reduced by about 80%, and her cancer has been controlled.
Goh Guat Imm speaks highly of the doctors and nurses here, "Doctors are very responsible, especially my attending doctor Pan Xin, he is a very caring, humorous doctor, who carefully cleans my wounds every day, nurses are also very friendly and nice, every time they come in for rounds, they always wear sweet smile. And anytime you need them they will come and help at the very first time. I am very grateful to them for taking care of me and offering help during hospitalization."
During the treatment, Goh Guat Imm met some cancer patients from Malaysia. When she learned that their treatment effects were also very good, she was happy for them and also had confidence and hope for her future treatment. She is quite an optimistic person and she always encourages other cancer patients to cheer up, to trust the doctor and find a suitable treatment and wishes every cancer patient a quick recovery.
*Surgery, in addition to the appropriate chemotherapy and radiotherapy, are effective in treating early cancer, but certain patients in late stage of cancer may not be tolerate surgery well as they can be relatively weak. A combination of carefully planned minimally invasive therapy, chemotherapy or radiotherapy can effectively reduce the side effects and discomfort of treatment and may help patient get better efficacy.