I Trust Minimally Invasive Therapies for Treating Breast Cancer*
I'm SULASTRI and a nurse from Indonesia. In April, 2017, I was diagnosed with stage II breast cancer without warning. A lump was detected in my left breast. My husband and I was frightened and we didn't believe the bad news. While, my 10-year-old son comforted us and he also inquired about good hospitals from his teachers, which really touched us and gave me confidence.
My friends helped me find treatment at that juncture. As a nurse, I know that there's no treatment for my case in Indonesia. Therefore, I went to Malaysia for consultation about the treatment and local doctors suggested surgery, which was the same answer I got in Singapore afterwards. As I have relatives in Malaysia, I underwent surgery there on 28, April.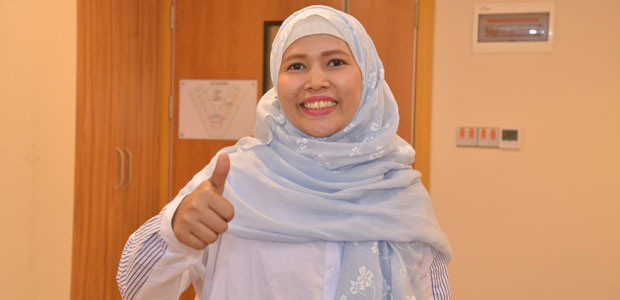 SULASTRI
Six days after the surgery, I came to St.Stamford Modern Cancer Hospital Guangzhou. Actually, I learned about this hospital through internet and the satellite offices before taking surgery in Malaysia. I was quite interested in the minimally invasive therapies, while due to long distance, communication problem, uncertainty about the fee and lacking of trust, I didn't choose it. Afterwards, my friend, who was once a breast cancer patient, brought me good news. In St.Stamford Modern Cancer Hospital Guangzhou, she took minimally invasive treatment, which benefited her with better condition than those friends who took systemic chemotherapy and radiotherapy and suffered severe side effects in Malaysia and Indonesia. What I learned from her dispelled my fears. On May 24, I arrived at St.Stamford Modern Cancer Hospital Guangzhou.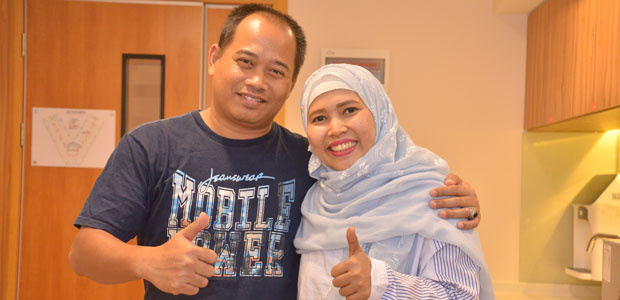 SULASTRI and her husband
As for my condition, the Multidisciplinary Team measured a treatment plan combining interventional therapy and natural therapy, which respectively aims to kill the residual cancer cells in my left breast and improves my immunity. The treatment affected me without suffering many side effects so I could carry on life as usual. In recent three months, I gained good efficacy and my friends all said I was nothing like a patient. It felt like I reborn as a healthy person.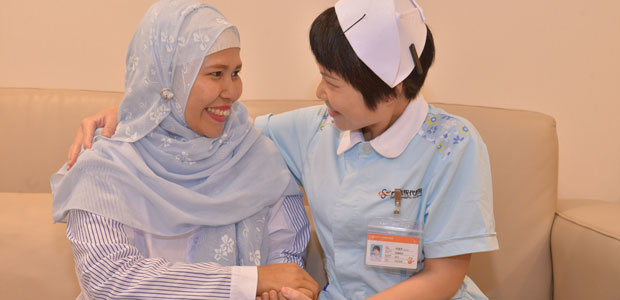 SULASTRI and medical staff
As a nurse from Indonesia, I experienced the treatment in Malaysia and China and what broaden my horizons was the advanced technologies and service philosophy. The responsible doctors and caring nurses, friendly and helpful translators and comfortable environment, activities such as traveling and sightseeing, all together were really impressive and made me relieved. I felt like home here.
Up till now, The joy of recovery overwhelmed the panic on learning the diagnosis. I have better understanding on cancer. Cancer is not the end. I hope all cancer patients can fight cancer courageously, find the treatment and have faith in defeating it.
*Surgery, in addition to the appropriate chemotherapy and radiotherapy, are effective in treating early cancer, but certain patients in late stage of cancer may not be tolerate surgery well as they can be relatively weak. A combination of carefully planned minimally invasive therapy, chemotherapy or radiotherapy can effectively reduce the side effects and discomfort of treatment and may help patient get better efficacy.