Advanced Breast Cancer Patient from Canada Gained New Life in MCHG*
Michelle, 36 years old, comes from Winnipeg, Canada. Being a mother of four young children, she has a happy family. In 2013, she was diagnosed with breast cancer. Refusing the doctor's recommendations for chemoradiation, she underwent mastectomy. Afterwards, she was treated with natural therapy at a local clinic to control her condition. However, breast cancer recurred and deteriorated to stage IV in 2017. In January 2018, she came to the St.Stamford Modern Cancer Hospital Guangzhou. With interventional therapy and particle implantation, the tumors significantly shrank and her physical condition improved.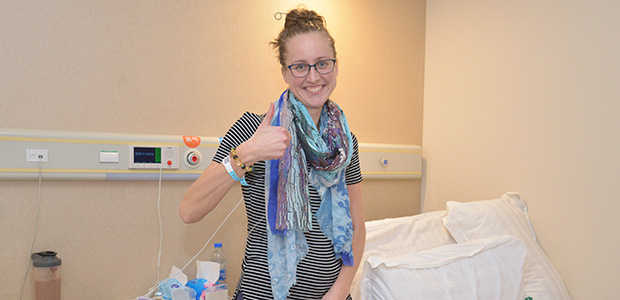 Michelle
Rejecting Chemoradiation, breast cancer recurs after mastectomy
In 2013, Michelle found a lump in her left breast and examination indicated she had stage II breast cancer. Doctors in Canada suggested her take radiation to shrink the tumor and she refused. For what she knows, chemoradiation cause severe and toxic side effects, which greatly influence life quality. And she needs energy for young children.
After mastectomy, she took natural therapy in local clinic. During that period, she underwent injection of all vitamins and follow strict cancer diet to make the condition under control. Unfortunately, recurrence noted in the left axillary lymph node in 2016. She took lymphadenectomy and refused chemoradiation again.
Fighting breast cancer recurrence with minimally invasive therapy
Since July, 2017, Michelle had scorching hot feeling and stabbing pain in the left index finger and middle finger, later on, along with numbness and sensory disturbance of the inner part of the anterior arm and palm, she lay in bed all day and couldn't perform daily routine.
In Nov., recurrences were noted in her inferior left clavicle, left armpit and the left anterior chest wall, invading the left nerve vascularis of the left arm. She was diagnosed with stage IV breast cancer. Doctors could do nothing to help her and predicted she just has one or two years left. They even suggested palliative treatment.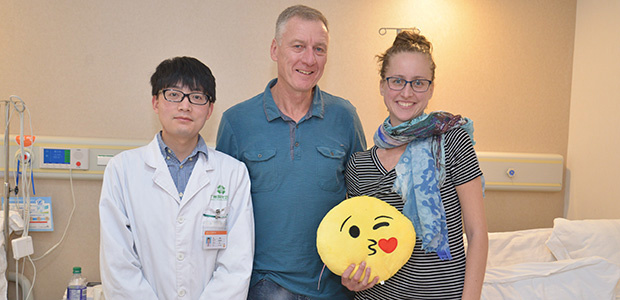 Michelle, her father with attending doctor Pan Xin
By chance, Michelle got to know St.Stamford Modern Cancer Hospital Guangzhou through her friend. Cases of the hospital helping patients successfully fight cancer ignited her hope and she decided to seek treatment in China.
Minimally invasive treatment effectively shrinks tumor and reduce side effects
In Jan. 2018, Michelle came to MCHG. Upon the admission, she felt severe pain and barely get up. Continuous pain kept bothering her.
Based on her condition, her attending doctor Pan Xin conducted a comprehensive discussion with Multidisciplinary Team and came up with a combined treatment on interventional therapy and particle implantation. According to Dr.Pan, "two therapies were respectively focused on three tumors, particle implantation was applied to two of them to kill cancer cells and prevent metastasis. Interventional therapy for another one in left clavicle, injecting drugs directly to the tumor reduce side effects. "
Michelle and her father
After the first treatment, Michelle felt the pain was quickly eased. "I'm glad I could have the opportunity to choose techniques other than traditional treatments. Chemotherapy in Canada works on the whole body and cause toxic side effects, but the minimally invasive therapy here is highly-targeted with fewer side effects and does not affect the quality of life." Michelle said with relief.
Her father said, " it's just like a decision between life and death for us, as we couldn't speak Chinese and had little knowledge of the hospital. Although there was suspicion and distrust at the beginning, now we are glad that we chose this hospital."
Fortunately, after 3 sessions of interventional treatment and 2 seed implantation treatment, CT Scans showed that tumors have been significantly shrunk and her physical condition gradually improved.
Encouragement for other cancer patients
Before discharge, Michelle encourage other cancer patients, "If you are looking for anticancer therapies that have few side effects and can effectively improve the quality of life of cancer patients, St. Stamford Modern Cancer Hospital Guangzhou can Help you. Because I stayed more than a month with my dad here, we've saw many patients with lung cancer, breast cancer, and colorectal cancer who achieved good results after minimally invasive therapy. We've witnessed the power of advanced technology here. We believe that MCHG gives patients hope and encouragement."
*Surgery, in addition to the appropriate chemotherapy and radiotherapy, are effective in treating early cancer, but certain patients in late stage of cancer may not be tolerate surgery well as they can be relatively weak. A combination of carefully planned minimally invasive therapy, chemotherapy or radiotherapy can effectively reduce the side effects and discomfort of treatment and may help patient get better efficacy.