Minimally Invasive Technology Breaks the Prophecy of Only 6 Months' Life*
Encounter cancer recurrence and misdiagnosis
In the second half of 2017, Huynh Thi Nuong started to have difficulty in breathing and swallowing, and cough and hoarseness were presented, so she went back to the hospital where she treated her breast cancer. While doctor told her it was just inflamation and prescribed some medicine to treat it, but it didn't work and she became very sick and her condition was getting worse in November.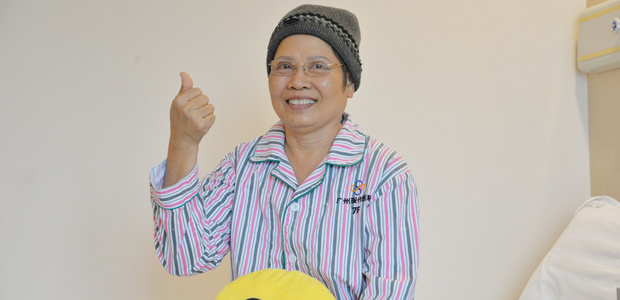 Huynh ThiNuong
Though hopeless, she went to another hospital and it turned out to be cancer recurrence. What's worse, she was informed of only 6 months left because it was too late to take treatment.
Minimally invasive therapy brings hope
Huynh Thi Nuong and her families never stopped looking for effective treatment. Fortunately, they finally found St.Stamford Modern Cancer Hospital Guangzhou. After they had a better understanding of minimally invasive technology and its advantage over surgery and chemotherapy, they came to Guangzhou.
Upon admission, Huynh Thi Nuong had a physical examination and it turned out that her breast cancer has deteriorated from stage II to stage IV, with multiple imediastinal metastases. Her attending doctor Dr. Pan Xin explained, "when Huynh Thi Nuong was enrolled into the hospital, she was very weak and sick, she had difficulties in breathing and speaking, so we decided to arrange her triple oxygen therapy and natural therapy first to enhance her immunity rather than cancer treatment. Because cancer treatment in this stage wouldn't help but a burden to her body. Only when her condition becomes better and stable will the treatment really work, so after that we arranged her interventional therapy and particle implantation to kill her cancer cells, combined with traditional Chinese medicine, to improve her physical and mental condition, enhance her treatment efficacy and reduce the potential side effects.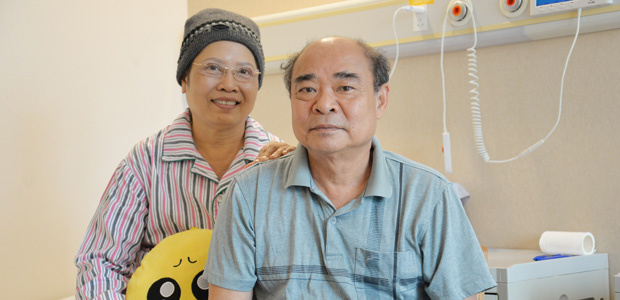 Huynh ThiNuong with her husband
So far, it's been 6 months. After three courses of minimally invasive therapy, Huynh Thi Nuong made a great improvement and broke the doctor's prophecy that she can only live for 6 months. Her breathlessness, difficulty in swallowing, cough and hoarseness disappeared completely and she has a good spirit, at the same time, metastastic lesions are slowly disappearing too.
Compare China with Singapore, they chose China
Before coming to the St.Stamford Modern Cancer Hospital Guangzhou, Huynh Thi Nuong's husband also learned about the hospitals in Singapore. Once Huynh Thi Nuong was very confident in Vietnamese medical technology, but this time she was disappointed. Although Singapore's services are very good, but the treatment technology is still similar to Vietnam. When they tried to make an appointment for cancer consultation, they were asked to wait for a week to make arrangements in Singapore hospital. However, at Ho Chi Minh office of St. Stamford Modern Cancer Hospital Guangzhou, they consulted the oncologists immediately as they appointed. "They were very efficient and professional, so we finally came to Guangzhou." said Huynh Thi Nuong.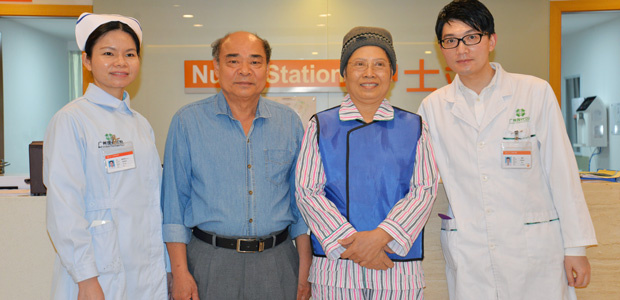 Huynh ThiNuong and medical staff
"There are 18 minimally invasive technologies for cancer treatment, every patient can find a treatment that suits them. The service here is excellent and the translators are very responsible. Although there is a language gap between medical staffs and us, we can feel their concern and care from their eyes. Every time we return to the hospital, we will bring special local products from Vietnam to express our gratitude."
St. Stamford Modern Cancer Hospital Guangzhou, a place full of hope
"We are amazed at the advanced cancer treatment technology in China, we know two ovarian cancer patients from Vietnam who were told that they can only live for a week, but after treatment here, they made a great improvement. Minimally invasive therapy has also helped Michelle (a Canadian stage IV breast cancer patient) put her breast cancer in remission."
"We feel hopeful, doctors in this hospital have engaged in cancer treatment for ten more years and they are very experienced. We hope that more cancer patients can know this hospital and get help and return to health as soon as possible."
*Surgery, in addition to the appropriate chemotherapy and radiotherapy, are effective in treating early cancer, but certain patients in late stage of cancer may not be tolerate surgery well as they can be relatively weak. A combination of carefully planned minimally invasive therapy, chemotherapy or radiotherapy can effectively reduce the side effects and discomfort of treatment and may help patient get better efficacy.