Combined Minimally Invasive Therapy Offers Second Option for Advanced Cervical Cancer*
In the afternoon, we came to the ward 2 on the fourth floor, where we meet a elegant woman.
She's Nguyen Thi Tuyen, 65 years old, comes from Vietnam. She's wearing slight make-up with a fresh complexion. She suffered from advanced cervical cancer.
" I'd like to extend thanks to doctors and nurses here, especially Dr. Lin Jing. She gave me confidence to continue the treatment. Firstly being diagnosed with cervical cancer, I had too much concern. With 25 sessions of radiation and 5 chemotherapy in Vietnam, I had relapse with cancer spreading to lung. I was in despair back then, yet I' m feeling great now." said Nguyen Thi Tuyen.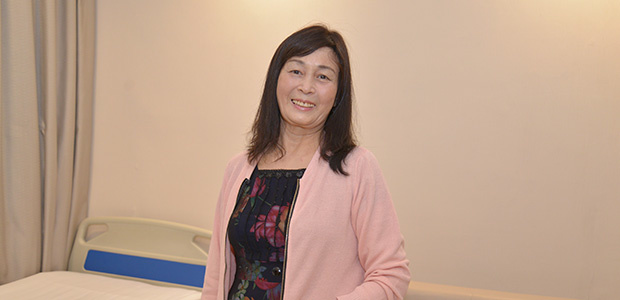 Nguyen Thi Tuyen
In July 2017, Nguyen Thi Tuyen found Irregular vaginal bleeding, for which she didn't care and got detected. Later in Jan. 2018, with increased vaginal bleeding, she took several checkups in local hospital and was diagnosed with stage II cervical cancer. Soon she underwent 25 sessions of radiation and 5 chemotherapy. Though the tumor in cervix has disappeared, she suffered severe side effects of hair loss, tiredness, poor appetite and weight loss. What's worse, she had cancer recurrence in May with multiple nodules in lung and two big tumors measuring 1.5cm.
On hearing that, Nguyen Thi Tuyen and her family were depressed. She refused to take chemotherapy and kept looking for new treatment plan. "My neighbor also suffered cancer once and she regained health after taking treatment in St. Stamford Modern Cancer Hospital Guangzhou. The tumor in her body disappeared and all indicators returned to normal. So we want to know more about minimally invasive therapy. " Therefore, Nguyen Thi Tuyen and her family made consultation in Hanoi office of St. Stamford Modern Cancer Hospital Guangzhou. Learning the advantages of minimally invasive therapy such as no surgery, loss bleeding, chemotherapy and radiation free and few side effects, They made the decision of coming to Guangzhou for treatment.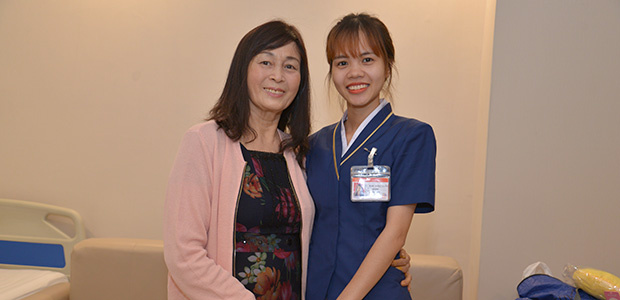 Nguyen Thi Tuyen with interpreter of MCHG
In May 2018, withe the company of her family, Nguyen Thi Tuyen arrived at MCHG.
The Multidisciplinary Team measured a treatment plan combining interventional therapy and natural therapy. Four days later, Nguyen Thi Tuyen received the first session of interventional therapy. "I didn't feel much pain during the operation, anticancer drugs is injected through supplying artery of the tumor and just 2mm wound left. Local anaesthesia was applied in the operation so I felt relaxed few minutes later."recalled Nguyen Thi Tuyen.
After six sessions of treatment, Nguyen Thi Tuyen regained expectation of life. Minimally invasive therapy gave her confidence to defeat cancer. "I was always following doctor's instruction and come back for follow-up and succeeding treatment. During the last check-up, Dr. Lin Jing said my tumor has disappeared, which made me so happy. "Nguyen Thi Tuyen shared her anticancer experience with other cancer patients.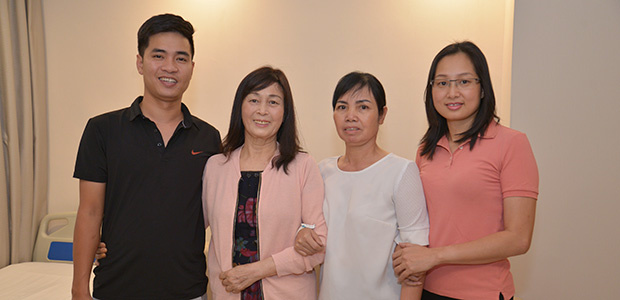 Nguyen Thi Tuyen with family
According to her attending doctor Lin Jing, "after the second interventional therapy, the tumor in her lung greatly shrank. In the 5th follow-up visit, the CT Scans showed lymph nodes and two big tumors measuring 1.5cm disappeared. Currently her condition backed to normal with good appetite and sound sleep. Symptoms such as cough and tiredness are all gone. The tumor marker CEA、CA12 returned to normal. Additionally, natural therapy was to be applied to improve her immunity and consolidate treatment effects and prevent cancer recurrence."
" I cherish heartfelt gratitude towards MCHG for saving my life. Doctors and nurses here are so friendly and helpful. I wish to visit Beijing, the capital of China and my wish will come true soon." It's also Nguyen Thi Tuyen's vision for beautiful future after the cancer journey.
*Surgery, in addition to the appropriate chemotherapy and radiotherapy, are effective in treating early cancer, but certain patients in late stage of cancer may not be tolerate surgery well as they can be relatively weak. A combination of carefully planned minimally invasive therapy, chemotherapy or radiotherapy can effectively reduce the side effects and discomfort of treatment and may help patient get better efficacy.