30 Sessions of Chemoradiation didn't Save Me, But Minimally Invasive Treatment Gave Me Life*
Mai Thi Kim Duyen, 58 years old, comes from Ho Chi Minh, Vietnam. She suffered from advanced cervical cancer. In May, 2015, she was diagnosed with cervical cancer and she took surgery in local hospital. In Aug.2016, Tumor recurred and metastasized to chest. Doctors noted that surgery is unfeasible in her case. After 30 sessions of chemotherapy and radiation, she didn't get better, instead, severe side effects acutely tortured her. Eventually, her family and she refused chemoradiation and looked for other treatment for her.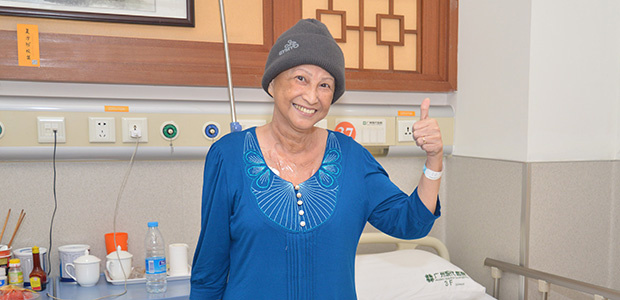 Mai Thi Kim Duyen
By chance, a relative, who also had thyroid cancer, talked about her own experience of taking treatment in St. Stamford Modern Cancer Hospital Guangzhou. She mentioned it's been ten years, but there wasn't any recurrence. Hearing that, Mai was amazed and after consulting several cancer patients who also yielded good efficacy in MCHG. She decided to go to China for treatment.
In Oct.2017, with her husband's company, Mai arrived at St.Stamford Modern Cancer Hospital Guangzhou. Upon the admission, she suffered effusion in chest and right lung, oppressing the left lung. Pleura and chest cavity were covered by nodules and she had difficulty in breathing, kept losing weight and she suffered rather poor mental state. "Last year, I was too weak to take flight to China, I was even asked to sign an agreement to get on board." recalled her condition before treatment.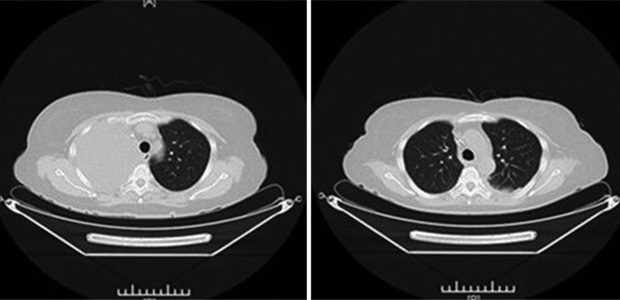 CT Scans before and after the treatment
In St.Stamford Modern Cancer Hospital Guangzhou, the Multidisciplinary Team measured her condition and tailored a combined treatment plan with interventional therapy, natural therapy and fibrin injection. Natural therapy enhances patient's immunity and meanwhile, fibrin is injected into chest and directly targets the tumor. Thus, two therapies work in jointly to kill cancer cells.
The principle of fibrin injection is to extract blood from the patient's body, separate erythrocytes and combine with anticancer drugs to form gel. Then inject the combination directly into the tumor and slowly releases the drug. Meanwhile, the drug, through the infiltrating tissue, lymph and the blood, gradually reaches throughout the body and kills metastatic cancer cells. Fibrin injection features few systemic side effects, high local drug concentration (equivalent to intravenous chemotherapy), and This type of therapy has a long duration of efficacy (which is several times or even dozens of times greater than the proliferation cycle of cancer cells). Only a small incision needed and with the guidance of B ultrasound, the 21G needle can be directly punctured into the tumor, through which the gel is directly injected into the tumor. Therefore, the treatment is safe with low risk.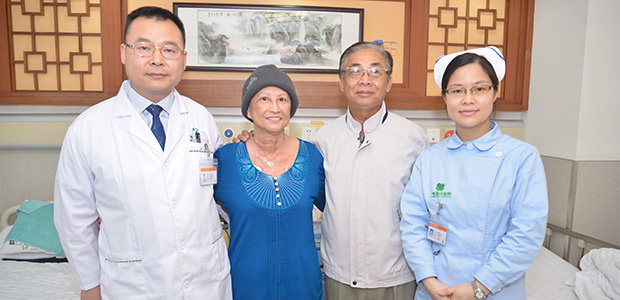 Mai with her husband, Director Han and nurse
"I've taken 4 sessions of treatment here and after the third, I felt much better than before. I gained 3kg in half a month. Minimally invasive therapy is more effective and harmless than intravenous chemotherapy in Vietnam, which causes severe side effects and I suffered from vomiting, constipation, diarrhea and loss of appetite. Back then, I was gradually getting better in 6 months after the chemotherapy. I never thought I would get better so quickly. I'm grateful that Director Han and Dr. Tang helped me with their expertise." Mai said joyfully during the interview.
Mai's attending doctor noted that after 4 sessions of minimally invasive treatment, nodules in her chest cavity and lungs have shrunk and effusion also disappeared. She can walk on her own and breathe smoothly without help of oxygen cylinder. With good mental state, she got better appetite and sleep as well.
"If one get cancer, just take timely and appropriate treatment and hang on till the success. I won't give up to cancer. I defeated cancer and I believe you can too. Come on!" Mai encouraged other patients before discharge.
*Surgery, in addition to the appropriate chemotherapy and radiotherapy, are effective in treating early cancer, but certain patients in late stage of cancer may not be tolerate surgery well as they can be relatively weak. A combination of carefully planned minimally invasive therapy, chemotherapy or radiotherapy can effectively reduce the side effects and discomfort of treatment and may help patient get better efficacy.