I Prefer Minimally Invasive Therapy over Chemotherapy in Treating Late-stage Colon Cancer*
Painful stomachache and difficult defecation turned out to be advanced colon cancer
In early May, 2017, Chng Bon Kee had abdominal pain and difficulty in bowel movements, so he went to the clinic for examination. After taking the medicine prescribed by the doctor, he felt no improvement at all. Then doctor arranged him CT scans, a mass with diameter of around 3.5 cm was discovered blocking his intestinal tract, resulting in bowel problems. Through further tissue biopsy, Chng Bon Kee was confirmed as stage IV colon cancer. Later in July 2017, as abdomen pain intensified, Chng Bon Kee took doctor's advice and had a right hemi-colon colostomy. Meanwhile, doctor offered him chemotherapy to kill the tumor but was rejected.
"Because I can't trust chemotherapy, I have seen many of my friends died after chemotherapy within 3-5 years, some even in 1-2 years. Cancer treatments in Malaysia are not as advanced as those in other countries, there is no interventional therapy in Malaysia, only chemotherapy." he added. Meanwhile, he tried to seek traditional Chinese medicine treatments. When traditional Chinese physician told him that there were only 38% of chances for last-stage colon cancer to be cured with TCM treatments, he lost his faith in TCM and insisted on going to China for more effective treatment.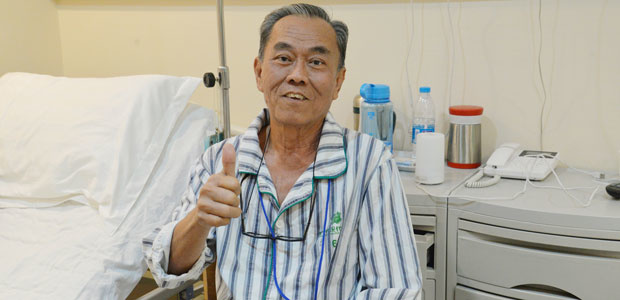 Chng Bon Kee
Refused chemotherapy and sought advanced minimally invasive treatment in China
"Because one of my countrymen, he once came to Guangzhou China to treat cancer over twenty years ago. He was able to survive for ten years without cancer recurrence after he went back to Malaysia. So I believe that China's cancer treatment technology is more advanced and can effectively treat my cancer. I came to China for treatment in the hope that it can save my life and I can live longer. "Chng Bon Kee said.
Afterwards Chng Bon Kee learned about St. Stamford Modern Cancer Hospital Guangzhou from his friends and the local newspapers. His daughter also attended a cancer talk held by the hospital in Kuala Lumpur. After the talk, she consulted Professor Peng Xiaochi about his father's case, and Professor Peng told her that stage IV colon cancer has a 78% chance of being cured and advised him to get treatments. After discussion with his family, Chng Bon Kee went to Kuala Lumpur office for further consultation. After learning about minimally invasive technology, medical expenses, and procedures for going abroad, Chng Bon Kee decided to come to St. Stamford Modern Cancer Hospital Guangzhou to undergo minimally invasive treatment.
"Professor Peng explained that, anti-cancer drugs of interventional therapy are directly given to tumor site. Thus, the drug concentration is 2-8 times higher than that of systemic chemotherapy. killing cancer cells more effectively and causing no damage to normal body tissues and fewer side effects." Chng Bon Kee added.
6 months of herbal treatments aggravated his condition
"On August 29th, 2017, I came to St. Stamford Modern Cancer Hospital Guangzhou for the first time, the multidisciplinary team (MDT) arranged me interventional therapy, percutaneous arterial infusion chemotherapy and TCM and Western Medicine. I spent 27 days in the hospital and finished two courses of the treatments. Ahead of my discharge, Wang Zenghai, my attending asked me to come back on time for follow-up treatment 3-4 weeks after the discharge."
"But after returning to Malaysia, one of my friends who studied Chinese medicine told me not to have too much courses of chemotherapy for it would take a very long time to recuperate. So he suggested me treat with Chinese medicine and prescribed some Chinese herbs for me. I followed his advice and did not return to St. Stamford Modern Cancer Hospital Guangzhou on time. And I received 6 months of herbal treatment there." Chng Bon Kee recalled.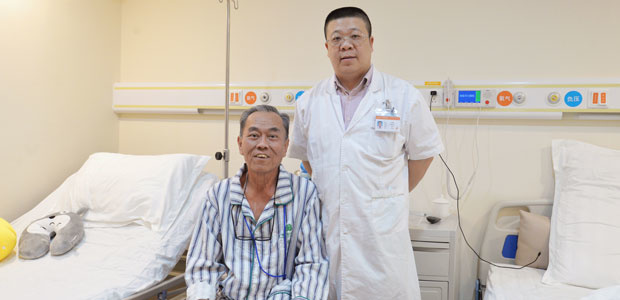 Chng Bon Kee and his attending doctor Wang Zenghai
During Chinese herbal treatments, Chng Bon Kee had his blood test every month, but gradually he found that the value of his tumor marker (CEA) (normal value is 0-5) has been rising, compared to the value ahead of his discharge from St. Stamford Modern Cancer Hospital Guangzhou. To his surprise, after several months of traditional Chinese herbal treatments, his CEA value has risen from 5.1 to 80, which worried him a lot. He began to doubt the effectiveness of Chinese herbal treatments, so he went to another hospital for examination. CT scans showed that tumor in his bowel had enlarged from 3.5cm to 4cm, and 8 more nodules occurred in his lungs. So he contacted staff in Kuala Lumpur office for help and returned to St. Stamford Modern Cancer Hospital Guangzhou.
Minimally invasive technology saved him from getting worse
On March 25, 2018, Chng Bon Kee returned to the St. Stamford Modern Cancer Hospital Guangzhou for further treatments.
"This time treatments are much easier for me. I felt less painful and much easier. I don't feel many side effects from interventional therapy. Since I was discharged from the hospital, I have always had a good spirit. I feel vigorous and I have a good appetite. I can drive outside for 5-6 hours without feeling tired. And I sleep well at night. I go to bed at 9 o'clock and wake up at 5 o'clock in the morning. For my age, 5-6 hours for sleeping is enough." said Chng Bon Kee pleasantly.
"I always told cancer patients around me to consider St. Stamford Modern Cancer Hospital Guangzhou and minimally invasive therapy, I shared my experience with them and sent them the address and contact number of Kuala Lumpur. From my understanding, traditional Chinese medicine treatments fail to control the deterioration because it takes a very long time to take effect. I have TCM and western medicine treatment here, too, but doctor Wang explained that it is just an assisted treatment which helps improve immunity and build up strength. In fact, it is minimally invasive therapy that kills cancerous cells." Chng Bon Kee added.
*Surgery, in addition to the appropriate chemotherapy and radiotherapy, are effective in treating early cancer, but certain patients in late stage of cancer may not be tolerate surgery well as they can be relatively weak. A combination of carefully planned minimally invasive therapy, chemotherapy or radiotherapy can effectively reduce the side effects and discomfort of treatment and may help patient get better efficacy.