Minimally Invasive Therapy Avoid the Suffering of Wearing Ostomy Bag*
Bustanul Arifin comes from Indonesia. In Feb. 2013, he was misdiagnosed with hemorrhoid and took treatment for 7 months. While a colonoscopy indicated colon cancer and he rejected the suggestions of local doctors. In St. Stamford Modern Cancer Hospital Guangzhou, he received s combined treatment of interventional therapy, natural therapy and radical resection. After the treatment, his condition was under control. Until 2019, he has survived 6 years since being diagnosed.
Being misdiagnosed as hemorrhoid
In February 2013, Bustanul went to the local hospital with complaints of abdominal pain, constipation, bloody stool and other symptoms. The doctor treated his case as hemorrhoid and gave him medicine for it. However, seven months later, there're no signs of improvement and he returned to the hospital for colonoscopy in September, when he was eventually diagnosed with colon cancer.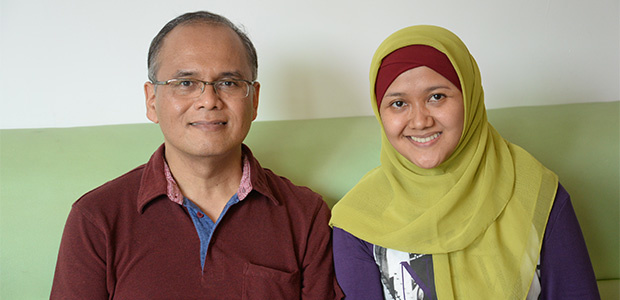 Bustanul with his wife
Minimally invasive treatment avoid the suffering of wearing ostomy bag
Based on his condition, doctor suggested him take a surgery to remove the tumor, but as the tumor was near to his anus. He must wear an ostomy bag after surgery. Bustanul clearly knew that accepting ostomy bags means that he has to carry a dung bag the whole life, which will seriously affect his normal life.
Therefore, he immediately rejected the suggestion. His family was trying their best to seek alternative treatment. Fortunately, one of his relatives, a doctor, attended a cancer lecture, from which he knew there was minimally invasive therapy to treat rectal cancer with no need to take surgery. Therefore, he was suggested to go to Guangzhou for treatment.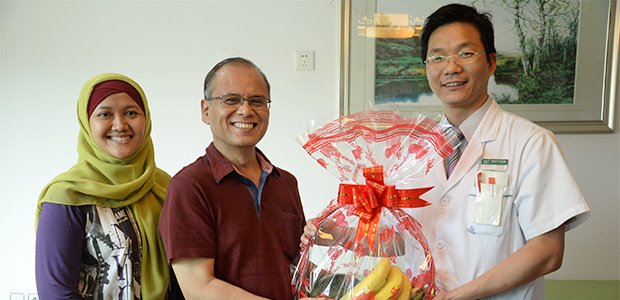 Bustanul express his gratitude to attending doctor
At St. Stamford Modern Cancer Hospital Guangzhou, Bustanul received three sessions of interventional therapy, natural therapy and radical surgery. He said: "The reason why I chose to accept the operation here is that I don't need to wear ostomy bag after the operation. With the first session of treatment, my bowel movement became normal. The tumor cells were completely killed and my immunity was also improved after natural therapy. Meanwhile, the combined treatment effectively avoids tumor recurrence and metastasis." After treatment, Bustanul gained good condition and all he needs to do is coming back for recheck. Bustanul and his wife were relieved knowing the good news.
Apt treatment is curial to surviving cancer
When he first learned that he had cancer, Bustanul and his family were frightened. As in Indonesia, doctors recommend only surgery or chemotherapy for cancer patients, these traditional therapies do great harm to patients' body with severe side effects. Back then they were desperate to receive the diagnosis. Fortunately, at St. Stamford Modern Cancer Hospital Guangzhou, advanced treatment technology, minimally invasive therapy and considerate medical services were served, which was certainly a boost to Bustanul's cancer fight."Cancer doesn't necessarily cause death. As long as you take appropriate treatment and adopt doctor's suggestion, there's still chance to defeat it." said Bustanul.
"The first minimally invasive treatment made my bowel movement normal, during my stay, the treatment yielded good result. At the same time, the services here are also very thoughtful." Bustanul gave high praise to the hospital's services and technology.
*Surgery, in addition to the appropriate chemotherapy and radiotherapy, are effective in treating early cancer, but certain patients in late stage of cancer may not be tolerate surgery well as they can be relatively weak. A combination of carefully planned minimally invasive therapy, chemotherapy or radiotherapy can effectively reduce the side effects and discomfort of treatment and may help patient get better efficacy.