Minimally Invasive Therapies Light up My Life*
I thought I had gotten rid of cancer and could have a peaceful life since that. However, it reoccurred in February this year. What's worse, it metastasized to the right lung. I neither had the history of hepatitis, tuberculosis, hypertension, coronary heart diseases and diabetes, nor genetic history of cancer. Moreover, I wasn't addicted to alcohol and cigarette. What caused my cancer? I despaired of traditional surgeries, chemotherapy and radiotherapy which not only worsened the quality of life with gigantic pain, but also weren't effective. One day, my aunt paid a visit to me and brought me good news that there were cutting-edge minimally invasive therapies with tiny wounds and side effects in Modern Cancer Hospital Guangzhou. Then, we came to Guangzhou with a glimmer of hope.
The MDT experts carried out the transhepatic arterial chemotherapy and argon-helium cryotherapy for right lung tumor with local anesthesia under the orientation of CT, which have shown good effects. There were just little bleeding without surgery, small wound and tiny pain in those process, and I could walk after 24 hours. My attending doctor told me that argon-helium cryotherapy is one of minimally invasive therapies. Aiming to kill local tumor cells, it has become the mainstream of cancer treatment in twenty-first century. It mainly adopts the "ultracold + thermal therapy" method to kill lung cancer cells in the temperature environment of great changes, which can not only destroy cancer cells thoroughly and precisely, but also enhance the effects of chemotherapy and radiotherapy. Those advanced medical technologies have saved my life, while the considerate services have been guaranteeing the quality of my life.
I will be discharged in several days. Modern Cancer Hospital Guangzhou lights up my life and I will embrace my new life with more passion.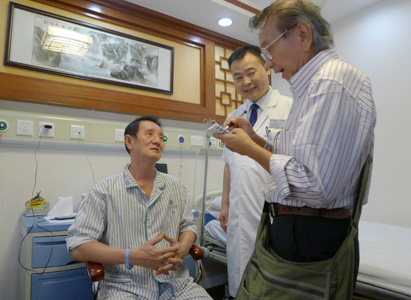 The media delegation from Malaysia paid a visit to Chen Minghan.
*Surgery, in addition to the appropriate chemotherapy and radiotherapy, are effective in treating early cancer, but certain patients in late stage of cancer may not be tolerate surgery well as they can be relatively weak. A combination of carefully planned minimally invasive therapy, chemotherapy or radiotherapy can effectively reduce the side effects and discomfort of treatment and may help patient get better efficacy.