Vietnamese Lung Cancer Patient Saved by Minimally Invasive Therapy*
NGUYEN THI THANH TAM, 49 years old, comes from Hanoi, Vietnam. She was diagnosed with left lung adenocarcinoma. With a combined treatment of several sessions of minimally invasive therapy and traditional Chinese medicine, the tumor basically disappeared and currently her condition is in remission.
With a family history of cancer, lung cancer diagnosis was not a surprise
In Jan 2019, NGUYEN THI THANH TAM noticed symptoms of cough up white sputum, along with signs of chest tightness, shortness of breath, night sweats, of which she just thought as cold. After taking medicine, the symptoms also lingered then she took treatment for the cough and got improvements. In the end of February, she suffered pain between the ribs. Multiple examinations indicated occupying lesions in inferior lobe of left lung with cervical lymph node metastases. Lung cancer was considered.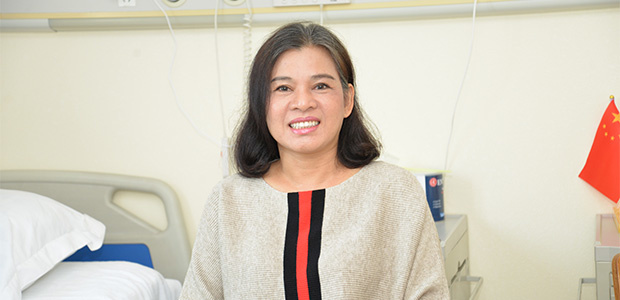 NGUYEN THI THANH TAM
In March, she was diagnosed with lung cancer without being staged. Local doctors just told her that there was a malignant tumor measuring 3.2cm.Due to her family history of cancer, her brother was diagnosed with colon cancer and her aunt was tortured by leukemia for years. Being diagnosed with lung cancer was not a surprise to her, she was calm about the bad news. She didn't tell her husband until the day she decided to go to China for cancer treatment.
Seeking cancer treatment far away from home
Every cloud has a silver lining. Thanks to the family history of cancer, she once consulted several local hospitals and learned that there was a hospital specialized in treating cancer, but the hospital environment and the service disappointed her and one of her friends who took treatment in same hospital didn't get good result. So NGUYEN THI THANH TAM decided to find a better hospital.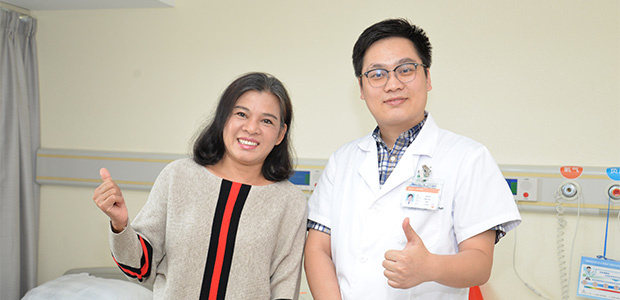 NGUYEN THI THANH TAM with her attending doctor
In March, NGUYEN THI THANH TAM searched online about specialized cancer hospital and St. Stamford Modern Cancer Hospital Guangzhou drew her attention. Back then, she contacted a friend who was taking renal cancer treatment in the same hospital and gained good condition with the tumor disappeared. Her friend also recommended her go to St. Stamford MCHG for advanced cancer treatment. Afterwards, she found the Ho Chi Minh office of St. Stamford MCHG and made consultation. With the assistance of the office staff, she got visa to Guangzhou few days later.
After several sessions of minimally invasive therapy, the tumor greatly shrank
In March 2019, NGUYEN THI THANH TAM was admitted to St. Stamford Modern Cancer Hospital Guangzhou and she had bone ECT scan, which indicated multiple bone metastases. The Multidisciplinary Team conducted a comprehensive discussion based on her case and came up with a combined treatment of interventional therapy and cryotherapy. After the treatment, the symptoms of cough and back pain were relieved, most importantly, with photodynamic therapy in May and the following microwave ablation, her tumor was greatly shrunk and all the symptoms were disappeared.
Being well known of St. Stamford Modern Cancer Hospital Guangzhou, NGUYEN THI THANH TAM trusted the doctor with full cooperation. Until her sixth admission, she recalled, minimally invasive therapy was almost done in half an hour and I could walk freely few hours later. During the treatment, I didn't feel any pain. My condition was greatly improved with the tumor almost disappeared. The cozy hospital environment and considerate service helped me get through the cancer journey with a good mood.
So far, NGUYEN THI THANH TAM has received six sessions of interventional therapy, one cryotherapy and two photodynamic therapy. Except for minimally invasive therapy, she also took traditional Chinese medicine, which yield slow effect but improve patient's immunity. According to her attending doctor, "The treatment is very suitable for her current physical condition. According to her latest checkup results, the tumor has completely disappeared and her physical condition is in remission currently."
NGUYEN THI THANH TAM wants to share her anticancer experience with other cancer patients and encourage them, "In my opinion, belief do matter in cancer journey, trust the hospital and cooperate with the doctors. Wish you get a quick recovery, let's fight cancer together."
*Surgery, in addition to the appropriate chemotherapy and radiotherapy, are effective in treating early cancer, but certain patients in late stage of cancer may not be tolerate surgery well as they can be relatively weak. A combination of carefully planned minimally invasive therapy, chemotherapy or radiotherapy can effectively reduce the side effects and discomfort of treatment and may help patient get better efficacy.