Interventional Minimally Invasive Therapy: Restoring Hope to Life for Stage IV Lung Cancer Patients
"hello, dear Friends, we don't need to worry and be afraid when we come to Guangzhou, China for treatment . St. Stamford Modern Cancer Hospital Guangzhou has a professional team of interpreters. From admission to discharge, the hospital will make all the arrangements, so we don't need to worry. The doctors' diagnosis and treatment plans, etc., will be relayed to us by the translation team, assisting us with all our medical needs." At the end of the interview, JAFFAR said seriously and with a smile.
Diagnosed with lung cancer in 2017, local doctor recommended open surgery
JAFFAR is a 72-year-old lung cancer patient from Jakarta, Indonesia.In 2017, he suddenly experienced frequent coughing up of blood, so accompanied by his family, he went to the local hospital in Jakarta for consultation and examination, only to be diagnosed with Stage II lung cancer, with a tumor of about 3cm found in his lungs. The local doctor recommended surgical resection treatment, but he was worried the surgical treatment was too risky and there might be hemorrhage. It was even harder to imagine how difficult life would be after the surgery, so he refused the suggestion of surgical treatment. After discussing the issue in detail with his friends and family, they helped to find alternative treatments on social media platforms.
Afterwards, JAFFAR and her friends and relatives went to Europe and the United States to seek for treatment, but all ended up in vain. Although these countries generally have advanced treatment technology, there are also problems such as high cost and difficulty in guaranteeing the effectiveness of treatment. Thus, the road to treatment was stuck in a dilemma.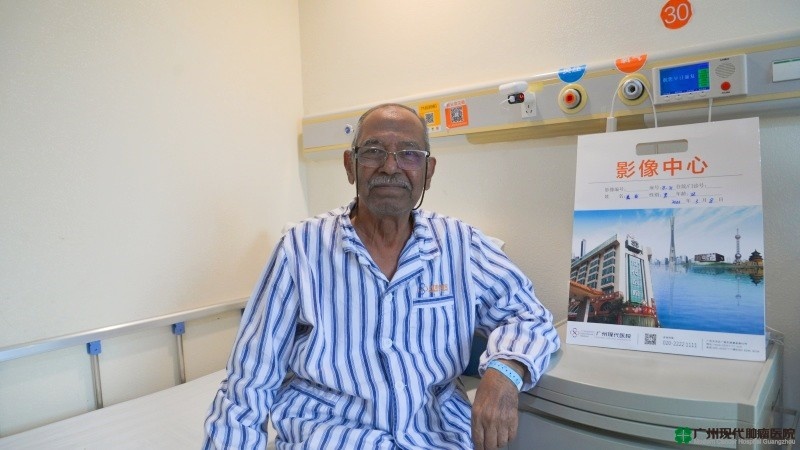 Indonesia Lung Cancer Patient JAFFAR
Surgical removal, not the only option for early lung cancer treatment
When they were about to give up, JAFFAR's family found a patient who was also diagnosed with lung cancer on youtube, telling about his own experience of fighting against cancer at St. Stamford Modern Cancer Hospital Guangzhou after minimally invasive comprehensive treatment, effectively controlling the tumor within three months and regaining his life. Hearing this news renewed his hope.
JAFFAR and his family came to the office of St. Stamford Modern Cancer Hospital Guangzhou in Jakarta, where the staff patiently received them and introduced the hospital's 18 minimally invasive integrated treatment technologies. JAFFAR realized that surgical resection is not the only option for early stage lung cancer treatment. He felt happy and relieved, and finally decided to go through all the procedures with the assistance of the staff, ready to go to St. Stamford Modern Cancer Hospital Guangzhou for treatment.
Minimally invasive comprehensive treatment makes a 3cm tumor in the lung "disappear".
Two weeks later, JAFFAR and his wife boarded a plane to Guangzhou, China. The hospital provided them with a pick-up service, which calmed their anxiety about seeking medical treatment in a foreign country. On the second day after he was admitted to the hospital, the MDT expert team immediately made a diagnosis and analysis based on JAFFAR's physical condition and past examination reports, arranged for him to undergo a detailed physical examination in order to understand the progress of the disease more clearly.
JAFFAR first performed cryoablation therapy and biopsy. Under the guidance of CT, a cryoprobe was inserted into the tumor, and argon gas was injected to rapidly lower the temperature inside the tumor to form an ice ball, and then helium gas was injected to rewarm the ice ball. After at least 2 cycles of cooling and rewarming, the lung tumors were cryoablated.
The biopsy results showed invasive carcinoma of the left lung. Considering JAFFAR's condition, a minimally invasive and comprehensive treatment plan was formulated under the consultation of the MDT team: interventional therapy was carried out.
Interventional therapy is a CT-guided puncture, where special catheters, guide wires and other precision instruments are introduced to the tumor site, and anti-tumor drugs are infused directly into the tumor from the arteries, with a drug concentration two to eight times higher than systemic chemotherapy concentration, killing cancer cells more efficiently. "The whole treatment process was completed in just 15 minutes and I didn't even feel any pain." JAFFAR chatted about how he felt after his first intervention. The surgery was short but brought such an amazing healing effect that JAFFAR felt his health gradually improving, after tests showed the lung tumor had shrunk, he became more and more determined to beat lung cancer. After the second intervention, the doctor told him the test report showed the lung tumor had "disappeared". "I was so excited that I fell down on my knees and thanked God,I didn't think I would live long, but I never thought I would find the hope of living again in St. Stamford Modern Cancer Hospital Guangzhou." JAFFAR said!
Interventional therapy saves life of patient condemned to 'two years'
Effective control of the disease lasted for about 6 years. Unfortunately, in 2023, due to overexertion and smoking, JAFFAR started coughing again and a small amount of blood appeared in his saliva, he felt very panicked, fearing that the lung cancer had returned. So he quickly went to Jakarta Hospital for CT examination, and later diagnosed with stage IV lung cancer, the doctor even gave him a notice of only two years left to live. He came to St. Stamford Modern Cancer Hospital Guangzhou to seek treatment again, hoping to save his life again. For this reason, JAFFAR and his family embarked on a plane to Guangzhou, China again.
Seeing the doctors who were as close as family again, JAFFAR's fear has calmed down."Doctors from St. Stamford Modern Cancer Hospital Guangzhou had helped me tremendously with my lung cancer treatment in 2017, and I believe they can still help me this time." Currently, JAFFAR has received one intervention, but the test report shows 25 percent of the tumor has disappeared and stage IV lung cancer has been converted to stage III. He is confident in himself, his doctors and the medical technology, and looking forward to returning to "health" soon!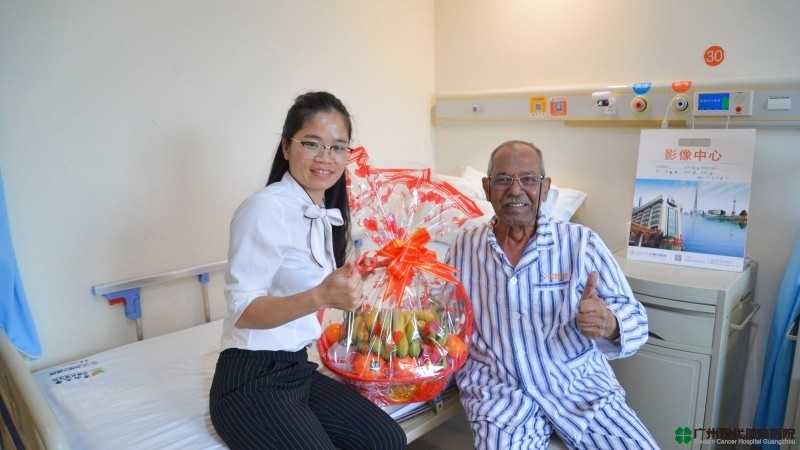 Photo of JAFFAR and Indonesian interpreter
Why choose St. Stamford Modern Cancer Hospital Guangzhou?
During the interview, JAFFAR mentioned, "I have stayed in many hospitals and every ward is horrible, but the wards in St. Stamford Modern Cancer Hospital Guangzhou are different. In recent years, the ward facilities have also been upgraded and improved, not only with safes, closets, etc., but also with better and better hygiene and service quality."
"St. Stamford Modern Cancer Hospital Guangzhou not only has a professional team of doctors, where patients are able to get individualized minimally invasive and comprehensive treatment, but also has high-quality medical services, and as an overseas patients there is no need to worry too much."
*Surgery, in addition to the appropriate chemotherapy and radiotherapy, are effective in treating early cancer, but certain patients in late stage of cancer may not be tolerate surgery well as they can be relatively weak. A combination of carefully planned minimally invasive therapy, chemotherapy or radiotherapy can effectively reduce the side effects and discomfort of treatment and may help patient get better efficacy.