Stage IIIB Lung Cancer Patient Suffered Several Metastases in Three Years*
Edison took himself as a warrior, whose perseverance has supported him to defeat cancer eventually after several metastases.
There were only 6 months to live
Life is so vulnerable, especially confronting such dreadful disease. As for Edison's case, who came from Malaysia moved to ShenZhen with his wife and children for his career. However, a sudden circumstance crushed him while he was enjoying a promising career and happy family.
In 2013, Edison was 43 years old. A persistent cough noted, thus, checkup in local hospital was immediately attended. Shockingly, advanced left lung cancer and accordingly, that he just had 6 months to live. What a heartbreaking news!
He had all the expression of despair and regrets as he used to be a smoker and an alcoholic drinker. Even though the doctor has told him to get the family prepared for the worst result-death, he didn't give upon himself as he can't leave his family especially his 2-year-old son.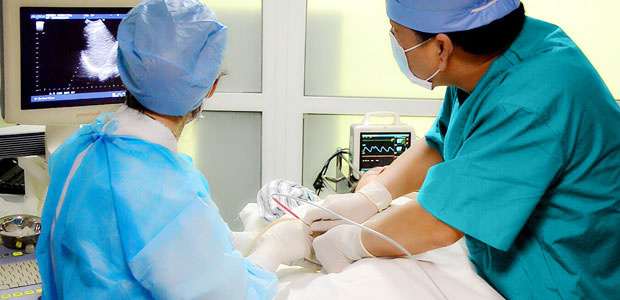 Cryotherapy
His condition kept worsening even during the treatment
In September 2013, Edison started with herbal treatment. However, the condition worsened that he was coughing out with blood. After checkup in Malaysia, it was found that the tumor has enlarged to 8cm too large to be rejected by doctors in Shenzhen.
Altogether, the family tried everything out in searching for other treatments. A friend recommended St.Stamford Modern Cancer Hospital Guangzhou and his wife had also found MCHG the miinimally invasive treatment and lightened up their hope. Not a second thought, Edison traveled from Shenzhen to Guangzhou and met Dr. Peng Xiaochi.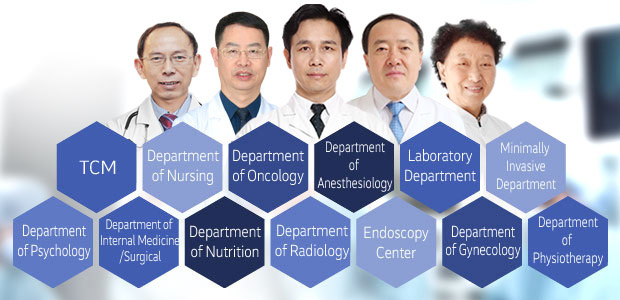 MDT of MCHG
Treatment in MCHG
Dr. Peng tailored an initial treatment plan based on a comprehensive treatment proposal which composed of Cryotherapy and I25 Particle Implantation.
In March 2014, Edison arrived at MCHG and the journey of treatment began. By CT-sans, he was detected an enlarged tumor measuring 12cm and metastasis to lymph nodes on left hilum and to mediastinum. The CEA has reached 1.12ng/ml and CA 125 22.3U/ml. On 12th, March, Edison took cryotherapy in the left lung tumor, three sessions of interventional therapy and one session of biological natural therapy. The tumor effectively on his left lung and metastasis in lymph node has shrunk. Furthermore, the tumor marker has backed to the normal state. Pan Xin, the attending doctor also said that he's getting better. They also combined it with radiotherapy to achieve best efficacy. Couldn't leave work in Shenzhen, Edison have decided to take radiotherapy in a local hospital.
Metastasis to pancreas
After a regular checkup, it indicated cancer cells have spread to pancreas that made the change of scheduled plan. According to the attending doctor, "Distant metastasis didn't agree with radiotherapy.
On 11th, June 2014, Edison came back to MCHG for another session, applying 125I seeds (particle implantation) to tumor in pancreas. In total, there were 30 seeds inside his body. Due to the continuous radiating of γ-ray which does great harm to children, he had to stay away from his son even though he missed him a lot. All that he did was for more time with his son in the future.
Particle implantation was quite effective and he was turning better. Symptoms such as chest pain and cough gradually left him alone. Tumor markers maintained in normal state. Combined with several sessions of interventional therapy, the tumor in his pancreas has disappeared and that in lung has also shrunk to 5cm.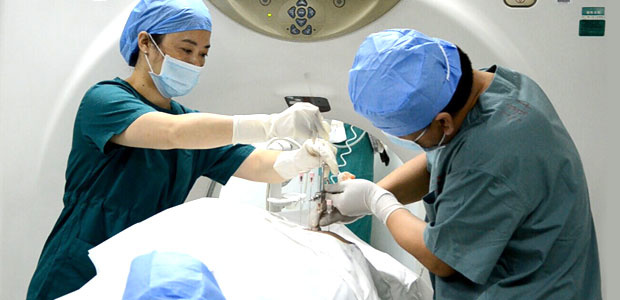 Particle implantation
Multi-bone metastases
On 13th, Jan. 2015, Edison underwent another session of cryotherapy to his left lung tumor. So far, he got stable condition with lung infection and blood pressure under control.
Unfortunately, cancer kept coming back and much more severe as it was. A month later, Edison was told that multi-bone metastasis occurred. By then he was discharged and took medicine at home. During the following year, Edison came back for monitoring once a month to ensure the condition is under control career. Recovery went slowly but with its less invasive nature, he was able to go to work in between his treatments.
Metastases to left kidney and prostate
After two-year regular treatment, his body wasn't as strong as before and uncertainly waiting what is next. From the record in March, 2016, deterioration reached to metastasis to the left kidney and prostate. At that moment, he finally adopted doctor's advice to stop to work and take a rest and keep fighting for family.
Since March 2016, Edison underwent one session of Interventional therapy and four sessions of Targeted therapy and Cryotherapy were given. The symptoms of intestinal adhesion and peritonitis have also disappeared after laparotomy. In August 2016, left lung and mediastinum cancer cells have all lost activity. In his recuperating period in Malaysia, his condition got better. In December 2016, he went to MCHG for a follow on check-up and the doctor announced that all cancer cells inside his body were surprisingly eliminated.
Since been told there was only six months left, he unswervingly fought cancer in MCHG for three years. His victory against cancer belonged to the joint effort of himself and the advanced technologies of MCHG. According to doctor Pan, he only had six months left and resorted to MCHG. After a comprehensive assessment, we thought there was still a chance so we went for it. Our doctors grasped the last straw and try everything to help him. In addition, It is important that he had strong desire to survive.
Before the treatment, Edison was so weak but kept mind clearly. He actively followed doctors' instruction, got rid of bad habits, took proper exercise and kept nutritious diet. He thought strong will and body share equal importance in treatment. He also cherished trust and respect to medical staff. "During the treatment, I once became furious and rude, but the medical staff took care of me with love and patience.". In July, doctor Pan personally cleaned my wound after laparotomy. He was more of a friend than just a doctor to me. Director Dai Wenyan even treated me as her brother.
Edison is a Christian and he thought it is God's will bringing him to MCHG. Looking back the lung cancer journey for three entire years, he expressed his feelings, "St.Stamford Modern Cancer Hospital Guangzhou houses cutting-edge technologies and professional and experience doctors. Most importantly, Confidence and cooperation between doctors and patients also helped me yield great efficacy."
*Surgery, in addition to the appropriate chemotherapy and radiotherapy, are effective in treating early cancer, but certain patients in late stage of cancer may not be tolerate surgery well as they can be relatively weak. A combination of carefully planned minimally invasive therapy, chemotherapy or radiotherapy can effectively reduce the side effects and discomfort of treatment and may help patient get better efficacy.