Never Give up In 14 Years' Cancer Fight*
WONG SIOE IN is 74 years old and comes from Jakarta, Indonesia. For her, cancer is not a new word. From the year of 2003 to 2017, she has been diagnosed as breast cancer and stage IV lung cancer successively. However, she is fortunate enough to escape from the Death. So far, she has been living with cancer for 14 years. As a cancer survivor, "never give up" is the secret of fighting cancer.
Postoperative lung metastasis of breast cancer
In 2003, WONG SIOE IN was diagnosed as breast cancer after a lump was discovered in her right breast. She was shocked to the bottom, as she had been very healthy since she was fond of yoga and Taichi. Even no time to feel sad, WONG SIOE IN and her family adopted local doctors' suggestion and accepted the radical mastectomy for breast cancer. To solidify the effect, she has undergone the systemic chemotherapy for 6 sessions. "The side effects of systemic chemotherapy are apparent. During the treatment, I lost all my hair, and I felt weak and uncomfortable, having apparent nauseas." WONG SIOE IN recalled.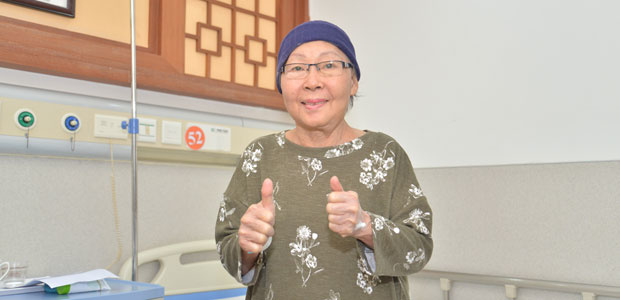 WONG SIOE IN
It is reassuring that although treatment was painful, WONG SIOE IN gained a good therapeutic effect. After two months of treatment, WONG SIOE IN was released from hospital and her condition was gradually improving.
However, unfortunately, in early 2017, when WONG SIOE IN thought she had overcome all the challenges, she suddenly felt hard to breathe, which made it very difficult for her to climb the steps. In Jakarta hospital, she was diagnosed with left lung cancer with plenty of fluids in her left breast cavity, indicating that her cancer cells have spread to lung.
Seeking treatment abroad
The recurrence and metastasis of her cancer forced WONG SIOE IN and her family to give up operation and systemic chemotherapy. Instead, they decided to seek treatment that causes less pain and less recurrence. Accidentally, WONG SIOE IN's son learned something about St.Stamford Modern Cancer Hospital Guangzhou, and he brought his mother to Guangzhou for treatment immediately.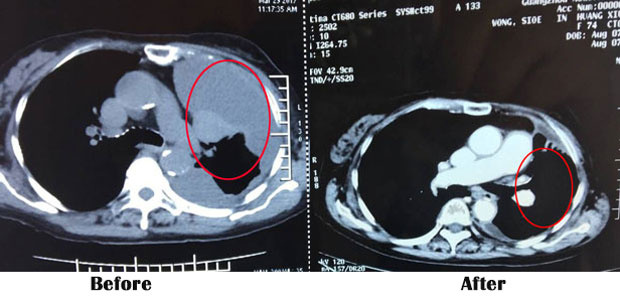 After the treatment, the lump and plenty of effusion in the patient's lung have disappeared, and her lungs are visible.
On March 28th, 2017, WONG SIOE IN arrived at St.Stamford Modern Cancer Hospital Guangzhou for the first time. As for the first impression of St.Stamford Modern Cancer Hospital Guangzhou, WONG SIOE IN said gratefully, "They provided airport pickup service for me when I arrived Guangzhou. Besides, there is a team of multidisciplinary experts following up my case every day, making me feel relaxed and I trust them."
Upon WONG SIOE IN's admission, the Multidisciplinary Team (MDT) arranged a thorough check-up for her at once. After biopsy of the lung tumor, a 2.2* 2.5* 2.8 cm round tumor was detected on her left lung and she was diagnosed as stage IV lung cancer. Additionally, a large amount of bloody pleural effusion was detected in her left lung. Based on her condition, MDT tailored a comprehensive treatment of interventional therapy, natural therapy and gene targeted therapy.
5 sessions of interventional therapy eliminates the lung cancer.
WONG SIOE IN's attending doctor noted, "many patients with breast cancer still suffer the risk of recurrence and metastasis of cancer even after they accepted operation and chemotherapy, especially for those old patients like WONG SIOE IN. They are vulnerable to cancer recurrence and metastasis after undertaking operation and chemotherapy as their immunity is lower than standard. So treatments such as minimally invasive therapy with less adverse side effects and less incisions are more suitable for them. Minimally invasive therapy, combined with TCM& Western medicine of the characteristics of St.Stamford Modern Cancer Hospital Guangzhou, could not only kill cancer cells precisely but improve patients' immunity at the same time, and also minimizes the rate of cancer recurrence and metastasis."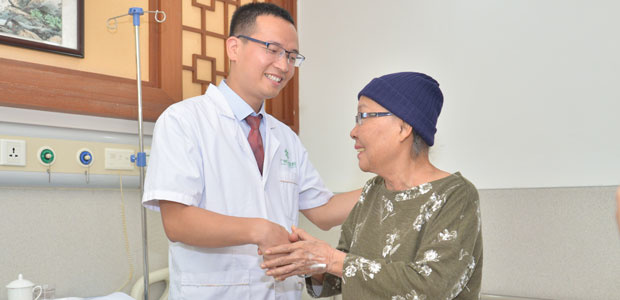 Before her discharge from St.Stamford MCHG, WONG SIOE IN held the attending doctors' hands tightly for gratitude.
On April 11st, 2017, WONG SIOE IN accepted the first interventional therapy. She explained, "anti-tumor medicine is injected into the tumor through femoral artery, so normal cells will not be affected. I no longer suffer the side effects such as vomiting and nausea before and after the therapy; what's more, local anesthesia was adopted in this therapy, so I was conscious during the therapy. I could feel every step of the treatment, and the whole treatment last for less than an hour."
On May 1st, after the second interventional therapy, difficulty in breathing and other symptoms that have troubled WONG SIOE IN for a long time have weakened, and the patient does not struggled to ascend stairs as hard as when she just entered the hospital. Till the fifth interventional therapy, she found with great joy that she could do yoga and taichi as before. At leisure time, the patient could even practice taichi and enjoy the sunshine with her friend at the little garden of the hospital's fourth floor, which makes her relaxed and happy. WONG SIOE IN feels that the cancer is far away from her.
This is WONG SIOE IN's fifth hospitalization. Before her leaving St.Stamford Modern Cancer Hospital Guangzhou, she held her attending doctors' hands tightly for gratitude when she learned that the cancer in her lung has disappeared , plenty pulmonary effusion already discharged, and her body returned to normal.
WONG SIOE IN is a Buddhist so that when the lung cancer comes, she still faces it with composure. "Take cancer as a common disease, and seek for treatment immediately till beat it." This is how she defeated cancer, and she also hoped that other cancer patients could keep the spirit of never giving up, and face cancer valiantly!
*Surgery, in addition to the appropriate chemotherapy and radiotherapy, are effective in treating early cancer, but certain patients in late stage of cancer may not be tolerate surgery well as they can be relatively weak. A combination of carefully planned minimally invasive therapy, chemotherapy or radiotherapy can effectively reduce the side effects and discomfort of treatment and may help patient get better efficacy.