Encountering Stage IV Lung Cancer with Brain Metastasis, I Chose Safe Minimally Invasive Technology*
Face it positively when cancer recurred after 5 years
Toh Bee Guet is a 55-year-old stage IV lung cancer patient, who is from Johor Bahru, Malaysia. Five years ago, Toh Bee Guet was confirmed as lymphoma, she had six rounds of chemotherapy in local hospital, even though she suffered nausea, vomiting and hair loss, she finally made it. Facing cancer recurrence, she exclaimed, "I have made through the five-year survival period, but I know people always face cancer recurrence, when it comes back, we treat it."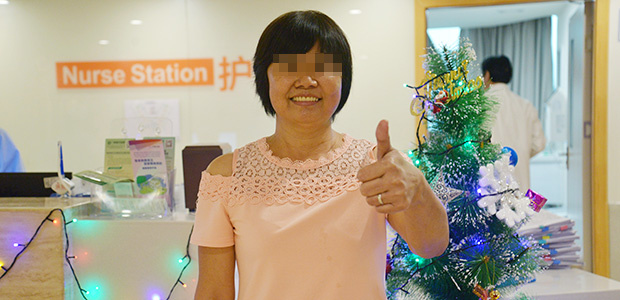 Malaysian stage IV lung cancer sufferer Toh Bee Guet
In September, 2017, Toh Bee Guet was detected with fluids accumulated in her lung and tumors scattering over her left lung after she went to local hospital because of her difficulty in breathing. It was detected that the bigger tumor in her lung was around 2 cm and she was diagnosed with stage IV lung cancer. Afterwards, doctor in Malaysia helped deal with the pleural effusion problem and prescribed her some medicine to control it. However, after taking the medicine for more than a month, Toh Bee Guet started to suffer cracked finger, chapped lip, dry nose and bleeding fingers. The severity of Toh's condition pushed her and her families to look for another effective alternative treatment.
In Oct. 2017, Toh's son happened to read about Johor Bahru cancer symposium from the internet and local newspaper, therefore, accompanied by her families, Toh Bee Guet joined the symposium and made a consultation with Prof. Xu Haitao, consultant doctor in Kuala Lumpur Office of St.Stamford Modern Cancer Hospital Guangzhou and from whom Toh learned about minimally invasive technology. Minimally invasive therapy featuring small trauma, good curative effect and few side effect brought Toh hope and she had faith that minimally invasive therapy can take good care of her condition.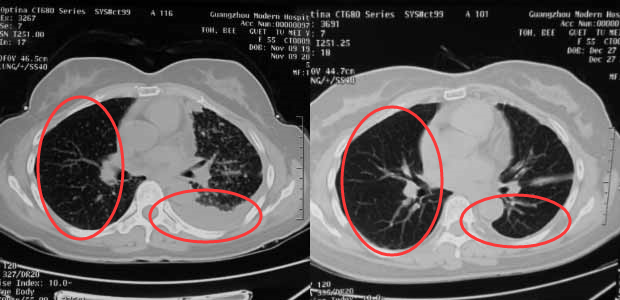 After the treatment, fluids accumulated in her lung disappeared and the tumor obviously shrank
She came to Guangzhou for lung cancer treatment with support from her families
With the assistance of staff in Kuala Lumpur Office, Toh Bee Guet successfully got her visa and ready for overseas treatment. She, together with her son, arrived at St.Stamford Modern Cancer Hospital Guangzhou on Nov. 9. On her arrival, she was not only arranged a basic body checkup but also suggested another CT scans on her brain to inspect brain metastasis. The CT Scans indicated that she had left lung cancer with multiple metastases to hilum of lung, both lung lobes and left pleura, moreover, the largest lung tumor has enlarged from 2cm to 4cm and a tumor measuring about 2cm was detected in her brain. After diagnosis, The MDT(Multidisciplinary Team) immediately made a treatment plan combining three sessions of interventional therapy and chemotherapy based on her condition.
After the treatment, the metastatic tumor in her brain disappeared
"Aiming to avoid the toxic and severe side effects of chemotherapy, we applied interventional therapy in her case. Compared to systemic chemotherapy, interventional therapy features advantages that anticancer drugs are exactly injected to the lesion site through arteries. So drugs with high concentration kills cancer cells more effectively without damage to other organs and causing few toxic side effects. Going through the whole process get much more easier for patients" Toh Bee Guet's attending doctor, Dr. Ma Xiaoying noted.
During the interview, Toh Bee Guet was wearing smile and her hearty laughter is always heard in the ward. Her humor and optimism really moved our staff. She said, "I wasn't depressed and stay home all day long even during the period I lost all my hair after chemotherapy five years ago. I did grocery shopping as usual and had fun with my friends. Confronting cancer, one should be positive and stop overthinking. Just take it easy and treat it as cold and follow doctor's guidance."
We sincerely hope all cancer patients have positive thoughts and get well soon.
*Surgery, in addition to the appropriate chemotherapy and radiotherapy, are effective in treating early cancer, but certain patients in late stage of cancer may not be tolerate surgery well as they can be relatively weak. A combination of carefully planned minimally invasive therapy, chemotherapy or radiotherapy can effectively reduce the side effects and discomfort of treatment and may help patient get better efficacy.