Breast Tumor got bigger after Herbal Medicine, Stage III breast cancer Patient Turned to Minimally Invasive Therapy!
Among Asian countries, the Philippines has the No.1 incidence of breast cancer. "Three out of 100 (Filipino) women will get breast cancer before age 75 and one out of 100 will die before reaching 75." an official of the Philippine Society of Medical Oncology reported. Early detection and treatment are the main factors to improve breast cancer patients' survival rates. But given the fear of surgery and the huge toxic side effects of chemotherapy and radiotherapy, the majority of cancer patients in the Philippines choose to take herbal medicine at home instead of taking treatment in the hospital and eventually lose their life because of lacking timely and effective treatment.
Herbal medicine may play a supporting role in treating breast cancer, but never is the best and only choice for breast cancer patients. Cancer cells are of strong vitality and fertility, just taking herbal medicine cannot damage and kill cancer cells thoroughly but leading to a worse condition.
Seeking for a better treatment for breast cancer, please CONSULT ONLINE or fill in the FORM to get professional treatment advice.
Stage III Breast Cancer Patient: Breast cancer deteriorates from stage II to stage III after herbal medicine, but minimally invasive therapy save my Life!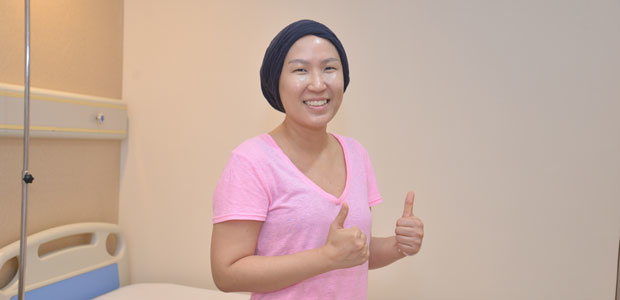 WONG SOOK KWAN was diagnosed with breast cancer in June 2017. She did not follow the doctor's suggestion of surgery and chemotherapy but taking herbal medicine at home. However, after 3 months of Chinese medicine, the tumor was not controlled at all but grew faster and larger. Eventually, it has enlarged to 10cm, and her breast cancer deteriorates from stage II to stage III.
She is obliged to take chemotherapy. After 6 cycles of chemotherapy, tumors in her breast were significantly reduced, but as soon as she stopped it, the tumor continued to enlarge and later spread to the axillary lymph. So WONG SOOK KWAN tried to find more effective alternative treatments with fewer side effects.
Fortunately, WONG SOOK KWAN found St. Stamford Modern Cancer Hospital Guangzhou. Before she came here, she failed to tolerate the huge side effects of chemotherapy and yielded poor efficacy. After a modified radical mastectomy, breast implants, interventional therapy, natural therapy and radiation in Guangzhou, she already had her breast cancer eliminated and gradually got recovery, and the probability of recurring is only 2%.
Click for WONG SOOK KWAN's whole anticancer story
Early detection and treatment are the main factors to improve breast cancer patients' survival rates. An appropriate treatment plan is also of great importance. Patients with middle or advanced-stage breast cancer may still get ideal efficacy if she chooses an appropriate treatment plan. Compared to herbal medicine, minimally Invasive therapy has a better treatment effect, and it prevents breast cancer patients from breast resection and side effects of radiotherapy and chemotherapy.
If you are diagnosed as breast cancer, Consult Online or contact us at 02-8-822122 (Manila Office) or 0917-599-2277 (Cebu Office) to get a second opinion.
*Surgery, in addition to the appropriate chemotherapy and radiotherapy, are effective in treating early cancer, but certain patients in late stage of cancer may not be tolerate surgery well as they can be relatively weak. A combination of carefully planned minimally invasive therapy, chemotherapy or radiotherapy can effectively reduce the side effects and discomfort of treatment and may help patient get better efficacy.