With 4 Months Minimally Invasive Therapy, Stage 3B Thymic Carcinoma Reduced to 1cm
TARUMA TRIBUDIMAN was first confirmed as thymus cancer in Pondok Indah in Indonesia on September 16, 2018. On the next day, accompanied by his parents, TARUMA TRIBUDIMAN came to St. Stamford Modern Cancer Hospital Guangzhou for treatment. "One of my relative once was diagnosed as stage 4B tongue cancer and he was treated here with minimally invasive therapy, after which he has been surviving for 8 years. And he is very healthy now. His experience really strengthens my faith in treating cancer here so I came here right away." said TARUMA TRIBUDIMAN.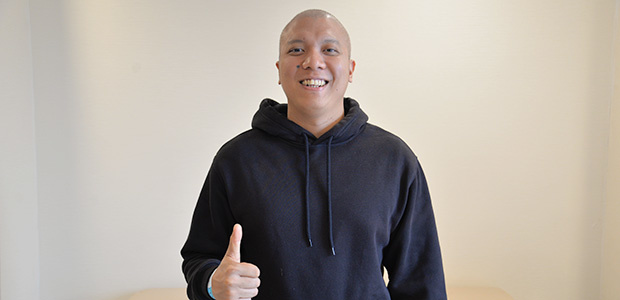 TARUMA TRIBUDIMAN
Before his hospitalization, dizziness and swelling troubled him a lot. He couldn't take it when he knew he got cancer since he always keeps a healthy diet and doing exercises. His relatives told him about Jakarta Office of St. Stamford Modern Cancer Hospital Guangzhou and he went there for cancer consultation. "Prof. Peng Xiaochi recommended a plan of minimally invasive treatments to me after he assessed my condition, from professor's introduction I knew that minimally invasive therapy caused very few side effects. In Indonesia, we don't have such technology, but my relative gained a good efficacy after minimally invasive therapy in China, so I went here for cancer treatment immediately." recalled TARUMA TRIBUDIMAN.
TARUMA TRIBUDIMAN was hospitalized on September 17, 2018. Upon the biopsy results, he was confirmed as stage 3B thymus cancer, with a 5*5cm tumor detected. Prof. Peng Xiaochi noted, "Thymus cancer is the most common types of mediastinal cancer, it grows beside heart and major blood vessels, which brings huge risk of organ damage and bleeding if undergo operation. In contrast, minimally invasive therapy overcomes the disadvantage of surgical resection, which is safer. It targets at the tumor itself and requires no resection, and brings small trauma and few complications. Based on TARUMA's condition, we came to an agreement on the plan of particle implantation and interventional therapy after consultation."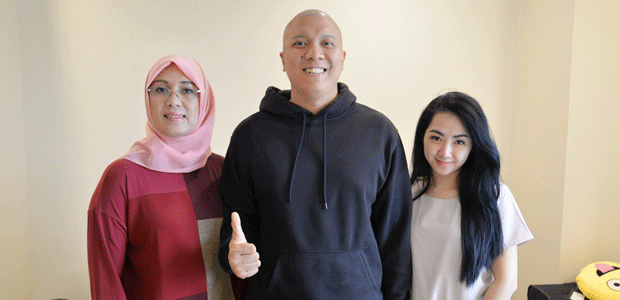 On October 8, TARUMA underwent first session of particle implantation. Never heard of this kind of therapy, TARUMA felt very nervous before the treatment. To his surprise, after particle implantation, his head pain and neck compression relieved, and he felt good. According to his attending doctor, the number of particle implantation depends on the size of tumor; it requires more particles as it is larger. In TARUMA's case, 20 particles were implanted in his tumor so as to blast the tumor like a mine explosion, but it was focused inside the tumor and wouldn't damage surrounding normal tissues so that it brought fewer side effects.
On October 13, TARUMA had his first interventional therapy, this time he was quite relieved to lie on the operating table and waited for the treatment. "When I was undergoing interventional therapy, I was told that anticancer drugs were injected through a catheter into my left thigh and femoral artery, and the drugs would be directly infused to the lesion. Compared with chemotherapy, it was more focused and less painful. I remembered that the day after I had interventional therapy I was able to get out of my bed." recalled TARUMA.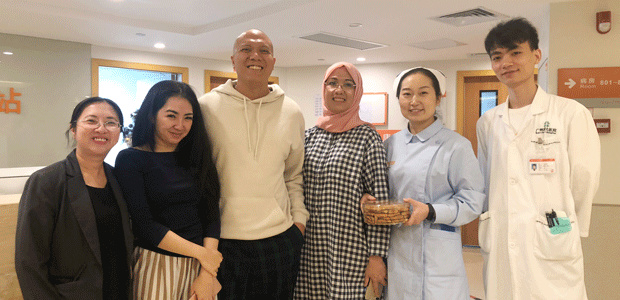 Medical staff and TARUMA TRIBUDIMAN before discharge
On October 21, TARUMA finished his first course of treatment. When he went back to Guangzhou from Indonesia on November 3, he was surprised to learn that his tumor has shrunk to 2.4cm. Until now, he has undergone three sessions of interventional therapy and one session of particle implantation, and his tumor has reduced to 1.2 cm, with his neck compression, tiredness and dizziness gone, and he is stable now.
Every time before he got out of the hospital, he never forgets to encourage other cancer patients to fight cancer toughly. "Cancer is not terrible nowadays, my relative has survived 8 years after minimally invasive therapy and he is living a healthy life now, we can also do it as though we fight it according to the advice of our doctor. Come on!"
*Surgery, in addition to the appropriate chemotherapy and radiotherapy, are effective in treating early cancer, but certain patients in late stage of cancer may not be tolerate surgery well as they can be relatively weak. A combination of carefully planned minimally invasive therapy, chemotherapy or radiotherapy can effectively reduce the side effects and discomfort of treatment and may help patient get better efficacy.