I Choose Here Because I Trust Them*
"Cozy inpatient environment and considerate health care attracted me to come here, one of my relatives who had cancer got treatment here last year and he yielded good efficacy at present, so I was relieved when I came here because I knew they can help me as well. Even though I didn't feel any uncomfortable caused by my skin cancer, I will follow doctors' suggestion here until all of my cancer cells are killed completely."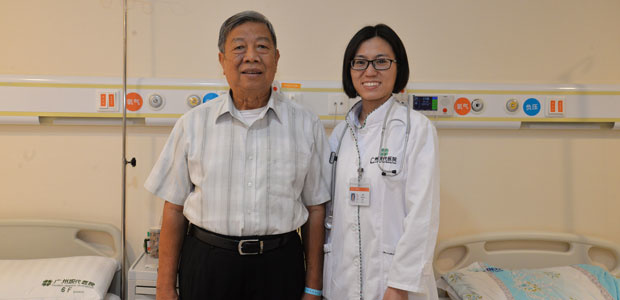 Vuong The Hung and doctor
Confirmed as skin cancer without any symptom
64-year-old Vuong The Hung, from Vietnam, suffered from basal cell carcinoma. Early in 1977, Vuong The Hung found a mass under his right orbit and was cured after ablation. However, mass returned in 2002 and he removed it through surgery. But in October 2017, mass recurred again in the same lesion, after biopsy in local hospital on Oct. 16, he was diagnosed as basal cell carcinoma (a form of skin cancer) and doctor advised him surgery to remove it. Vuong The Hung rejected it and later he came to St. Stamford Modern Cancer Hospital Guangzhou for minimally invasive therapy.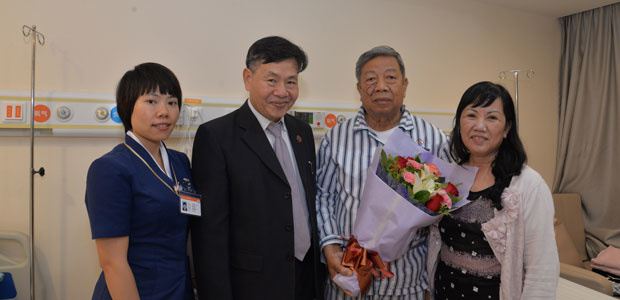 Vietnam medical expert delegation visited Vuong The Hung
It was hard for Vuong The Hung to connect mass in his face with cancer since he didn't feel any uncomfortable before confirmation. For many cancer patients, such as patients with lung cancer, liver cancer and stomach cancer etc., usually, they suffer serious pain or discomfort before final diagnosis. However, there was no sign in Vuong The Hung's case.
Resolutely come to St. Stamford Modern Cancer Hospital Guangzhou
After final diagnosis, Vuong The Hung resolutely came to St. Stamford Modern Cancer Hospital Guangzhou for minimally invasive therapy, without considering other cancer hospitals for another choice.
"I didn't worry a lot about my disease after diagnosis. One of my relatives is cancer patient too. He was confirmed in 2016 and admitted into St.Stamford Modern Cancer Hospital Guangzhou, currently he returns for regular checkup and his condition is well under control. When he was recuperating at home in Vietnam I once listened to him talking about life and treatment here, so I came here directly within one week after diagnosis, I chose here because I trust them. "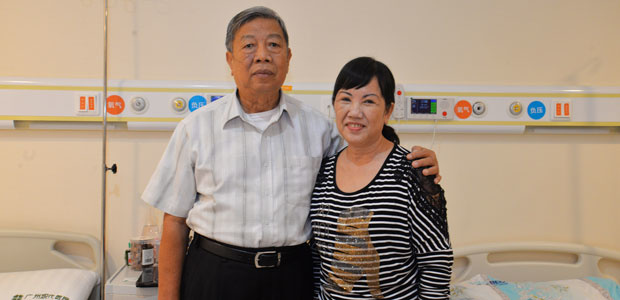 Vuong The Hung and his wife
Relieved with minimally invasive therapy
On Vuong The Hung's arrival, the Multidisciplinary Team (MDT) arranged him a consultation, based on his condition, doctors tailored him an individualized treatment plan of interventional therapy combined with local radiotherapy. His attending doctor told us, that mass won't cause him any discomfort but it is still necessary for him to be treated and observed in case of cancer cells metastasizing to the adjacent organs. He looks as good as ever, with normal diet, sleep and weight, without cough, swelling or pain in stomach, it seemed that minimally invasive therapy had little impact on his daily life.
"I feel good after treatment since I don't feel any side effect caused by minimally invasive therapy. I still keep daily exercise just as before. I think I look better than ever. Days ago, there was a medical expert delegation from Vietnam visited St. Stamford Modern Cancer Hospital Guangzhou for technical exchange and cooperation and Vietnamese experts visited me and told me not to worry too much, to treat cancer with an optimistic attitude and follow the doctor's suggestion. I am not worried because I trust doctors and technologies here."Vuong The Hung said delightedly.
*Surgery, in addition to the appropriate chemotherapy and radiotherapy, are effective in treating early cancer, but certain patients in late stage of cancer may not be tolerate surgery well as they can be relatively weak. A combination of carefully planned minimally invasive therapy, chemotherapy or radiotherapy can effectively reduce the side effects and discomfort of treatment and may help patient get better efficacy.