Interventional therapy removed neck tumor for multiple myeloma stage IV patient*
From April to July, 2017, my egg-size neck tumor has disappeared and I could walk freely and climb the Baiyun Shan Mountain!"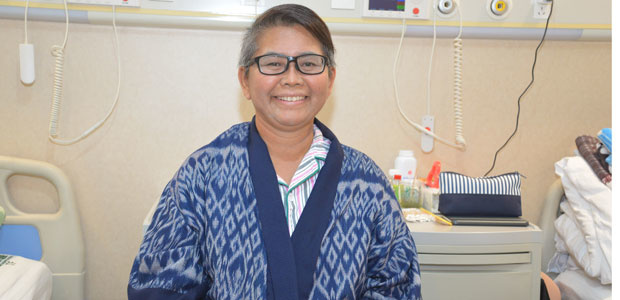 PALINEE SUTHISARUNSAK
PALINEE SUTHISARUNSAK from Thailand suffered multiple myeloma stage IV. During her stay, she showed us her smooth neck with tumor disappeared after the treatment. We couldn't imagine that there was a tumor measuring 5*3cm in her neck due to multiple myeloma infiltration of the skin. Cancer disabled her ability to walk. According to her attending doctor, after a combined treatment of interventional therapy and natural therapy, her tumor marker and globulin have been reduced from 73 to 27 in which the normal range is between 20 to 30. All she need is to take regular monitoring.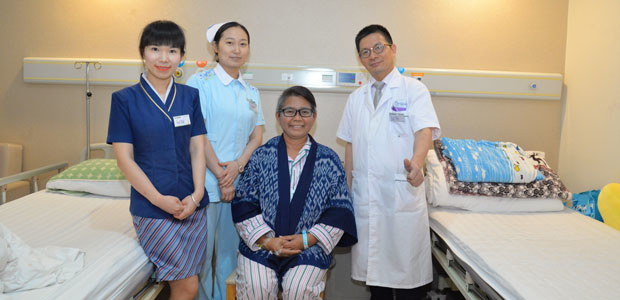 PALINEE SUTHISARUNSAK with medical staff
At first, she didn't detect any symptom. It was until Feb. 2017 that she felt intense pain in the back and waist, along with numbness and pain in right lower limb. In March, she took MRI for lumbar, which turned out to be bone metastasis. Local doctor assumed it must be cancer. Though she knows well about her own condition, she was surprised when being told the diagnosis of multiple myeloma. In Thailand, cancer basically means death to most people and the most common treatment for cancer is chemotherapy. "The reason why I don't want systemic chemotherapy is the severe side effects such as hair loss, body weakness and vomit." she said.
I choose to trust St.Stamford MCHG and treat cancer abroad
PALINEE 's sister got to know St. Stamford Modern Cancer Hospital Guangzhou on the internet. Then they went to the office and learned the advanced minimally invasive treatment as interventional therapy, nanoknife and microwave ablation, all these therapies protect the patients from systemic chemotherapy and surgery and give them hope. "Doctors in the office recommended treatment plans based on my condition and patiently explained each treatment for me, which gave me confidence in taking treatment.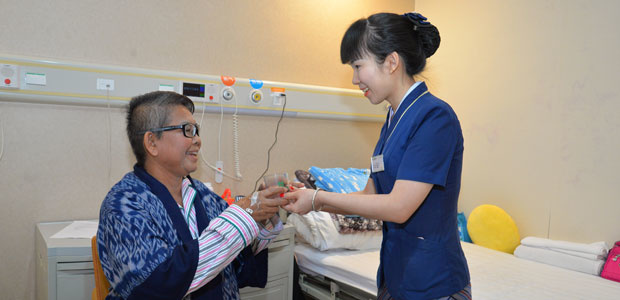 Daily life during the stay
Back then, she didn't win support from families and friends, they were worried about her being deceived as what news says on the internet. "While I searched the internet and also watched videos on Youtube, by which I got to know the hospital well and many patients from Thailand yielded good results in the treatment. I have confidence in the hospital and treatment."
Interventional therapy made egg-size tumor disappeared
In April, 2017, she arrived at St. Stamford Modern Cancer Hospital Guangzhou. Upon admission, she couldn't walk due to spinal pain .In addition, she suffered severe pain in leg and weight loss by 5kg. An egg-size tumor was detected on her neck.
On April 10, 2017, she confirmed the diagnosis of multiple myeloma stage IV with infiltration into neck through bone marrow aspiration cytology. During April to May, "my spine pain was relieved after the first session and I couldn't feel any pain in the next session." Being asked about the effects of treatment, she answered with satisfied smile.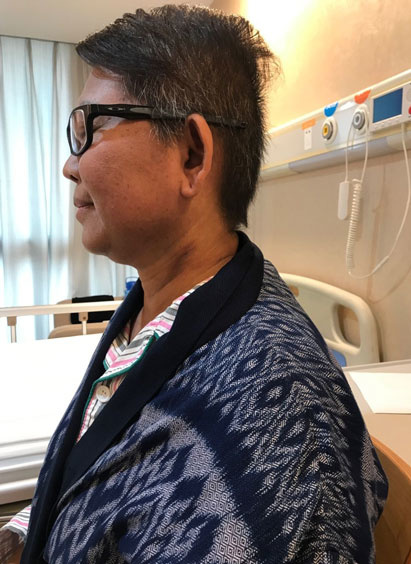 Tumor disappeared upon the discharge
Her attending doctor explained that as a totally different therapy from systemic chemotherapy, interventional therapy directly injects anticancer drugs into the tumor without harming normal tissues. Moreover, it has advantages of short-time duration, highly repeatable and fewer side effects, which offer strong supplement for patients to achieve good efficacy in short period. Combined with natural therapy and TCM & western medicine, PALINEE gained improved immunity and long-term positive outcome.
In May, 2017, it was the second time PALINEE came for her second course of treatment. After the fourth session of interventional therapy, her neck tumor totally disappeared and her tumor marker, globulin, has been reduced from 73 to 27, the normal range is between 20 to 30. She could walk freely and even climbed the Baiyun Shan Mountain.
Since it was rainy season during her stay in Guangzhou, she always recalls the days in the hospital after she went back home. "Medical staff here took care of me with patience and love, which made me feel at home."
Few days later, PALINEE will be discharged. All staff in St. Stamford Modern Cancer Hospital Guangzhou wishes her a sooner and better recovery.
*Surgery, in addition to the appropriate chemotherapy and radiotherapy, are effective in treating early cancer, but certain patients in late stage of cancer may not be tolerate surgery well as they can be relatively weak. A combination of carefully planned minimally invasive therapy, chemotherapy or radiotherapy can effectively reduce the side effects and discomfort of treatment and may help patient get better efficacy.