Minimally Invasive Therapy Effectively Treat Bile Duct Cancer*
Being diagnosed with bile duct cancer
Dang Thi Len, 48 years old, is a bile duct cancer patient coming from Vietnam. In early 2018, Dang Thi Len suffered bile duct cancer with a tumor in bile duct inside the liver. She received bile duct drainage in local hospital and symptom of jaundice was relieved temporarily. Doctors didn't arrange other treatment for her due to the special location of the tumor. Moreover, surgery takes high risk and is inapplicable in her case.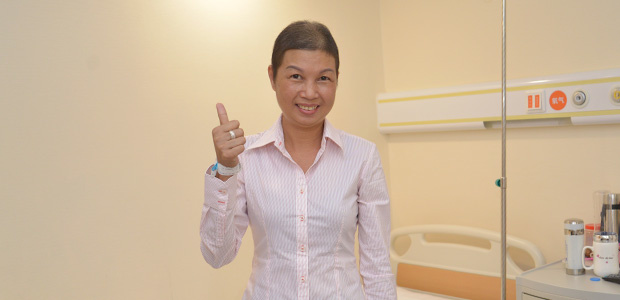 Dang Thi Len
Soon later, Dang and her family, through an old friend, were introduced to Bui Nguyen Kiem, who is a cancer expert in Hanoi office of St. Stamford Modern Cancer Hospital Guangzhou. They visited the office and also consulted the doctor about Dang's case. As they've heard about St. Stamford Modern Cancer Hospital Guangzhou, of which patients who once took treatment speak highly. Dang thought it was worth trying. Through remote consultation online, Dr. Pang Xiaochi, Oncologist of St. Stamford Modern Cancer Hospital Guangzhou analysed Dang's medical report and came up with a treatment plan of minimally invasive therapy. Thorough evaluation of Dang's case made by Dr. Peng strengthened Dang's determination of going to Guangzhou for treatment. After discussion with families, Dang made the decision.
Facing cancer, family never give up
In Feb. 2018, Dang arrived at St. Stamford Modern Cancer Hospital Guangzhou. Upon the admission, she was in rather poor condition with itching skin from jaundice and abdomen pain which kept her awake all night. Symptoms of vomiting caused poor appetite, she barely ate anything.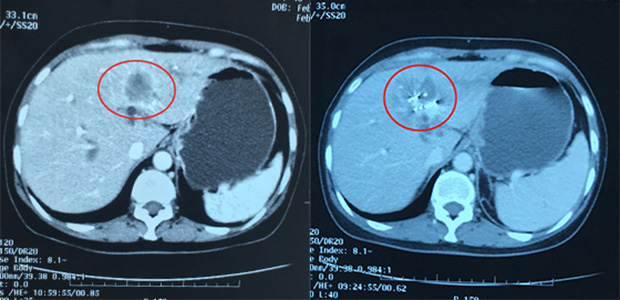 The tumor in liver greatly shrank after the treatment
Recalling her first admission, Dang said, "I was settled to take series of examinations such as CT-scans, blood test, urine test and also electrocardiogram. My attending doctor told me, the symptom of serious jaundice need to be relived before taking further treatment. In half a month, I received bile duct drainage with implanted stent. Few days later, the symptoms of yellow and itching skin and appetite loss were all relieved. I got good appetite and sound sleep. Then I took interventional therapy, a kind of minimally invasive therapy, during which anticancer drugs are directly injected into the tumor through its feeding artery. Only local anesthesia, tiny trauma and half an hour needed for the operation. Admitted in ICU for one day after the operation, I was able to go back to ward.I could walk without any discomfort."
"During the first admission, it happened to be the Lunar New Year of Vietnam. My sister and her husband kept my company in the hospital. They gave me confidence and encourage to fight cancer." Dang expressed sincere gratitude to her family.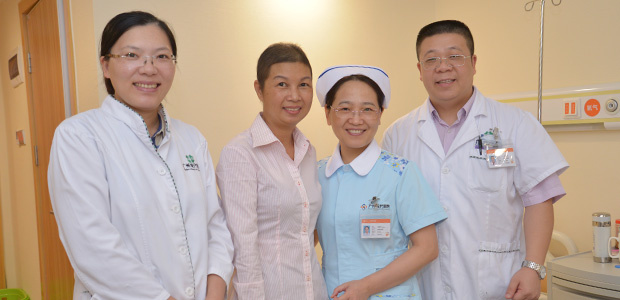 Dang Thi Len with medical staff
Minimally invasive therapy bring hope
So far, It's her 6th admission. "During the 2nd admission, I felt much better with 4 sessions of interventional therapy taken before. With a combined treatment of bile duct drainage with implanted stent, interventional therapy, cryotherapy, particle implantation and natural therapy, my condition was well under control. My attending doctor also noted that the tumor in the bile duct inside the liver disappeared and metastasis in the liver also shrank. I will continue the treatment. My families also felt relieved on hearing the good news about my improved condition. The interpreters, the nurses and especially the doctors are friendly and patient. I like them so much. "
Dang also said, "It's really a blessed time to be a patient and take minimally invasive therapy in St. Stamford Modern Cancer Hospital Guangzhou. Medical staff here provided good service and great help. I would also like to say to other cancer patients that cancer is not the end of the world, as long as one find proper treatment, there's always hope.
*Surgery, in addition to the appropriate chemotherapy and radiotherapy, are effective in treating early cancer, but certain patients in late stage of cancer may not be tolerate surgery well as they can be relatively weak. A combination of carefully planned minimally invasive therapy, chemotherapy or radiotherapy can effectively reduce the side effects and discomfort of treatment and may help patient get better efficacy.