Minimally Invasive Therapy Benefited 83-year-old Vietnamese Patient*
"Doctors in Japanese and Vietnamese hospitals suggested me take surgery and chemotherapy but I refused. Fortunately, I learned about St.Stamford Modern Cancer Hospital Guangzhou and minimally invasive therapy, which is one of international cutting-edge cancer treatment technologies. With a combined minimally invasive therapy, I regained good physical condition without suffering side effects. St.Stamford MCHG introduces top-notch medical management system from Singapore and boasts comfortable environment and patient-oriented service meeting international standards. Doctors and nurses here take care of me with all heart, I own them great thanks."83-year-old pancreatic cancer patient,Nguyen Thinh said.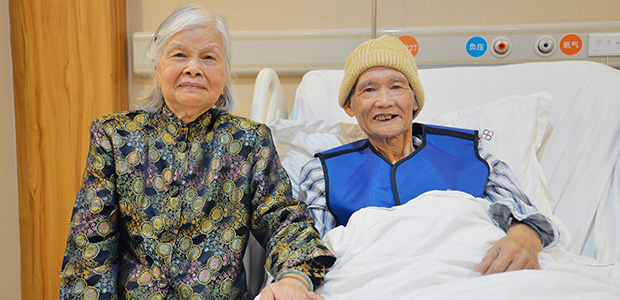 Nguyen Thinh with his wife
Sad news during happy traveling to Japan
In the beginning of 2017, Nguyen Thinh accidentally passed out during his traveling to Japan. With thorough checkup, he was diagnosed as stage IV pancreatic cancer. Local doctors suggested surgery and informed about risks of suffering side effects after surgery, such as, slow recovery, great chance of wound infection and even recurrence. Therefore, Nguyen Thinh and his family refused to take surgery and continued to look for better treatment.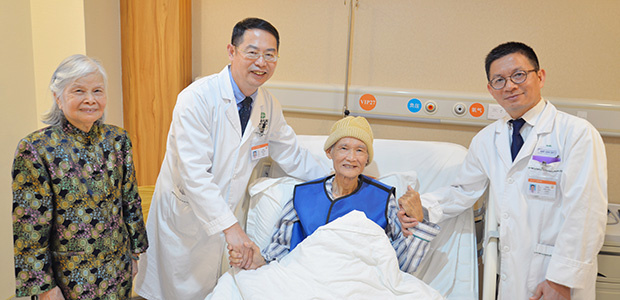 The couple and doctors in Multidisciplinary Team
Nguyen Thinh was so frustrated and he consulted local doctors in Vietnam. They offered same solution-surgery and chemotherapy, they also noted that on the one hand, pancreatic gland is located in special site and is adjacent to pancreas. On the other hand, the patient is too old to take the risk of operation. While the toxic and severe side effects of chemotherapy is unbearable for him, destroying his immune system and have bad impact on recovery. On hearing that, family and him reached a consensus, refuse to take surgery or chemotherapy and keep searching for other treatment option.
Decide to take treatment in China after knowing about minimally invasive treatment
Tortured by cancer, 83-year-old Nguyen Thinh became so bony. His two daughters struggled to find treatment, family and friends also recommended several cancer hospitals and alternative treatment. At this juncture, few members of Vietnamese Anticancer Club heard about him, so they introduced St.Stamford MCHG and minimally invasive treatment to him. Minimally invasive treatment requires no surgery and no systemic chemotherapy, just small trauma caused to achieve equivalent efficacy. All family members thought it's worth trying.
Nguyen Thinh with family
His daughters immediately contacted the overseas office of St.Stamford MCHG in Hanoi. The Multidisciplinary Team conducted an online face-to-face consultation with the patient and made a treatment plan based on his current condition. The whole family was so happy that they found hope.
Advanced treatment proved to be effective
On Nov.25, 2017, Nguyen Thinh underwent particle implantation. His physical condition was turning better gradually with attentive medical care. Just one week after the treatment, his pain was greatly relieved and he regained the ability to live independently. All family member were so glad and relieved to hear this good news.
"Upon my admission, I was semi-comatose. Cancer tortured me so badly. Surprisingly, one week after the operation of particle implantation, I regained appetite and I could walk by my own. As a matter of fact, I've been to China for several times in my younger age. This is the first time I come to Guangzhou, If only I knew this hospital earlier, I would not suffer that much. St.Stamford MCHG truly saved my life." Nguyen Thinh said during the interview.
*Surgery, in addition to the appropriate chemotherapy and radiotherapy, are effective in treating early cancer, but certain patients in late stage of cancer may not be tolerate surgery well as they can be relatively weak. A combination of carefully planned minimally invasive therapy, chemotherapy or radiotherapy can effectively reduce the side effects and discomfort of treatment and may help patient get better efficacy.