Vietnamese Pancreatic Cancer Patient: Minimally Invasive Therapy is Really A Life Saver*
LE THI CHINH, 69 years old, comes from Vietnam. It's been five months since she got diagnosis of pancreatic cancer. She suffered twenty kilogram of weight loss. Currently, she yields good effect with improved condition after the treatment, Abdomen pain doesn't bother her anymore. She's in remission with better appetite and sound sleep.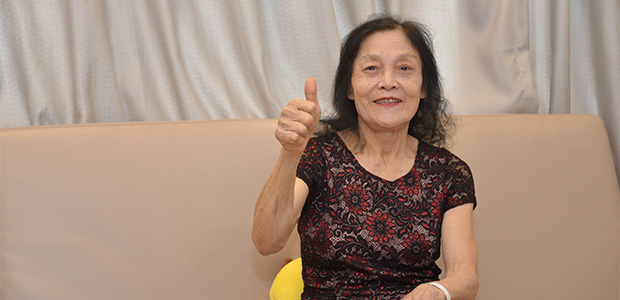 LE THI CHINH
Misdiagnosis of gastritis delayed the treatment for pancreatic cancer
In December 2018, Ms. LE suffered the symptom of abdomen pain. In January of the following year, she went to local hospital for checkup, yet pancreatic cancer was hard to detect in early stage. As a result,she was diagnosed with gastritis after several examinations. The doctor gave her medicine for gastritis, which didn't help with her condition. What's worse, she missed the best time for treatment and the tumor has gradually increased.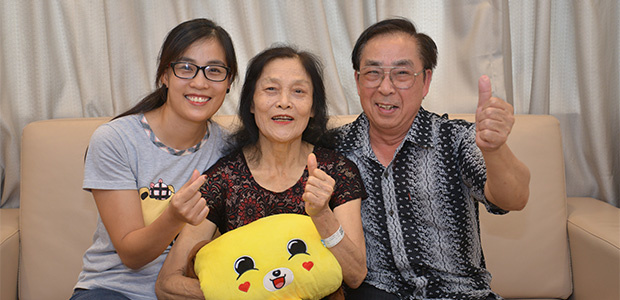 LE with her family
On April 12 2019, a CT scans showed that there were lumps in the pancreatic body and tail, with the biggest tumor measuring 43*76mm. Also multiple lymph nodes were detected near abdominal aorta. The doctors suggested surgery and radiotherapy. Ms. LE rejected due to concerns of high risk and postoperative infection.
Seeking better treatment in a foreign country
Ms. LE's son, who works in Ho Chi Minh, searched about cancer treatment online and was attracted by minimally invasive therapy of St. Stamford Modern Cancer Hospital Guangzhou. He learned more information and suggested his mother make consultation in Hanoi office of the hospital, which enhance her confidence in minimally invasive therapy for treating pancreatic cancer.
On April 23, 2019, Ms. LE and her family arrived at St. Stamford Modern Cancer Hospital Guangzhou. Upon the admission, she suffered slight pain in abdomen, fatigue, appetite loss and poor sleep. In St. Stamford Modern Cancer Hospital Guangzhou, Ms. LE was detected tumors in pancreas with bronchiectasis and infection in the basal segment of the right lower lobe, which was considered as pancreatic cancer.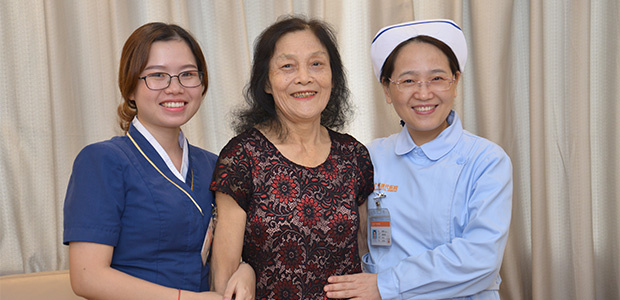 LE with interpreter and nurse
Ms. LE said, with the first and second interventional therapy, my condition was not relieved yet. The silver lining was that she didn't suffer vomiting and diarrhea. Until the third session, symptoms were relieved. Except for interventional therapy, she also received particle implantation. So far, her condition is in remission.
Minimally invasive therapy saved pancreatic cancer patient in despair
The whole family ware depressed when she got the diagnosis. It's hard to accept the bad news as she's been in good health before. All examinations were normal. Upon the admission, Ms. LE was about to give up. With family's thoughtful care and minimally invasive therapy, she found strength to fight against cancer. Currently, she has confidence in the treatment and cherishes great gratitude towards passionate and considerate medical staff in the hospital.
Ms. LE also said, "It's human's instinct to survive. Although it is impossible find cure for all cancers, as long as the patient adheres to the treatment, the survival period can be extended. In addition, a good attitude is critical to treatment. I know some people who live with pancreatic cancer for many years, so don't give up when there's still chance." Ms. LE hopes that her story encourages other patients to continue their cancer fights."
*Surgery, in addition to the appropriate chemotherapy and radiotherapy, are effective in treating early cancer, but certain patients in late stage of cancer may not be tolerate surgery well as they can be relatively weak. A combination of carefully planned minimally invasive therapy, chemotherapy or radiotherapy can effectively reduce the side effects and discomfort of treatment and may help patient get better efficacy.