For Fear of Surgical Resection, I Choose Minimally Invasive Therapy to Treat Tongue Cancer*
In June, 2018, EVA JESSICA knew she made the right decision when she got checkup result after the treatment. With 2-month of minimally invasive therapy, her tumor measuring 3cm shrank to 1cm. She didn't suffer discomfort and her condition became normal.
Facing stage III tongue cancer, I refuse surgical resection
In 2014, EVA noticed something went wrong. Her tongue often got bitten while eating. She didn't pay attention at first. Three months later, the signs kept occurring. But the inspection results she got in Indonesian hospitals did not indicate any difference.
Until 2018, the symptom of biting tongue was not relieved, but became more and more frequent. Along with tongue stiffness and deformation. At cancer hospital in Malaysia, EVA was diagnosed with stage III tongue cancer. Considering the big trauma and various inconvenience, she refused the suggestion of taking surgical resection.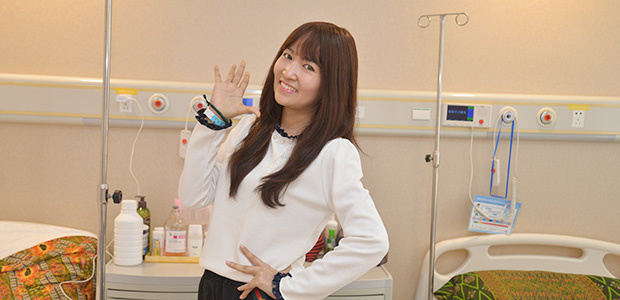 EVA JESSICA
There are many treatment options for patients with tongue cancer at MCHG
Through the Internet, EVA learned about the St.Stamford Modern Cancer Hospital Guangzhou, "What drew my attention was the treatment technology of this hospital. I learned that, besides surgical resection, there are various minimally invasive therapies for tongue cancer. Most importantly, these therapies all feature small trauma and few side effects."said EVA.
EVA found the hospital's office in Jakarta. She was completely relieved when she learned that the office staff would help her with the procedures for going abroad, and that there would be pick-up service in China. "When I made the decision of taking treatment abroad, I also had concerns and doubts, but later I realized that these concerns were completely unnecessary because the hospital staff would get everything arranged for me!"
Minimally invasive therapy causes small trauma, just like being bitten by mosquitoes
On April 11, 2018, EVA arrived at MCHG. According to the test results, the MDT(Multidisciplinary Team) developed a comprehensive treatment plan of interventional therapy, particle implantation and natural therapy.
EVA's known little about minimally invasive therapy before the first treatment. She was so afraid of the pain that the treatment may bring, but the result was completely out of her expectation. "
On April 13, I received the first session of interventional therapy, After 3 days, I could take shower. The wound was like a bite by a mosquito. I could barely see it. After 24 hours I could get out of bed and walk normally. The whole treatment process was very quick and there was no pain. It was really amazing! EVA said.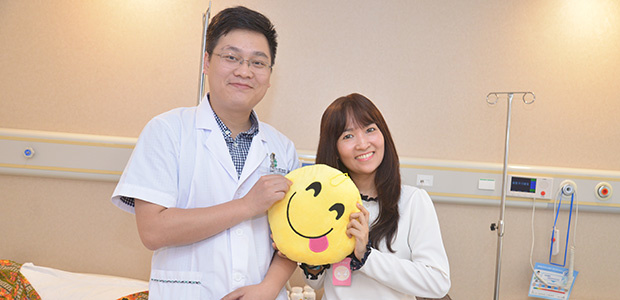 EVA JESSICA with her attending doctor Yao
On April 18, EVA received the first course of particle implantation. "When I first started to receive the treatment, I felt a little pain, but as the tumor shrank day by day, the pain gradually disappeared. Symptoms such as tongue stiffness, difficulty eating, etc. have also been relieved. Currently, I have completely returned to normal." EVA shared with pleasure when recalling the treatment process.
According to EVA's attending doctor Yao, the CT Scans indicated that the lesion, in which seeds has been implanted, was almost dead and only a tumor measuring 1cm left. With succeeding treatment, she will yield a good efficacy.
"For patients with advanced tongue cancer, if they refused to undergo surgical resection, interventional therapy combined with particle implantation is a good option. The drugs applied in interventional therapy features 2-8 times of concentration than traditional systemic chemotherapy and the only trauma measuring 2mm. So the therapy precisely eliminates cancer cells without harm to normal cells. Particle implantation, also called "particle knife", during which the γ-rays continuously released by 125I seeds to the tumor, directly and accurately killing cancer cells and finally achieving the same effect as surgical resection. The combination of the two therapies helps tongue cancer patients to achieve best results with minimal pain!" Dr. Yao explained.
Love and trust gave me more confidence in the treatment here
"During the treatment, I had also experienced frustration and anxiety. However, the doctors and nurses here are very patient. For each of my questions, they explained it carefully and gave me the greatest comfort and encouragement. With love and warmth, they are the source of my confidence in defeating cancer!" Before the discharge, EVA said with gratitude.
*Surgery, in addition to the appropriate chemotherapy and radiotherapy, are effective in treating early cancer, but certain patients in late stage of cancer may not be tolerate surgery well as they can be relatively weak. A combination of carefully planned minimally invasive therapy, chemotherapy or radiotherapy can effectively reduce the side effects and discomfort of treatment and may help patient get better efficacy.