Comprehensive Minimally Invasive Treatment gives Me Confidence to fight against Lung Cancer*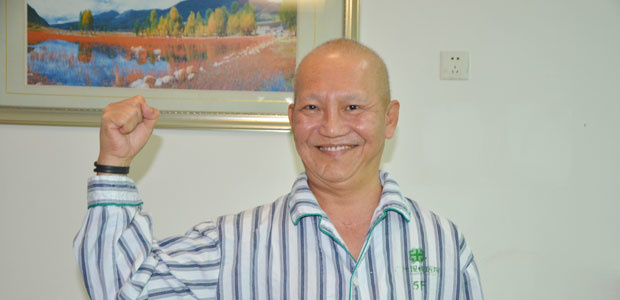 Tai An: "Always be optimistic when confronting cancer, hold on and you will find appropriate treatment."
Smoking is one of the most common reasons that cause lung cancer. At present a large number of medical researches indicate that the lung cancer morbidity of long-term smoker is 10 to 20 times higher than that of nonsmoker. Besides, those start smoking early have a higher risk of lung cancer. Tai An is a a typical example. Fortunately, his tumor has shrunk from 5.2cm to 1.2 cm after taking minimally invasive treatments here.
Being diagnosed with lung cancer after smoking for 30 years
Tai An comes from Thailand, he is 53 years old with a history of heavy smoking for 30 years. Every day he smoked about 20 cigarettes and this unhealthy habit has lasted for 30 years, we can calculate that Tai An has smoked at least 219,000 cigarettes, what a amazing number!
Tobacco contains about 7,000 types of chemical components, among which hundreds are harmful to human body. For the past 30 years, Tai An has at least smoked 20 cigarettes every day, how much harmful chemical components he absorbed! Tai An has been suffered from cough and bloody sputum which are typical symptoms of lung cancer since March 2015. Not surprisingly, a tumor was found in her lung when having examination in a Thai local hospital.
Tai An was really upset when first learned the bad news. However, for his families sake, he chose to clam down and look for better cancer treatment actively. Tai An told us that he chose St. Stamford Modern Cancer Hospital Guangzhou because he didn't want to take surgery , traditional chemotherapy and radiotherapy.
Lung tumor shrank quickly after comprehensive minimally invasive therapy
When admitting to St. Stamford Modern Cancer Hospital Guangzhou, Tai An was arranged to take a systemic examination, whose result showed that his tumor was about 5.2cm*4.8cm and has developed into stage 3B. Based on his critical condition, the multidisciplinary team (MDT) of MCHG quickly made an comprehensive minimally invasive treatment plan for him: cryotherapy, interventional therapy and natural therapy.
The treatment plan was made based on Tai An's overall condition and the characteristic of lung cancer. Triple oxygen and natural therapy play a role in improving his immunity, preventing deterioration and metastasis, while interventional therapy and cryotherapy play a role in treating the lung tumor precisely and effectively. For cryotherapy, a needle will be inserted into the tumor to release argon gas to frozen the tumor and turn the tumor into a ice ball. Another needle will also be inserted to the tumor to release Helium to heat up the tumor ice ball. Then the frozen ice ball is defrosted and blasted, thus tumor tissue is destroyed. For interventional therapy, drugs can be directly given to the tumor, cancer cells can be kill precisely and completely because of the high drug concentration.
Tai An is a brave and optimistic person, he not only quit smoking actively after being diagnosed with lung cancer, but also well followed doctors' advice. Along with comprehensive minimally invasive treatment, his families' love and support, Tai An's condition has greatly improved, his tumor has shrunk from 5.2*4.8cm to 1.2cm. Besides, Tai An is awarded as one of the anticancer warriors of November.
*Surgery, in addition to the appropriate chemotherapy and radiotherapy, are effective in treating early cancer, but certain patients in late stage of cancer may not be tolerate surgery well as they can be relatively weak. A combination of carefully planned minimally invasive therapy, chemotherapy or radiotherapy can effectively reduce the side effects and discomfort of treatment and may help patient get better efficacy.