Transnational Visit Builds the Medical Dream with Boai Group Together
On September 22, 2012, a Bangladeshi press delegation including members of several well-known Bangladeshi media such as NTV, The Daily Ittefaq, Prthom-Alo.Com, Channel I, Banglanews24, Naya, Diganta, etc interviewed Boai Medical Management and Investment Group, China, accompanied by staff of Modern Cancer Hospital Guangzhou. This interview covered the issues on the culture, characteristics of Boai medical group, its status in China and even the whole Southeast Asia and its future prospect, deepening the awareness of the delegation to Boai Group. Besides, the president of the group Lin Zhicheng also introduced the situation and planning of medical cooperation with Bangladesh and both sides expressed their eager expectance that medical services of Boai Group can bring more and more benefits to the Bangladeshi people, improving the medical technology, service and the residents' health of Bangladesh.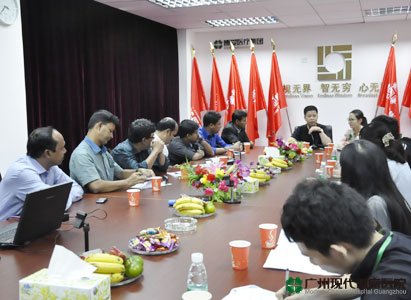 Bangladeshi press delegation is interviewing Lin Zhicheng
  Boai Group has been sticking to the dream of medically serving and saving people
  Founded in 1989, after 23 years of development, Boai Medical Group China has become a large-scale modern group whose leading industries includes medical investment, hospital management and clinical care services, is also the largest Medical Investment Group in China. Boai Medical Group China not only owns worldwide 14 regions and over hundreds of medical institutions like Modern Cancer Hospital Guangzhou, Shenzhen Humanity Hospital, Shanghai Yodak Cardio-Thoracic Hospital, and Changsha Sunshine Hospital, but also has the first Chinese Medical Portals Website – www.ewsos.com. The Group employs a total of tens of thousands of people, and has been among the global top100 medical groups. The delegation was marveled at the remarkable accomplishments that Boai Group has obtained within only 23 years' development. A question asked by a journalist from the delegation: what is the belief that supports Boai group to continuously exploit since its establishment? President Lin Zhicheng answered that it is the divine mission of Bo Ai Medical Group that "being the founder of the world's largest medical Enterprise Group to devote most satisfied medical services for human-beings". And more than 20 years, Boai Group is contributing to solve the common people's needs to see doctor. As a private medical enterprise, Boai makes up for the public medical resources and provides more choices for patients to see doctor and treat diseases, which is more convenient and fast to solve their problems at the first moment.
  Boai Medical Group lives up to the motto of "endless view, limitless wisdom, and boundless mind". The Group has been devoting continuous effects towards this goal. The Group combines frontier, experience and humanity of medicine together, brings together both abroad and domestic medical talents, introduces worldwide first-class technologies and equipments to carry out various kinds of special medical service projects and actively participate in academic exchanges with WHO, domestic and foreign well-known hospitals, research institutes and institutions of higher learning, etc. Every medical institute under the authority of Boai Group has characteristics, for example, Modern Cancer Hospital Guangzhou that the delegation visited this time features at its oncology department which has 13 of world-leading anticancer technologies such as Ar-He cryosurgery, particle implantation, natural therapy, etc. The hospital has become an authoritative medical institution in the field of cancer treatment, made remarkable achievements on tumor treatment, medical scientific program and research, international medical cooperation.
  Boai Group—Medical services with love and crossing national boundaries
  In March of 2011, Philippines overseas office of Modern Hospital Guangzhou was officially opened
  In 2011, International Investment Department of Boai Group was set up and officially constructed Vietnam hospital.
  In recent years, with international outlook, Boai Group China has been actively exploiting the overseas market, and has set up medical care institutions successively in Vietnam, Indonesia, Philippine, Bangladesh, Thailand, and Cambodia. This largely enhances medical academic exchange and helps to treat diseases for local people, which makes Boai Group quite influential overseas.
  Modern Cancer Hospital Guangzhou has officially opened a branch office in Dhaka, Bangladesh, aiming at providing medical information, lecture, health consultation, and guidance to seek medical service in China. Lin Zhicheng pointed out that he hopes through this interview Bangladeshi press can become "Propaganda ambassador", letting more Bangladeshi people know Boai Group and also Modern Cancer Hospital Guangzhou , besides, Lin Zhicheng also said that medicine has no boundaries and love has no end, Boai is ready to bring the high quality of medical service to Bangladesh.
  Regarding the future planning of medical cooperation in Bangladesh, Boai group will progressively develop as the following route: establishing of Bangladesh Office—setting up of Bangladesh outpatient department – building Bangladesh Branch hospital of Boai Group. In addition, the group does not only provide medical treatment in Bangladesh, and will invite top medical specialists of China to held a variety of lectures on medical knowledge in Bangladesh, popularizing medical health knowledge and introducing medical technology, starting from disease prevention to enhance the overall health of Bangladeshi people.
  The humanistic spirit, enterprise culture, operating philosophy and characteristics of Boai Group left a profound impression on the delegation and they appreciated the hospitality and friendly exchanges of the Group. As a national authoritative media spokesman, they sincerely welcome Boai Group to Bangladesh more often to carry out further medical cooperation!
  Boai Group received a gift given by the delegation
If you have any questions, please contact us via online consultation, email or phone call. If you find our website useful, please follow our FaceBook and YouTube, health information will be updated regularly.
Online Inquiry
CLICK HERE!
Let's Have A Healthy Life!
Video
To show you
what is cancer by
videos
Chatting on Facebook

Become a fan of us!
+Follow
We are waiting for you.