Support Your Smile in Life by Care
  When Christmas Eve comes, you may enjoy a candlelight dinner with your loved ones, or share your time with your family. Everyone is happy for this precious moment of Christmas. But there are cancer patients, who have to leave their family and country to for advanced treatment. There are also some people of professional ethics and service spirit, who also leave their family to sing and dance for those overseas patients.
  At 18: 30, Dec. 24, 2012, on 9th floor of Modern Cancer Hospital Guangzhou, the meeting room was filled with warmth and happiness. Balloons and ribbons were everywhere when neon lights on mini-Christmas tree were shining colorfully. The happy and blessing songs made the room like Christmas. The patients and families from Vietnam, Indonesia, the Philippines and other countries gathered in this party. Among them, some patients were in wheelchair, some had just finished their treatment and were suffering from hair-falling and were weak, but they still enjoyed this festival happily and positively.
  The party started from a hot music Gangnam Style. The beautiful nurses passionately danced the horse trot on stage, which warmed up the atmosphere of party. Some patients jointed the dance when nurses invited them enthusiastically.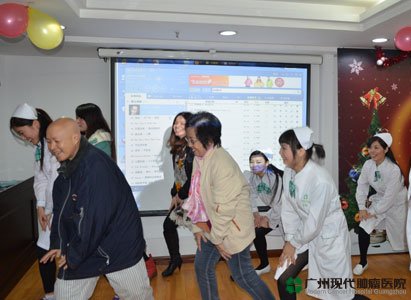 Patients and nurses dance horse trot together happily
  Patients, family members and medical people together danced and sang in the party. The most fantastic show was given by an 18-year-old Indonesian teenager, Lin Wenbing. He sang a song and played the guitar himself. He had to take amputation after he was diagnosed osteosarcoma. Though he sat in wheelchair, he did not present any depravation or dejection. Warm smiles can always be seen on his face because of his optimistic nature. He did not blame this on fate but faced the life positively and bravely fight with disease. He said he wanted to pass on his courage and optimism to every patient and the people who are in pain and trouble.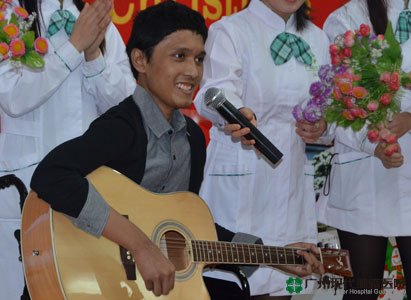 He is so cool to sing this song and play the guitar himself
  In the party, Santa Claus, who caused the climax, brought children gifts and sent greeting to patients. Children took their gifts on stage one by one while they express the blessings.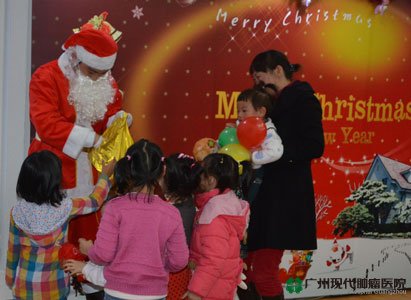 Gifts for children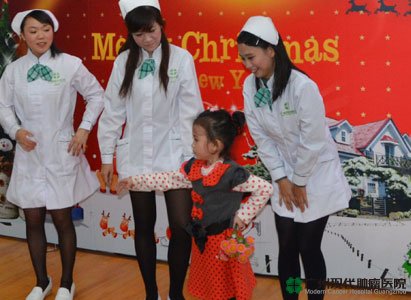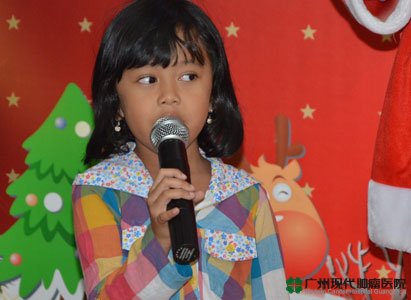 The talent show from a little girl
  Other patients and family members also sang songs on stage. A family member won the applause by singing the song How Can I Tell Her About You with the nurses danced at the back. When the part came to the end, Director Wang sang opera arias of Sun Come Out also got the applause. Everybody sang and cheered in the melody to have this happy night.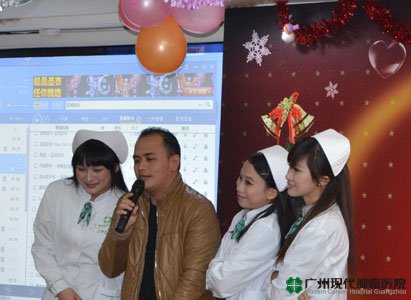 A family member of Indonesian sings soulfully with nurses danced passionately around him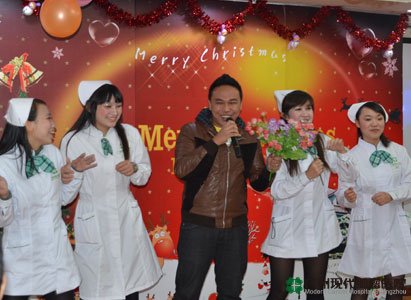 A family member of a patient named Mitla from 8th floor sang the song Baby together
  It was a special party with shows from foreign friends. No matter where are you from and what language you speak, everyone here can feel the happiness, greeting and warmth. Here in Modern Cancer Hospital Guangzhou, everyone is passing on this positive energy, no matter from their emotions in eyes, on face. Here everyone will together with you to face the life with smile.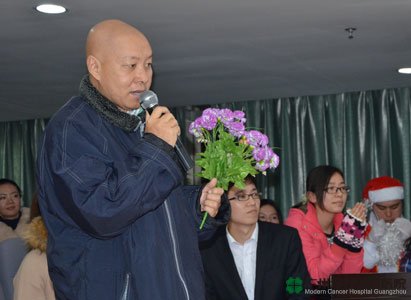 A song from a Pilipino patient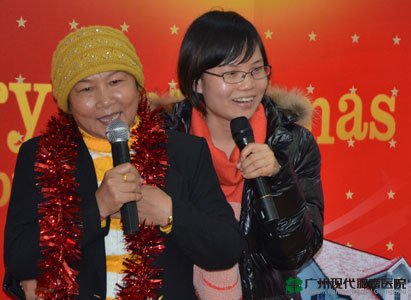 An Indonesian kin and interpreter sing the Chinese song Mother Is Greatest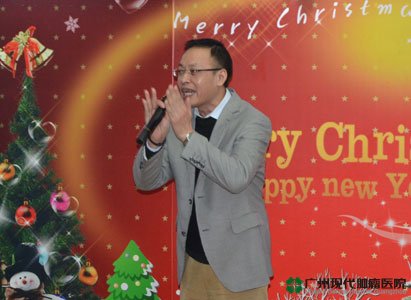 Director Wang greets patients by a song named Sun Comes Out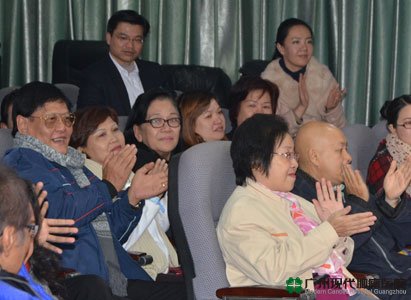 Patients bit time to the songs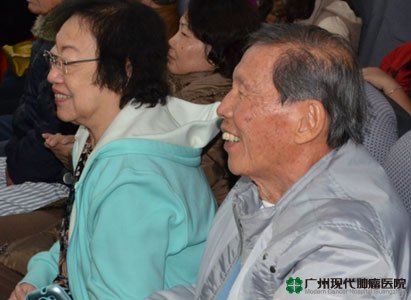 Patients watch the show happily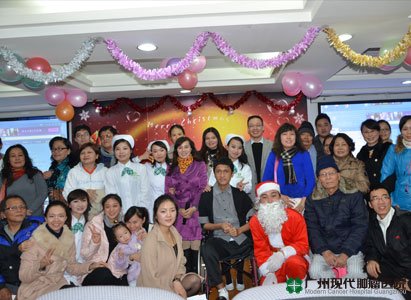 Group picture of Party
If you have any questions, please contact us via online consultation, email or phone call. If you find our website useful, please follow our FaceBook and YouTube, health information will be updated regularly.
Online Inquiry
CLICK HERE!
Let's Have A Healthy Life!
Video
To show you
what is cancer by
videos
Chatting on Facebook

Become a fan of us!
+Follow
We are waiting for you.