New hope came to a 4-year-old cancer patient in hospital
  Ruan Wenduo, a 4-year-old child from Hanoi, Vietnam, should have been enjoying his innocent and lively childhood, while he is suffering from the painfulness that other children of his age cannot even image. The large tumor on his right face severely compresses his nasal cavity and mouth, causing breath and eating difficulty to him. Seeing the painful expression on their son's face, Wenduo's parents feel great torture within their heart. From then on, saving and protecting their son has become a firm belief of them. They have inquired numberless hospitals in Vietnam for treatment but unfortunately made the condition worse due to misdiagnosis as leukemia and later the unsuitable treatment. When Wenduo's life was in danger, the door of hope was opened to him. With the recommendation of a doctor in Central Ear-Nose-Throat Hospital of Hanoi, Wenduo, accompanied by his parents, came to the cancer research base of China ---- Modern Cancer Hospital Guangzhou.
  Attending doctor of Modern Cancer Hospital Guangzhou, Dai Wenyan, gathered a specialist team to perform a comprehensive and intensive examination to Wenduo, and finally diagnosed him with rhabdomyosarcoma on the right side of his maxillofacial region. For Wenduo is still young, experts diagnosed it as embryonic rhabdomyosarcoma, which had reached its third stage and could not be treated with surgery. Eventually, Dr. Dai and other experts decided to perform Green Chemotherapy. Although Wenduo had undergone 9 circles of chemotherapy in Vietnam hospital, the treatment effect was not obvious. Green Chemotherapy of Modern Cancer Hospital Guangzhou is an improvement of the traditional chemotherapy. It can properly avoid the shortcoming of traditional chemotherapy and has its unique advantages, so that it can improve the treatment effect and reduce the toxic side-effect. Meanwhile, the attending doctor and specialists well learned the difference between children and adult, therefore, can have a proper control on the choice of chemotherapy drugs, dose and length of intervals. After a circle of treatment, Wenduo's condition was evidently improved: the tumor has shrunk, the patient was able to talk and can eat normally. Seeing that, Wenduo's parents were full of hope towards the treatment.
  However, the great economic pressure is unbearable to the young parents. After the 20,000 RMB collected from all their relatives and friends for traveling to China and the primary treatment, they can afford no more cost for the left treatment. In Vietnam, they live on farming, with an average monthly income being about 1,000 RMB only. Now, they have used up all their deposit and are in debt for Wenduo's treatment. Having no choice, even Wenduo's grandparents have to take up farming regardless of their elder age.
  Learning about this, leaders of Modern Cancer Hospital Guangzhou proposed among the faculty to carry forward the humanitarian spirit and donate for Ruan Wenduo. On July 13th, more than 300 medical personnel held a donation activity in the hospital lobby, and primarily collected 5620 RMB for Wenduo. What is more, family members of patients in Modern Cancer Hospital Guangzhou also took part in the activity and showed their care to Wenduo and his family. In addition, Modern Cancer Hospital Guangzhou cut down part of the treatment cost to help Wenduo and his family to get through the hard time. While saving lives and treating the injured, Modern Cancer Hospital Guangzhou firmly remembered the social responsibility and actively devotes itself to social donation, showing its love and care to people at home and abroad and contributing to human health.
  Receiving the donated money, Wenduo's mother was moved to tears. She thanked the whole faculty of Modern Cancer Hospital Guangzhou for their active donation as well as warmth and help in treatment and daily life. Modern Cancer Hospital Guangzhou's solicitude to all common people moved and warmed all the oversea patients.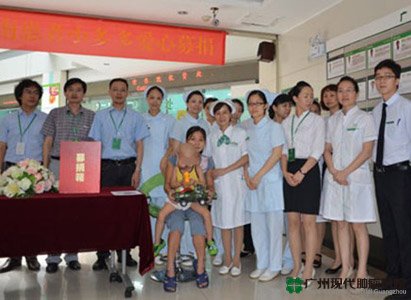 Medical personnel were with Ruan Wenduo and his mother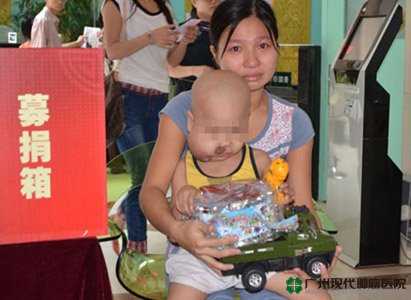 Wenduo's mother was grateful to Modern Cancer Hospital Guangzhou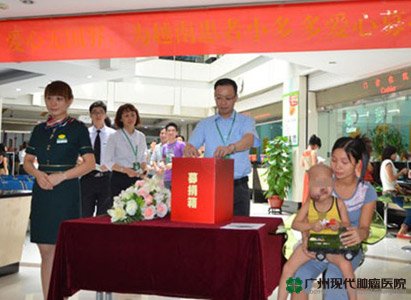 Scene of donation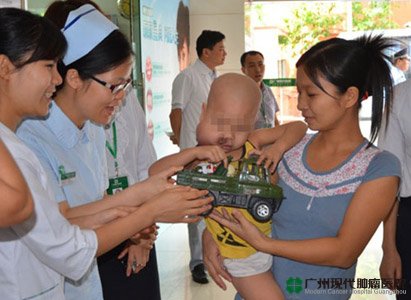 Wenduo was having fun with the donated toy
If you have any questions, please contact us via online consultation, email or phone call. If you find our website useful, please follow our FaceBook and YouTube, health information will be updated regularly.
Online Inquiry
CLICK HERE!
Let's Have A Healthy Life!
Video
To show you
what is cancer by
videos
Chatting on Facebook

Become a fan of us!
+Follow
We are waiting for you.