Media of the Philippines visited Modern Cancer Hospital
  On July, 13, 18, media reporters of Journalists' Association, TV stations, Radio Stations and Newspaper Offices from the Philippines traveled all the way to interview Boai Medical Group and its subsidiary Modern Caner Hospital Guangzhou. Through this visit, the Philippine media got to know the spirit of Boai Medical Group China and the contributions Boai has made in past 20 years.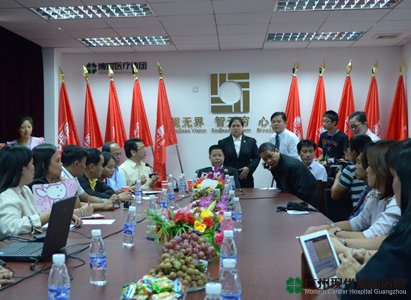 Lin Zhicheng, the President of Boai, is interviewed by media form the Philippines
  Making magnificent achievement through hardships with Boundless medical love
  The Media wanted to know more concerning information of Boai even they were already sitting in the boardroom of the Group. Established in 1989, Boai has developed through all the hardship to a greatest medical investment group in China, as well as one of the world's top 100 medical groups. In past few years, Modern Cancer Hospital Guangzhou, a subsidiary of Boai Medical Group keeps optimizing its resources and enhancing advantages to improve core technologies of cancer treatment. Besides, it positively develops in cancer treatments, researches of medical science and technologies, and international medical cooperation, which makes Modern a cancer hospital with high international reputation and sets itself a leading position in cancer treatment.
  Modern Cancer Hospital Guangzhou has raised its international statues with its powerful technologies and talented people, as well as its medical spirit of boundless lover which not only promotes Modern to share its advanced technologies internationally and provide its excellent service to the whole world, but also enables Modern to contribute to the fight against cancer in Southeast Asia or even the world.
  Emphasizing humanistic care, enjoying good reputation in and aboard
  The Philippine press corps had heard about Boai Medical group even before this visit. Since its first branch office had been set up in the capital of Manila on Apr. 2011, Modern Cancer Hospital Guangzhou had held many healthy lectures to enhance the health consciousness of local people. Additionally, Manila office also provides patients free consultation and treatment suggestions. Modern Cancer Hospital Guangzhou wins favorable comments and highly approval of patients by its dedicated efforts of extending lives and reliving pains of patients. Advocating humanized service, hospital constantly enhances the communication between patients and nurse and departments to optimize hospital procedures, which ensures patients specific, standard and programmable treatments. Starred-hotel environment of hospital, family-like design, devices and arrangement of wards, all bring overseas patients the warm and sweet feeling. Irregular tours held by hospital relieve the distressed mood of patients from treatments…..all those details indicating the humanistic care of hospital internationalization and impressing the Philippine media deeply.
  The president of journalists' association of the Philippines positively commented this interview: "Thanks Boai Medical Group and Modern Cancer Hospital Guangzhou for offering us this interview. Cancer treatment is an tough problem internationally. Affected by its culture, Boai Medical Group brings patients in the Philippine and other countries the hope to survival by its advanced technologies and warm humanistic care, which also indicates the contribution Boai Medical Group and Modern Cancer Hospital Guangzhou have made.
If you have any questions, please contact us via online consultation, email or phone call. If you find our website useful, please follow our FaceBook and YouTube, health information will be updated regularly.
Online Inquiry
CLICK HERE!
Let's Have A Healthy Life!
Video
To show you
what is cancer by
videos
Chatting on Facebook

Become a fan of us!
+Follow
We are waiting for you.