Humanistic Care Builds More Firmed Anti-cancer beliefs
  Seeing Ms. Yue's hearty smile and fashion wear, these reporters of Philippines couldn't believe Ms. Yue was a patient with cervical cancer. After her greeting with reporters one by one, the reporters interviewed Ms. Yue. World Journal reporter asked Ms. Yue that in what circumstances did she find herself being suffering from cervical cancer? MANILA STANDARD newspaper reporter then raised questions about the treatments received in Modern Cancer Hospital Guangzhou as well as her physical condition. Looking at the camera, Mr. Yue recalled the memory about her own anticancer course.
  Much Pain and Suffering
  Ms. Yue lived a happy life, but in February 2011, she suddenly suffered from irregular vaginal bleeding with no obvious incentive, and even occasional lower abdominal and sacrococcygeal pain. While she did nothing as these pains were tolerable at that time. However, these symptoms gradually increased, Ms. Yue went to a local hospital of Philippines for treatment, and it was found that there was cervical tumor and the doctor told that it was cervical cancer. It was recommended to undergo surgical resection, but Ms. Yue refused it. Since then, Ms. Yue began her life of daily pain entangled, and family members felt very worried and sad for Ms. Yue being afflicted by the cancer and her physical and mental conditions getting worse.
  Finally in February 2012, with introduction of a friend, Ms. Yue came to Modern Cancer Hospital Guangzhou's branch office in the Philippines for consultation and reserving treatments. Staff of the office booked tickets for her and her accompanying family members and arranged free airport pickup vehicle, and then Ms. Yue started her treatments for cervical cancer in Modern Cancer Hospital Guangzhou of China.
  Humanistic Cares Brought Warm
  After arriving at the hospital, with the help of guiding doctors, Ms. Yue treated procedures of hospital admission, and then nurses and interpreters introduced environment of the hospital and asked whether there was any need of help. Hearing the familiar language appeased Ms. Yue's fear for first came to unfamiliar environment. The doctor carefully inquired about her condition and symptoms, and encouraged her to always maintain an optimistic attitude to the fight against the cancer.
  On the second day, nurses arranged Ms. Yue to do some examinations and she was diagnosed with cervical cancer. During the examinations, her accompanying family members also did health checks for free. Experts worked out a treatment plan based on Ms. Yue's condition, and explained to her the details of treatment technologies to be used and treatment processes with the help of interpreters, so that Ms. Yue clearly understood the entire treatment process. After 4 times of interventional treatment, and minimally invasive treatment for pelvic tumor, her tumor was narrowed down remarkably and she also felt obviously the improvement in her mental condition. Nurses were always concerned about Ms. Yue's demand and took care of her daily diets. Besides, nutritionists were specially configured nutritional diets for Ms. Yue to restore her health; doctors paid daily ward visit to get to know her physical condition; interpreters chatted with her in Filipino. The hospital also organized Ms. Yue and other cancer patients to climb Baiyun Mountain, watch "Modern Cinema", go sightseeing in Guangzhou, etc. Ms. Yue liked to share her anti-cancer experience with other patients and encouraged others to build the confidence for fighting against cancer.
  In the end, PEOPLE 'S TONIGHT newspaper reporter asked Ms. Yue: during the stay in Modern Cancer Hospital Guangzhou, What makes you the most impressive? Ms. Yue smiled and said that it was Modern Cancer Hospital Guangzhou's services that made her most impressive as nurses always cared about her and the professional doctors were so approachable, and multiple value added services of the hospital have been reflecting its humanization. All these have contributed her optimistic attitude to fight against cancer.
  After the interview, Ms. Yue and reporters were still unwilling to end the interview. Reporters were holding tight the hands of Ms. Yue and wished her a speedy improvement.
  After this interview, reporters said to Mr. Wang, director of Modern Cancer Hospital Guangzhou that this hospital was really a hospital of "love without boundaries, medical without borders" and wished that the hospital can better bring health, hope for the people of Philippines.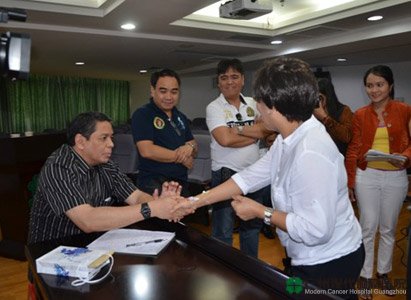 If you have any questions, please contact us via online consultation, email or phone call. If you find our website useful, please follow our FaceBook and YouTube, health information will be updated regularly.
Online Inquiry
CLICK HERE!
Let's Have A Healthy Life!
Video
To show you
what is cancer by
videos
Chatting on Facebook

Become a fan of us!
+Follow
We are waiting for you.