Modern Cancer Hospital Guangzhou is ranked in the top 20 sustainable development hospitals of Guangdong Province
  The good news on June 15, 2012 reported: Modern Cancer Hospital Guangzhou is ranked the top 20 General Hospitals of Guangdong Province which is the highest honor for provincial scale of private hospitals and is ultimately selected after one year of strict investigation and assessment.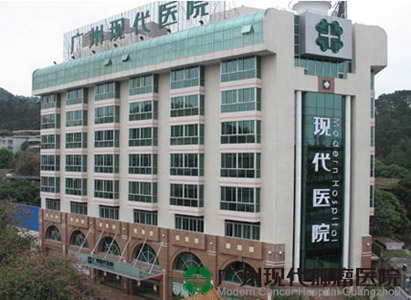 Top 20 of Sustainable Development Capacity
  On June 13, 2012, press conference on comprehensive evaluation report for sustainable development capacity of private hospitals in Guangdong Province was held in Guangzhou, which was the first comprehensive research report on development status of private hospitals in Guangdong Province released by the third party agency to the public. This meeting was paid high attention and concern by Chinese government, medical industry, media and social public. Related leaders of provincial government and provincial Party committee, department of health of Guangdong province, officials of department of health administration of related districts and cities, representatives of the main private hospitals and numerous well-known experts and scholars of provincial medical industry attended the meeting. The conference summarized the current development and achievement of private hospitals in Guangdong Province and released sustainable development private hospitals of Guangdong Province selected by this investigation and research, thus along with other 29 private hospitals, Modern Cancer Hospital Guangzhou was commended on the conference.
  High Starting Point, High Standard, High Grade
  Modern Cancer Hospital Guangzhou is holding the construction principle of "high starting point, high standard, high grade ", trying best to build an international hospital with high standards of "management modernization, services humanization, information digitization and image internationalization". The hospital gathers an outstanding expert group on cancer treatment who carries forward cooperative spirit to have group consultation and discussion for every patient thus beyond thinking limitation of individual doctor and with the collective wisdom of experts, more comprehensive and effective treatment schemes can be designed.
  Modern Cancer Hospital Guangzhou spends huge sums to strengthen hospital environment, discipline, equipment, advantages and features of services, including the high-tech cancer treatment methods such as Ar-he knife, interventional therapy, particle implantation, traditional Chinese medicine, photon knife, photodynamic therapy, PET/CT, radiofrequency ablation, green chemotherapy, biological therapy, thermotherapy, gene targeted therapy and stem cell transplantation, besides, Modern Cancer Hospital Guangzhou gets rid of the traditional mode of cancer treatment to create a new pattern of "minimally invasive targeted therapy and combination of traditional Chinese and Western medicine " which can achieve more direct and more effective treatment with fewer harm and more safety to human body.
  International Cancer Hospital
  Modern Cancer Hospital Guangzhou is developing rapidly forward overseas, established branch offices in Jakarta, Surabaya of Indonesia, Ho Chi Minh and Hanoi of Vietnam, Manila of Philippines, Dhaka of Bangladesh, Phnom Penh of Cambodia, which builds a platform for overseas patients to get medical treatment in Guangzhou, China, so as to ensure cancer patients can receive best treatment and services.
  With the strength of minimally invasive technology on tumor, humanized service mechanism and significant treatment effects, Modern Cancer Hospital Guangzhou has been creating a good reputation overseas. More than 90% of abroad cancer patients are from abroad, including local celebrities such as Indonesian general's wife, former Indonesian captain of national football team, Indonesian famous model, and Vietnamese government official and so on. Its advanced treatment technology and humanized service have gained the praise of cancer patients and their family members, besides, Modern Cancer Hospital Guangzhou also spread its influence to Europe and the United States, Middle Eastern countries, etc, thus further promoting the establishment of international medical service mechanism of Modern Cancer Hospital Guangzhou.
  Modern Cancer Hospital Guangzhou is still making its efforts to deepen and promote heath system reform, activate service market and enhance the overall level of medical service.
If you have any questions, please contact us via online consultation, email or phone call. If you find our website useful, please follow our FaceBook and YouTube, health information will be updated regularly.
Online Inquiry
CLICK HERE!
Let's Have A Healthy Life!
Video
To show you
what is cancer by
videos
Chatting on Facebook

Become a fan of us!
+Follow
We are waiting for you.