Bangladeshi Media group Visited Modern Cancer Hospital Guangzhou
  A media group consisting six members from Bangladesh has visited Modern cancer Hospital Guangzhou on 21st September 2012. While visiting the hospital they met the director of the hospital Wang Huai Zhong, Vice director Lin Chao Hua, medical director Chen Bing and Head of oncology department Dr. Peng Xiao Chi. Meanwhile, they also monitored the success of the hospital in treating cancer.
  This time different foreign media groups visited Boai Group's Modern cancer hospital Guangzhou which is now playing a vital role in treating cancer with this motto " Medical cares beyond borders" . While talking to the media the hospital authorities hoped that people around the world will know about the hospital and it will be their first choice for cancer treatment in near future.
  In Bangladeshi media group there were six renowned journalists from The daily Prothomalo, The daily Ittefaq, The daily Naya Diganta, Channel I, Ntv and Banglanews24.com. They visited different cancer treatment technologies and their operation rooms such as DSA room, CT room, Cryotherapy room, particle knife room, stem cell room and so on. In addition they also visited the VIP cabins, patient's entertainment room and kitchen, the hotel of Modern Cancer hospital Guangzhou etc and also met the patients in the hospital cabins. While visiting the hospital wards different paintings from the wall grabbed their attention and more importantly they became very happy when they noticed patient's smiling faces. In this time they also noticed the wonderful relationship between the patients, nurses and doctors which fascinated them. At last they observed 13 different cancer technologies and discussed it with the director Wang Huai Zhong and medical director Chen Bing and expressed their satisfaction.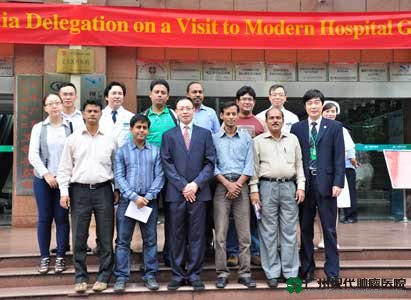 Bangladeshi Media group and Modern Cancer Hospital Guangzhou Management department.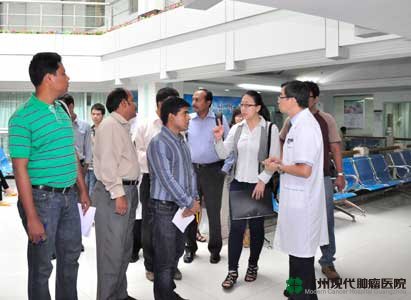 Bangladeshi Media group is visiting Modern Cancer Hospital Guangzhou.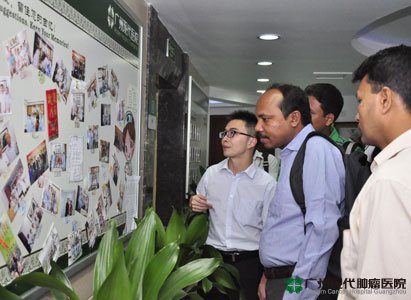 The wall paintings grabbed their attraction.
If you have any questions, please contact us via online consultation, email or phone call. If you find our website useful, please follow our FaceBook and YouTube, health information will be updated regularly.
Online Inquiry
CLICK HERE!
Let's Have A Healthy Life!
Video
To show you
what is cancer by
videos
Chatting on Facebook

Become a fan of us!
+Follow
We are waiting for you.