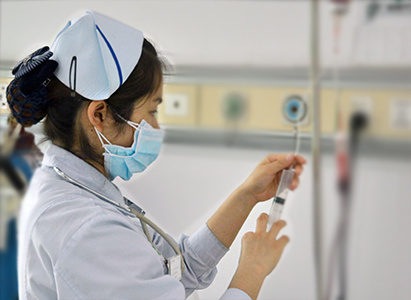 1. Definition
Triple Oxygen Immunotherapy is one of the green cancer comprehensive therapies. Hydrogen peroxide, which is produced by triple oxygen, has sensibilization to radiotherapy and chemotherapy so that it can reduce the side effects of radiotherapy and chemotherapy. Triple oxygen can strengthen the effects that macrophage and neutrophil kill and clean cancer cells so that triple oxygen can directly kill and clean cancer cells.
2. Rationale
The application of natural therapy on cancer treatment is based on three important findings. German Dr. Warburg, a Nobel Prize winner, proposed a theory that the development of cancer was caused by oxygen deficiency in cells. Another two Nobel Prize winner, Watson and Cric, who were the founder of DNA duplex structure, claimed that cancer was caused by virus. Varro, a German, found that cancer cells were sensitive to hydrogen peroxide. He also explained the mechanism that triple oxygen and hydrogen peroxide can reduce the metaboilic level of cancer cells so that the growth of cancer was under control.
Triple oxygen can not only kill the virus which can cause cancer but also strengthen the immunity of body. What's more, it is capable of inhibiting the cancer in lung, breast and uterus in different degree and controlling the growth of more than 90% cancer cells. However, triple oxygen can not affect the growth of the normal cells because normal cells have a strong defense mechanism to oxydation of triple oxygen.
Hydrogen peroxide not only can directly kill cancer cells as cytotoxic factor but also can regular the activity of anti-npc antibodies and strengthen the antitumor function in the body.
In Europe, natural therapy has helped many cancer patients. I n America, Russia, Cuba and other countries, many people has realized the value of natural therapy.
3. Treatment Methods
(1) Extracorporeal Circulation of Triple Oxygen Treatment
It refers to extract the blood by vein vessels, trioxidate the vein blood directly and then the vein blood is transfused back to the vein vessels.
(2) AHIT
AHIT can be divided into two types, large triple oxygen self-blood therapy and small triple oxygen self-blood therapy, which depend on different dosage of drawing blood. The large one needs to draw 100-150ml vein blood from patients, mix with triple oxygen gas and then the mixture will be transfused back to the patients' body. The smaller one only needs to take 3-5ml vein blood.
In other countries, AHIT is widely applied to many kinds of cancer treatments. By oral administration or injection of AHIT, 60% cancer patients alleviate the symptoms for a long term. After receiving AHIT treatment, level of interferon rises 7 to 8 times. Patients take AHIT treatment and their condition turn good.
4. Advantages
(1) Inhibit and kill cancer cells.
(2) Activate antitumor immunity cell.
(3) Activate erythrocyte.
(4) Sensibilization. It can make cell cancers strengthen the sensibility to chemotherapy and radiotherapy.
(5) Increase the body's tolerance to tumor consumption.
(6) Simple operative procedure, no complication, short treatment period.
5. Application
(1) Triple oxygen natural therapy is applicable to many kinds of cancer, liver cancer, esophagus cancer, colon cancer, breast cancer, lymphoma, soft tissue sarcorma, dermatome, gynecological tumor, etc. This therapy is particularly suitable for cancers in advanced stage.
(2) If patients have the diseases, which are as followed, they are not suitable to take natural therapy. The diseases are included, hyperthyroidism, low blood pressure, low blood calcium, allergy to ozone, myocardial infarction, internal haemorrhage, pregnant women, low platelets, acute alcoholism, coagulation disorders. This therapy is also applicable to those patients in good condition after cancer treatments.
Recommended Links
SUSAN: Interventional Therapy and Biological Immunotherapy Defeat Cancer Recurrence Successfully
MIMIE: Modern Cancer Hospital Guangzhou Gave Me a Second Life
Aida Nuguid: Modern Cancer Hospital Guangzhou Is the Instrument that God Sent to Me
Online Inquiry
CLICK HERE!
Let's Have A Healthy Life!
Video
To show you
what is cancer by
videos
Chatting on Facebook

Become a fan of us!
+Follow
We are waiting for you.